Popular Italian food  : an easy recipe for pizza margherita
Pizza has to be the most popular Italian food.  Margherita is a delicious tomato based Italian pizza recipe which makes a great vegetarian dish.

But how this popular Italian food started out is interesting too - so let's begin there.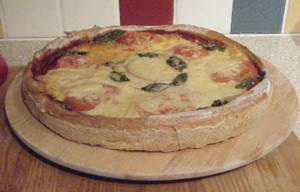 Our Saturday night treat - pizza margherita.
The background to this Italian pizza recipe.
This is Italy's most popular recipe for pizza and dates back as far as 1899 when Queen Margherita visited Naples to escape a cholera epidemic in northern Italy.
Neapolitan chef Raffaele Esposito - the Gordon Ramsay of his day - created a pizza in her honour by combining a cheese and tomato recipe with his standard recipe for pizza to patriotically recreate the colours of the Italian flag - red, white and green. 
She loved it so much that he kept the recipe and named it after her.
And the rest, as they say, is history.

Why is pizza Margherita such a popular Italian food?
It's cheap, very easy to make, and it's a vegetarian pizza recipe which are few and far between in Italian cooking.

Recipe for pizza margherita  : ingredients to make one large pizza.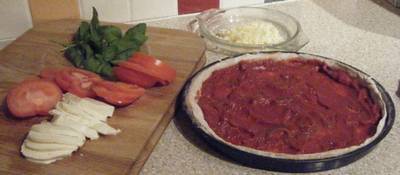 Pizza dough (see below)
Tomato topping (see below)
2 large beef tomatoes
1 ball mozzarella cheese
1 tablespoon grated cheese
10 basil leaves

Pizza margherita : method.
Firstly make your Italian pizza dough.
While that's set aside to rise, you can make this simple tomato recipe which will form the base of the pizza topping.
It's a chunky, quite intense sauce which can also be used on its own as a vegetarian (and vegan) salsa dip.  It only takes a few minutes to make, but is tastier if left to marinade for half an hour or so.
Instead of shop-bought garlic paste, if you have the time and know how to roast garlic use the paste from that instead.  It's delicious.
Finally - we often add some chopped anchovies to this mixture which intensifies the flavour still more but doesn't make it taste fishy. 
That wouldn't be an option, of course, if you want to keep this as a vegetarian pizza recipe.
Ingredients for tomato topping recipe :
3 large cupfuls of chopped tomatoes (the smaller, vine tomatoes are nicest for this recipe)

2 tablespoons sun dried tomatoes, chopped
1 tablespoon tomato purée
2 cloves (at least!) garlic, paste or chopped 
6 - 8 basil leaves, chopped
1 red chilli, chopped
2 tablespoons olive oil
Salt and pepper
Method :
✮  Simple - mix all the ingredients together and if possible set aside for thirty minutes so the flavours can mingle.

Finishing off your pizza Margherita.
✮ Roll the pizza dough out and line your greased tin with it.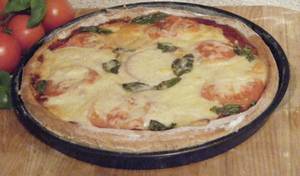 ✮ Spread the tomato recipe over the base.
✮ Slice the mozzarella and place on top of the tomato topping.
✮ Slice the beef tomatoes and place in between the cheese.
✮ If you want to add a bit more colour, place some more basil leaves around the pizza.
✮ Sprinkle the grated cheese over if you like a brown topping.
✮ Cook in an oven at 180º C (350º F, gas mark 4) for twenty to thirty minutes until the cheese is bubbling and golden brown.
✮ And then - enjoy!

If you liked this page, please let others know by sharing. Just click any of these buttons - it only takes a second!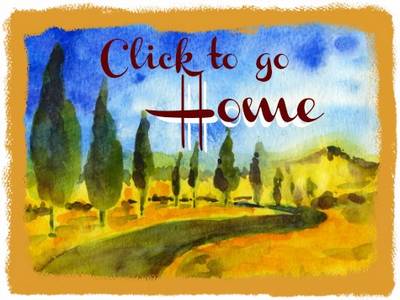 Ads by Google.