Rome sightseeing :
Enjoy our free ebook (pdf download).
So you want to go Rome sightseeing but aren't sure where to start?
You've come to the right place!
Most Italian vacation packages recommend the well-known sites. Now you can download our free e-book for tips about Rome's five best kept secrets!
Rome!
We love it. We love it so much, we got married there! And we know that sightseeing in Italy's most amazing city can be lots of things. Romantic. Exciting. Cultural.
But it can also be hot. Overwhelming. Tiring. Boring for the kids.
What to do?
We have lots of suggestions on our other
Rome sightseeing
pages.
But we have also produced, just for you, a completely
free
e-book with lots of suggestions not necessarily contained on the site. As one of our valued readers you can have access to it within seconds.
What will this free e-book give you?
Organised Italian vacation packages tend to drag visitors round all the well known sights of Rome. The Colosseum, Forum, Trevi Fountain, Vatican City … which, let's face it, everyone
does
want to see.
But there are ways of seeing them. Away from the crowds. Not following a tour guide. Eating in reasonably priced 'trattorias' full of local people. Seeing and doing things that not many tourists do. Knowing where to rest when it all gets too much.
That's what this Rome sightseeing book is about.


It's in five parts :

☺ What to do with kids who are fed up with ancient ruins.

☺ Where to find the best of places enjoy some green space.

☺ How to find places to eat that won't break the bank.

☺ When to see the main sites so you won't get crushed in the rush.

☺ Why you should see three countries in 30 minutes - and how you can.
As a special bonus, you will also receive a copy of our free monthly newsletter, 'The Italian Sofa'-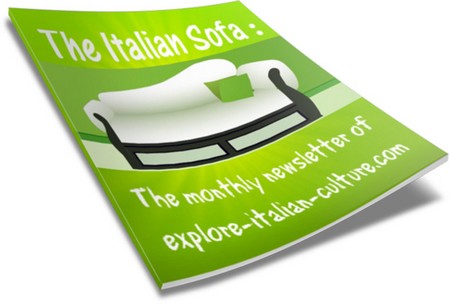 ... which will give you :

☺ What's new - on our site and in Italy;
☺ Life in the slow lane - stories from our Italian home in rural Italy;
☺ Recipe of the month - from our friend Graziella's Italian kitchen;
☺Ciao Bella! - Italian words and phrases for you to learn;
☺ Pic of the month - funny, gorgeous, or just plain mad - there's always something to snap in Italy!



How to sign up for your free Rome sightseeing e-book and free monthly e-zine :


Simple!

All we ask for is your e-mail address, so we can send you both the free book and the free monthly magazine. We hope you'll find the e-zine a fun read but if you find you don't like it you can unsubscribe very easily.


And we give you a cast-iron guarantee - that we will never, never use your e-mail address for anything except to send you these free items.





Once you have filled in your details here, you'll receive an e-mail from us to make sure you do want our book and newsletter. Just click on the link in that e-mail and it will be ready to download.


And we hope to see you very soon, on our comfy 'Italian Sofa'!






From our Rome sightseeing free ebook
to our home page about Italian culture.