The Cuisinart hand blender :
a review of the
ideal immersion blender
Many Italian food recipes require a small blender.
We review one of the best - the Cuisinart hand blender


General Information :
Cuisinart have had the reputation of developing revolutionary professional kitchen equipment since they first introduced the food processor in the early 1970s.
Their products tend to be at the more expensive end of the market, but this reflects the fact that they're built to last - they will withstand the demands of even the busiest professional kitchens.
This model - the HB154PCJU - is not the most expensive of the Cuisinart hand blender range but we've found it to have the best consumer ratings.
Like all Cuisinart products, it comes with a five year guarantee - a definite bonus.

Design
With a brushed chrome handle and stainless steel stick and blade, this hand held blender has a specially designed grip which makes it very easy to use and much more comfortable to hold than other blenders we've looked at.
The single on / off button also controls the speed and is well-placed, making the blender easy to control with one hand - an advantage if you want to add ingredients slowly with the other hand.
The bottom half of the blender is removed by means of a simple button, and all removable parts are dishwasher-safe which is a real benefit when you're trying to get bits off the whisk attachment.

Functions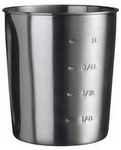 The Cuisinart hand blender has a 200-watt motor which is powerful enough to cope with any blending or whisking job. It has two speeds which have been described as "on, and about to launch into space"! 
This is a 'stick' or 'immersion' blender : it can be used directly in pans, bowls, large cups, or the stainless steel jug it comes with.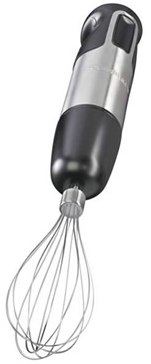 Blending : The motor is so powerful and the blades are razor sharp, which means it can handle any blending job.  Preparing a homemade Italian salad dressing, for example, is done in seconds.
Chopping : Whilst obviously not as powerful as a food processor, this immersion blender is has a pulse function which makes it ideal for chopping garlic and soft fruit. It can deal with softened vegetables so is therefore easily able to make soups.
Whisking : The whisk attachment is exceptionally effective and will whisk egg whites into stiff peaks within two minutes - much quicker than other hand held blenders. Making easy Italian dessert recipes is a snip with this blender!

Professional reviews
The Cuisinart hand blender was rated as :

Second of seventy-six 'stick' or immersion blenders by 'Food and Drink' magazine
Top of immersion blenders in Amazon.com reviews, scoring 4.5 out of five stars
In the top three of seventeen hand blenders in 'Top Choice' magazine (Australia).

Does the Cuisinart hand blender have any disadvantages?
Not really. The strength of the motor can mean food can end up on walls; the answer is simple - make sure you use a large enough bowl for the ingredients you're working with.
The only other disadvantage is that the blades can be a little difficult to clean because the dome is quite deep.
But neither of these can outweigh the many advantages of this small but powerful immersion blender.

Conclusion
The Cuisinart hand blender is known as the "King of blenders" for good reason. It is :

a stylish design in the best quality stainless steel
relatively light and easy to handle
suitable for the most demanding jobs because of its powerful motor
able to cope with blending, chopping and whisking
suitable for use in jugs, cups, bowls or pans
dishwasher safe
like all Cuisinart products, reliable and comes with a five year guarantee.
---
We have found the best price at Amazon -
click on this link to buy one now!
---
Some links on this page are affiliate links, which means that if you purchase a product through them, we receive a small commission. There is no extra cost to you.  This helps us keep the information on the website free of charge.  Because our integrity and your satisfaction are very important to us, we only recommend products we have purchased or would purchase ourselves, and which we believe would benefit you. To learn more please see our affiliates disclosure document.
If you liked this page, please let others know by sharing. Just click any of these buttons - it only takes a second!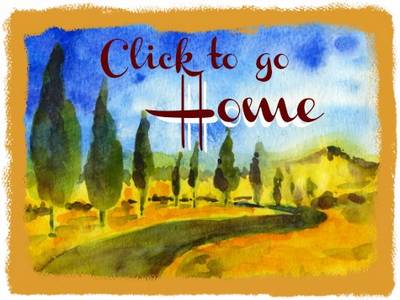 Ads by Google.