Italian Culture and You: Explore your inner Italian with us!
Italian culture : language, traditions, cooking recipes, interesting facts, places to visit - share our insider knowledge of Italy and find your Italian dream.

Living Italian!
Gorgeous. Stunning. Exciting. Romantic. Friendly. A-ma-zing!
How many words can you think of to describe Italy?

Stunning scenery, stunning culture - Italy!

My husband Mike and I feel like we should have been born in Italy. We love Italian culture - no, it's more than that. We're lucky enough to live here and experience it every day - so it's in our hearts and our souls. It's our passion.
Is it yours? If it is, then like us you will simply love everything to do with Italy. Or Italian culture may mean more than that to you - it may run deep inside you - your heritage, your family roots.

Finding your own inner Italian!
Fact. Everyone has an inner Italian. How can you recognise yours?
Have you ever wanted to throw a coin into the Trevi Fountain (over your left shoulder, naturally), or whirl pizza dough round your head, or learn to speak with your hands, or drink the frothiest cappuccino in the world, or take part in a local village festival where the main star is an ox? - That's your inner Italian!
And if you have an inner Italian you'll love this site, because it's built with you in mind!
Loving Italian culture - what are your
dreams about Italy?
Perhaps you have relatives who originally came from Italy and you'd like to know more about the culture of their home country. They're your very own family roots, after all.
It's not easy to do that from books because they're quite often inaccurate and out of date. But on this site we're regularly updating and adding to information - and even better, you can get in touch with us and tell us exactly what you'd like to know. We'd love to hear from you.

Planning a trip to Italy?
So you'd like some advice about the best places to visit, the hidden gems no-one else knows about?  No sooner said than done!
City, country, lakes, mountains, beach - we love them all because they each have their unique attractions.  We spend part of every year travelling to different parts of this amazing country - and we do it with our dog, so we can even help if you want to take your pets to Italy with you.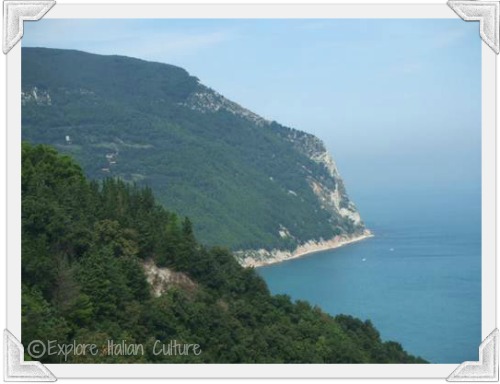 The unknown but stunning coast of Le Marche where we live.
Maybe you'd like to add some Italian culture into your everyday life.
We do that as often as we can - in our wedding, our Christmases, our eating habits - you name it!  It's easy for us because we live in Italy and we have friends here to show us how.
Now we'd like to make it easy for you, too!

We'll give you fun, interesting facts about Italy and its traditions - and tips for how to make them part of your life - sprinkled all through these pages.

Perhaps that Italian trip you're planning is a honeymoon - and maybe you want to add some Italian traditions into your wedding?

No problem - we love a good Italian wedding and we've been to lots - this is our friend Franco's daughter's very typically Italian wedding!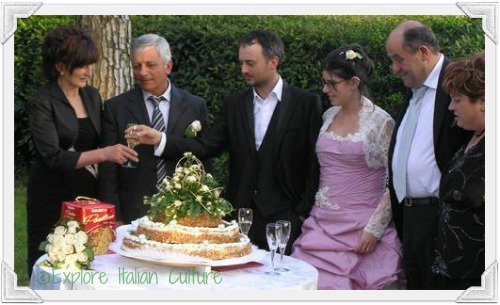 Cooking the Italian way!
What if you can't visit?   No problem - create a taste of Italy wherever you live! 

Italian culture would be nothing without its food, so apart from enjoying our stories and our pics, learn from us about the diet secrets of the people of this amazing country - they're among the longest-lived communities in the world!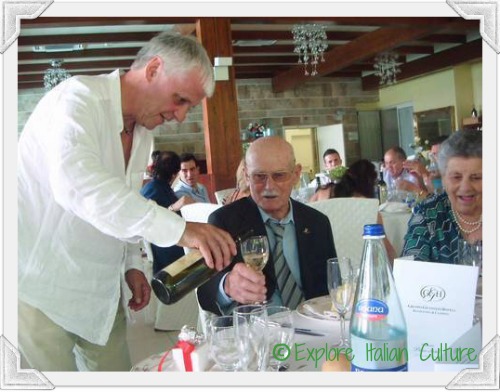 Enjoying a meal with some of our Italian friends.
Then, try out some of our authentic Italian recipes.  They've been handed down to us by our friends in Italy. No frozen pizzas here - and best of all, they're quick and easy to make! 

And dream! You may not be able to visit now but in a year or two's time - who knows? So be prepared - start to learn some basic Italian words and phrases. 

Why?
Because everyone will be delighted if you try!
Learn the Italian language!
"I speak Spanish to God, Italian to women, French to men, and German to my horse" (Charles V).
Talking is done with hands as well as words in Italy!
It's the most romantic language in the world.  It's easy to read and easy to speak - you'll get the hang of it quickly.
How?  Let us show you how we did it, bit by bit - "piano a piano", using different methods to suit your different learning styles.
Who am I to be able to talk to you about Italian culture?
This is me - Cath Andrews - with my husband Mike on the day we were married - in Rome!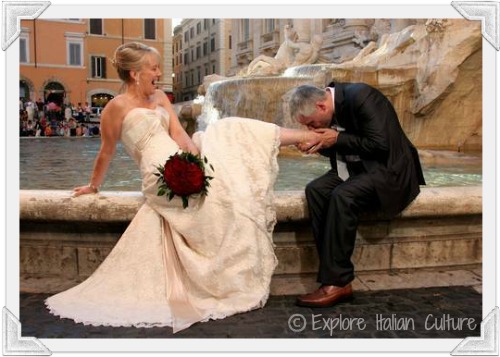 And this is our home, 'Casa Benessere' or 'House of Wellbeing'. It's in a tiny little village in the heart of a not-very-well-known-region called Le Marche - one of the loveliest (and healthiest) places to visit in Italy.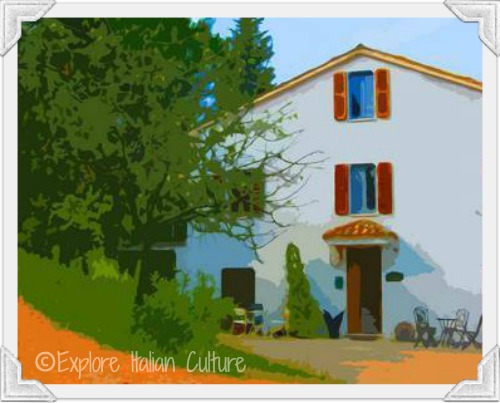 So, we're lucky because we're living Italian culture - our dream - and have been for some years now. Through this website we would like to share that dream, and our passion for Italy, with you. 

We would like to do whatever we can to help you explore your inner Italian - and to make all your Italian dreams come true.
So, come on in. Pour yourself a nice glass of cold 'vino bianco' - white wine - or a cup of hot black 'espresso'. Sit back, relax, and enjoy. 

"Piacere" - we're pleased to meet you!

If you liked this page, please let others know by sharing. Just click any of these buttons - it only takes a second!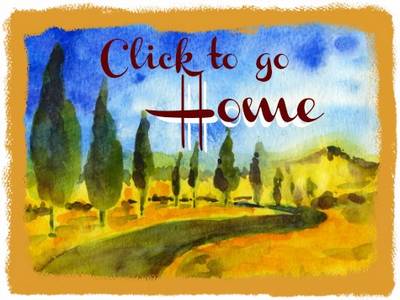 ---
Some links on this page are affiliate links, which means that if you purchase a product through them, we receive a small commission. There is no extra cost to you.  This helps me keep the information on the website free of charge.  It also helps support our family and my chickens!  Because our integrity and your satisfaction are very important to us, we only recommend products we have purchased or would purchase ourselves, and which we believe would benefit you. To learn more please see our affiliates disclosure document.
Ads by Google.