Italian Mother's Day : ideas from Italy for celebrating the 'festa della mamma'.

Want to make your Italian 'mamma' happy?  
Whether she's from Italy or would just like to be, and wherever in the world she may be, here's some ideas for celebrating your mother - Italian style.
When is Mother's Day in Italy?
Wherever in the world they may be, Italian mothers are the focus of family traditions.  In Italy mothers are celebrated all year round but officially, as in the United States, Mother's Day is celebrated on the second Sunday in May.
"Just for you - best wishes, mother!"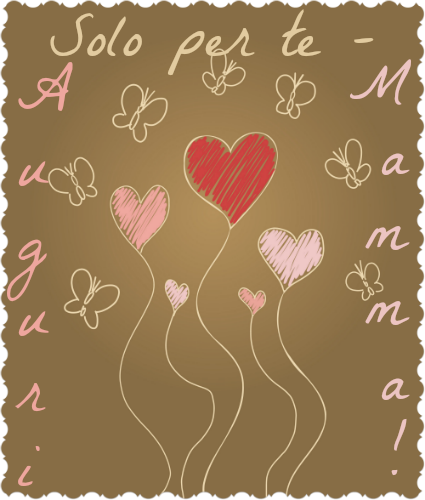 It's a big occasion - one of the most important holidays in the Italian year, a day when families traditionally come together from wherever they are to celebrate and look after their mothers.
Everyone in the family, no matter where they live or what else they're doing, is expected to be there.
The history of Italian Mother's Day.
Even this mother's gravestone in Florence, Italy, is a testament to the importance a mother plays in Italian life.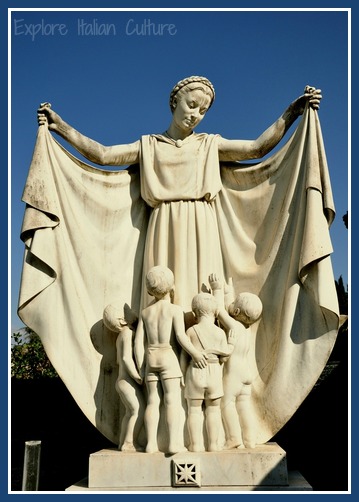 Like most feast-days in Italy, it can be traced back to ancient Roman culture when a whole weekend of celebrations were held in May to celebrate the goddess Juno.
Juno's name means 'vital force' (a great description of Italian mothers everywhere!) and she was the Roman goddess of marriage and motherhood.
Traditionally in ancient Rome, weddings were held in Juno's month - June - to ensure a good marriage and fertility.  That tradition still holds good today.
Mother's Day in Italy and 'mother church'.
With the passing of time and the coming of Christianity, this tradition evolved into a religious festival when the 'mother' referred to 'mother church', the giver of spiritual life.  It became important in Italy for families to return to their home villages and visit their 'mother' church - the church in which they were baptised.
For many Italian mothers, going to church on Mother's Day morning is still an important part of the tradition.  The worship of the Madonna, mother of God and seen as the perfect example of motherhood, is very strong even today.
The Madonna and Child - venerated in Italy as the ultimate expression of motherhood.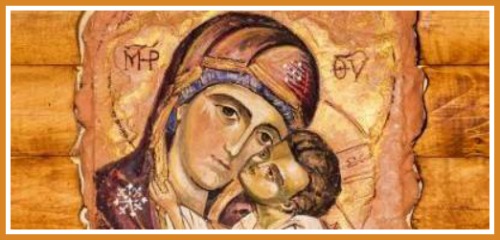 From 'mother church' to Mothering Sunday.

In the UK Mothering Sunday has been celebrated since the 17th Century, when it was agreed that working children could take the day off and return home to visit their mothers, often taking a gift of sweet cake or wildflowers.
In America, it's a much more recent innovation being first introduced in 1907 but not recognised officially until 1914, when it finally became a public holiday.
And in Italy it was even later.  Although Italian mothers have always been a crucial part of not only the family but equally the community, their formal recognition with a public holiday did not happen until 1957.
"There's just one day in which to remember who gave me life.  But there are 364 days for me to make you proud of that gift.  Happy Mother's Day!"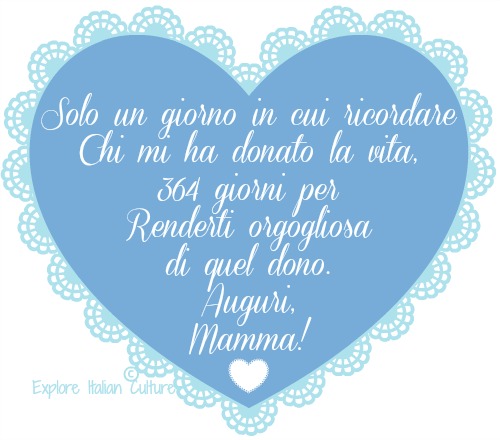 It's now one of the most important holidays, second only to Christmas and Easter, but it still retains the feeling of a simple celebration in Italy - it's not yet become the highly commercialised operation it is in other parts of the world.
So what happens on an Italian Mother's Day?

The answer is - it's kept very simple.  There's none of the great razzmatazz, it's simply a day for families to come together to enjoy each other's company and to thank the person who made it possible.
Everyone who is able to returns to their family home and those who cannnot, most commonly because of work commitments, make sure they send a card, a letter, a poeam or make a phone call.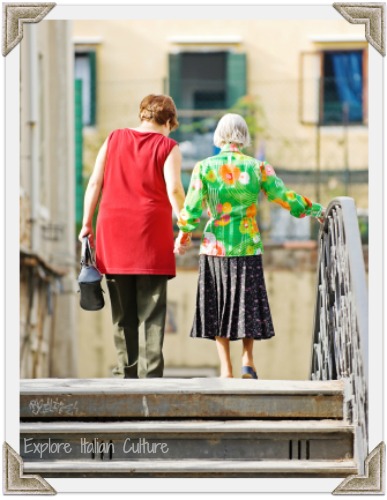 Italian phone companies record their highest volume of calls around Mother's Day, as children take the opportunity to express their appreciation to their mamma.
The day itself will centre around activities bringing the family together.   In most families, though not all, Mamma will not be allowed to do any housework on her special day.  
Breakfast will be made for her - generally fresh pastries and coffee.  Young children will give usually home made gifts of cards and fresh flowers whilst older children will take advantage of the many flower sellers lining the piazzas on that day..
Lunch will be held either in the family home or, increasingly, at a local restaurant.  This has become the most popular day of the year in Italy to dine out.   The meal is always rounded off with a sweet cake, often in the shape of a heart - the most popular being Italian cheesecake - and a liqueur coffee.
How can you celebrate Mother's Day, Italian style?
Firstly, forget the expensive gifts and cards.  Cards are nothing like as common in Italy as they are elsewhere.  If your 'mamma' would be hurt not to receive one, that's fine - but in Italy it's not a given.
Secondly, make sure if you live away from your mother and you can't get home, that you call her on her special day.  Don't raise anything apart from the fact that you realise how lucky you are to have her for your mum.
Now, still thinking of those who can't get home, send her a small token either in the post or by getting another family member who is going to see her to take something on your behalf.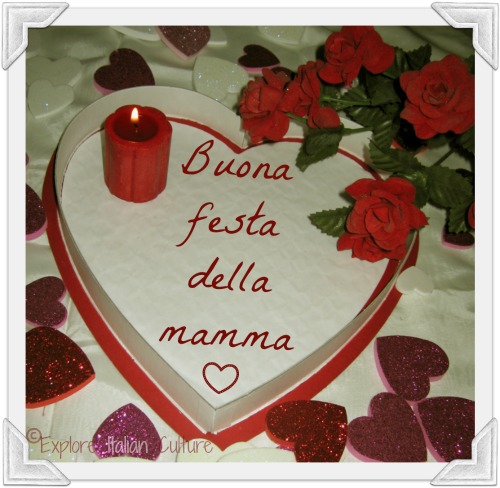 A heart-shaped cake is essential in many parts of Italy.  See whether you can find a local baker to have one sent.
If you live away from home but you can get to see her, do - even if it will take some effort.  A surprise always goes down well!
And if you live at home, or you can get there early in the morning, make her breakfast!  A typical Italian breakfast would not be anything big - coffee, of course, and a pastry.
Either cook or book a meal with her and include as many family members as you can.
And most of all, over-riding everything else - make sure to tell her you love her.  It's what Italian mothers like best.
Need to find an Italian-based gift for your mother?
Try these pages for some gifts any mother would love to receive - some made, some to buy.  Click on the pics to go to the relevant page.
If you liked this page, please let others know by sharing. Just click any of these buttons - it only takes a second!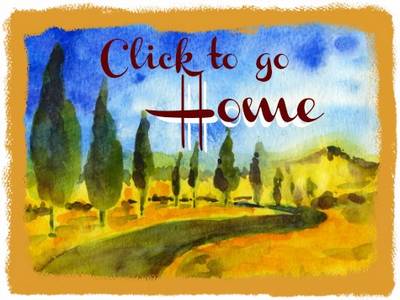 Ads by Google.