Italian sausage soup : a warming winter dish.
This Italian sausage soup is one of the most filling and warming of winter soups.  Enjoy it as a delicious meal with some Italian crusty bread.

Italian sausage soup : some background information.
In Le Marche, the rural part of Italy where we have our house, fresh, home made sausages are a staple part of the diet, and Italian soups are a real favourite during the cold winter months. This recipe combines the two in a delicious, thick, warming broth.
Use different types of sausages depending on what you want the final result to be. Sweet, spicy and herb flavours are all good in this recipe.
Avoid tomato flavoured sausages if you can, as there is already a lot of tomato in the ingredients.

The great thing about Italian soups is that anything goes. If you want to add more of something - do it. If you want to add in another ingredient - that's fine. Italians do this all the time to use up whatever they have in stock or left over.
Ingredients that we have seen added to the basic recipe are mushrooms, cabbage, beans and green peppers.
One piece of advice though : on no account use any additional salt in this recipe.  The beef broth makes it plenty salty enough.
These quantities are plenty to feed four to six people.

Italian sausage soup : ingredients.
✱  500 grammes (1 lb) Italian sausage
✱  1  red onion
✱  2 cloves garlic
✱  5 cups beef stock (broth)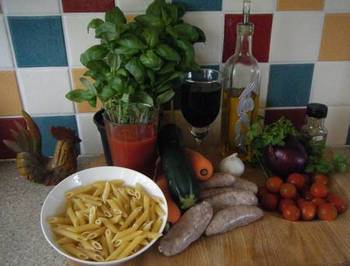 ✱  0.5 cup water
✱  0.5 cup red wine
✱  4 large tomatoes or sweet cherry tomatoes or 1 can good quality chopped tomatoes
✱  1 medium sized carrot
✱  1 medium sized courgette (zucchini)
✱  0.5 tablespoon chopped basil
✱  0.5 teaspoon dried oregano
✱  8 fluid oz (1 cup) tomato juice
✱   200 grammes (8 oz) pasta - any dried pasta is fine; we usually use 'penne' or tube pasta
✱  3 tablespoons chopped fresh parsley
Italian sausage soup : how to make it.
✱  Grill the sausages until nice and brown, saving 1 tablespoon of the fat.  You will see some recipes suggest removing the skin from the sausages but we never do this.
✱  Chop the garlic finely or use something like the Chef'n Garlic Zoom  (for the UK use this link : Chef'n Garlic Zoom) - it makes chopping garlic so easy - and saves your hands from smelling!
✱  Chop the onions and tomatoes; if using cherry tomatoes just cut them in half.
✱  Slice the courgettes and carrots thinly; if the pieces look too big cut them in half.
✱  Heat the olive oil in a pan, or use the sausage fat if you prefer.
✱  Add the chopped onion and garlic and fry gently until soft.
✱  Add the carrots, tomatoes, sausages and herbs; combine over a very low heat for five minutes to allow the flavours to mingle.
✱  Add the broth, water, tomato juice and wine. Bring to the boil so the alcohol evaporates and leaves just the taste of the wine.
✱  Once it has boiled, reduce the heat and simmer (without covering) on a low light for about thirty minutes.
✱  You'll find the soup has a thin layer of fat on top. Skim this off.
✱  Now add the courgettes (zucchini) and pasta and simmer for another twenty minutes.
✱  Serve while still hot, sprinkled with Parmesan cheese if you like, with a large piece of Italian crusty bread for dunking!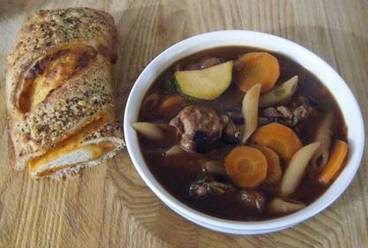 BUON APPETITO!
---
Like Italian sausage? You'll love this best Italian meatball recipe.

Italian soups are very filling and you're not likely to need a large meal afterwards. Treat yourself instead to one of our authentic Italian desserts.
---
---

Click to go back to the home page.