A delicious, easy Tiramisu recipe  - with a difference!
Looking for authentic Italian Easter recipes you can eat all year round? 
This easy Tiramisu recipe is a scrummy savoury version of the famous dessert - and it's one of the most delicious things we have ever, ever eaten!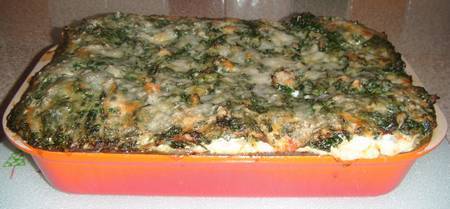 Our savoury easy Tiramisu recipe : why is it not a dessert?
Outside of Italy, Tiramisu is usually thought of as a very rich, chocolatey, ultra-sweet dessert. But in our region of Le Marche, Italy, Tiramisu is any recipe using Marscapone cheese and milk. The fact that this one is savoury is neither here nor there.
This is genuinely one of the most delicious authentic Italian recipes we have ever, ever tried. It is so completely gorgeous we never want it to end!

When is it eaten?
This is one of the most popular Italian Easter recipes and in particular, because it's just as good cold as hot,  it's regularly used as an Easter Monday picnic recipe - but we love it so much we make it right through the year, whenever we feel in need of a treat!

Who will enjoy this easy Tiramisu recipe?
This is not a low calorie recipe, so don't try it if you need to lose some weight. It's not a recipe for meat-eaters either.
But if you love vegetables and cheese, it's ideal for you. It's got quite a strong taste but at the same time, because of the milk and bread, is very easy on the stomach, and the spinach and cheese make it incredibly nutritious.
So a small portion is great for anyone who needs tempting dishes to build up their energy levels.
This recipe is enough for four people as a main meal or six as an ample starter. It's not difficult to prepare but takes about thirty minutes, plus thirty minutes to cook.

Savoury easy Tiramisu recipe  : Ingredients
✱  1 large leek
✱  2 tablespoons extra virgin olive oil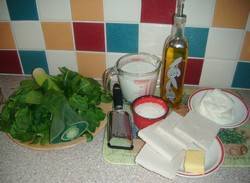 ✱  1 litre (4 cups) milk - skimmed is fine
✱  1 grated fresh nutmeg, or one teaspoon ready grated nutmeg
✱  500 grammes (1 lb) Marscapone cheese
✱  100 grammes (4 oz) Parmesan cheese
✱  About twelve slices bread with crusts cut off
✱  Enough butter to grease your dish
✱  Salt and pepper to taste.
Savoury easy Tiramisu recipe  : how to make it
✱  Pre-heat your oven to 180ºC (350ºF; gas mark 4)
✱  Wash the spinach but do not cut or tear; peel the leek and cut into slices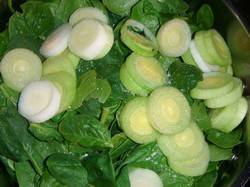 ✱  Put the spinach and leek together into a large pan together with the olive oil and a dash of salt and pepper
✱  Toss (gently, so it doesn't spill out of the pan!) to make sure the veggies are covered by oil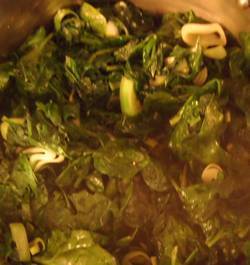 ✱  Cover with a lid and cook slowly, over a very low light, until the spinach wilts, then turn up the heat to cook off the liquid
✱  Remove from the heat and allow to cool a little
✱  Meanwhile, add the grated nutmeg to the milk, mix together and warm - again slowly over a low heat so that the milk has time to absorb the flavour of the nutmeg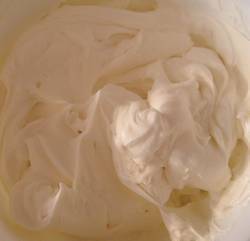 ✱  Put the Marscapone into a bowl and whip with a fork until it softens and becomes light and creamy
✱  Grease a medium sized baking dish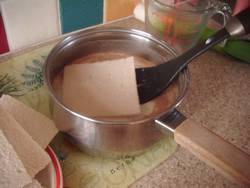 ✱  Remove the milk from the heat; take one piece of bread at a time and soak in the milk and nutmeg mix. Don't let it get too moist or it will fall apart.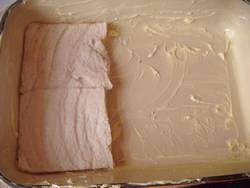 ✱  Use enough pieces of bread to line the bottom of your dish, pushing the edges together to form the pie's base
✱  Divide your Marscapone, Parmesan and spinach and leek mixture into two
✱  Now spread one half of the Marscapone over the bottom layer of bread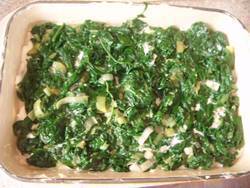 ✱  Add half the spinach and leek mix and finally the Parmesan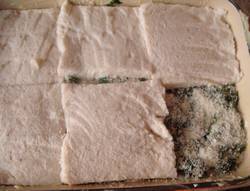 ✱  Repeat those layers one more time so that you eventually have two layers of bread, two of Marscapone , two spinach and leek and two Parmesan, finishing with a Parmesan layer
✱  Bake in the oven for about thirty minutes. You will find that the pie rises and the top should be crispy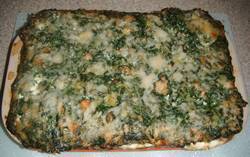 ✱  Leave for a few minutes to cool; this will give time for the ingredients to meld together and it will be much easier to cut
✱  We like to eat this with some steamed green vegetables or a simple green salad - it's far too rich to have with anything else!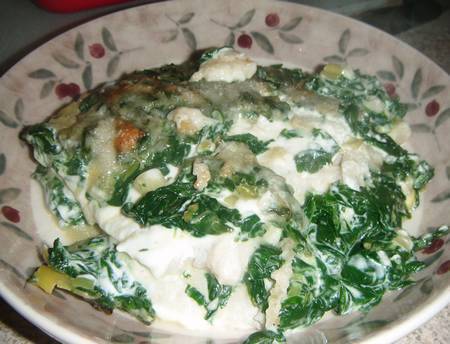 BUON APPETITO!

---
If you're looking for other vegetarian recipes you will love our scrummy Italian frittata - delicious eaten hot or cold.
And if you're looking for that gorgeous sweet of the same name, here's our quick Tiramisu -  just as rich, just as delicious, just as easy to make!
---

Click to go back to the home page.