Italian Easter traditions :  Easter Monday and the perfect picnic menu!
One of the happiest of Italian Easter traditions is experiencing Easter Monday in Italy

- 
when the best of Italian Easter food makes the best of Easter treats for kids.
Easter Monday roadside picnic outside Naples, 1950s.
"Natale con i tuoi, Pasqua con chi vuoi"
("Christmas with family, Easter with whoever you like")

Easter Monday or 'La Pasquetta' - literally little Easter - is one of our favourite Italian holidays.
It's the first day after the religious intensity of Palm Sunday, Good Friday, and Easter Sunday has finished and when families and friends who have been solemn and pensive get together in a completely relaxed, informal, always noisy way to enjoy each other's company and - hopefully - the warmer spring weather.
It's an official national holiday in Italy so, if you're going to be there on Easter Monday you should expect banks and shops to be closed.

Italian Easter traditions : the history of Easter Monday.
The origins of Easter Monday celebrations, like the origins of Easter in Italy, are based in pagan tradition. The ancient Roman culture feast of 'Lupercalia' was linked to re-birth after the hardships of winter and was a period of several days celebrating fertility and family.
Although it's not really celebrated as a religious part of Easter in Italy,  (though inevitably mass is said in churches all over the country) Easter Monday does have some religious significance.
It's also known in Italy as 'Lunedì dell'Angelo' ('Monday of the Angel') - the day to remember Mary and Mary Magdalene visiting the sepulchre and, finding it empty, being comforted by an angel.
But there is no obligation to attend church on Easter Monday and so the main celebrations are secular. Even the Pope has a day off!
This is a time for families and communities.

Italian Easter traditions : what to do on Easter Monday in the city.
Ask any older Italian, or Italian-American, what their best memory of life as a child is and they will almost without exception talk about Easter Monday picnics.  It was - and still is - one of the year's best Easter treats for kids and adults alike.
Italians leave the city in droves on Easter Monday. They hit the country, the beach, the mountains - we have even seen families stop to have their picnic on the emergency lane of the motorway between Milan and Turin!  Anything will do.
Families may travel to the nearest village to celebrate local Easter Monday traditions but generally speaking, Easter Monday for families means a picnic.
From Rome, favourite picnic destinations are the hilltop villages of the Colli Albani, a few miles to the south-east of the city;  towns like Frascati and the Pope's summer residence, Castelgandolfo (see our page of facts about the Pope for information on how to get there) are particularly popular.
If you really can't make it out of the city, the Borghese Park is the place to be.  It's the closest thing to the country that Rome has to offer.

Italian Easter traditions : Easter treats for kids
Mmmm - Nocino! (walnut liqueur).
Cath enjoys a picnic with our friends the Pioli family, Easter 2009.
For younger children and the older generations Easter Monday picnics generally take the form of family outings - sometimes just as far as the orchard - and playing games.
Our friends in Italy play soccer, bowls, dominoes and cards to the sound of opera booming from the stereo and bottles of wine cooling in the stream at the bottom of the hill.  The whole point is to get out and enjoy the return of spring. 
For teens and young adults Italian Easter traditions have come to mean the thrill of heading out for the day with groups of friends, often to the coast, and enjoying a barbeque on the beach.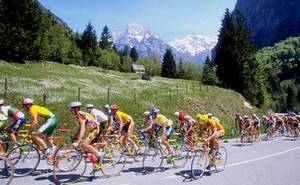 Easter Monday cycling rally, Alto Adige.


And for many of the more sports-minded, it's the first serious chance of the year to get out as a group on bikes and pedal the mountain roads. 
With the 'Giro d'Italia' (the Italian version of the 'Tour de France') just around the corner in May, cycling clubs start serious training on Easter weekend.
Pasquetta is, above all, a time to enjoy whatever you like doing best.

Italian Easter traditions : Easter Monday's perfect picnic menu
That often means it's the time for families to outdo each other with their picnic fare. Although many dishes are improvised, using bits left over from the big Easter Sunday celebrations, our friends in Italy still recall the crazy days of an entire sheep being roasted on an open-air spit.
These days the perfect picnic menu tends to be rather less ostentatious.  Eggs are a main  feature - not just the chocolate eggs of the well-known Italian Easter egg tradition but hard-boiled eggs and Italian Easter bread complete with its in-baked coloured eggs.
And then of course there are things baked with eggs - Italian frittata  - and Italian omelette filled with leftover vegetables (which makes a delicious eggy sandwich when slapped between two slices of bread) and the favourite of all cold picnic recipes from Italy - the Torta di Riso are all on the menu.

Don't be surprised when
the singing begins!
Add platefuls of lovely crusty Italian bread, slices of a simple pizza Margherita, cured or grilled meats, local cheeses and mounds of vegetables including lettuce fresh from the garden (yes, even in April!) and you've almost got yourself a proper Italian picnic.
Almost.
Because there's still the courgettes (zucchini) sliced lengthways, covered with a squirt of lemon and grilled on a smoky barbeque, and - obviously - a gorgeous Italian Caprese salad recipe to make up the the perfect picnic menu.
Almost perfect ...
Well - it wouldn't be Easter Monday without the sweet Italian Easter pie (more eggs!) and a few chocolate biscotti to finish off.
Oh, and plenty of local wine, naturally!
So, if you get the chance to join in an Easter Monday picnic in Italy - do it! - and if you're visiting a city at Easter, buy some local Italian Easter food and join in the family fun at the local park.

And when in Italy, do as the Italians do -
Enjoy!
---
Italian Easter traditions to
more about Italian culture and customs at Easter
---
If you enjoyed this article, we'd love you to let us know - just click the button below. Thank you!
---

Click to go back to the home page.
---
Ads by Google.