Best Italian meatball recipe.
Even healthy eating diets can include this!
This is simply the best Italian meatball recipe we've ever found. It combines Italian food customs with healthy cooking.
Make this simple recipe for Italian meatballs your own and you'll always be in demand!
Tips for making the best Italian meatball recipe
Authentic Italian food customs are simple - and this recipe, given us by one of our Italian friends, is very straightforward.
Italian families tend to take a recipe handed down for generations and 'tweak' it according to their own family's tastes, and you should do the same. It's the only way to make it genuinely the best Italian meatball recipe for your family.

We use our mix as burgers too!
Here's some things that will make a real difference :
✮  Cooking healthy Italian food means using as fresh produce as possible.  Don't use packet breadcrumbs. Using authentic Italian bread tastes completely different.
✮  Use freshly grated cheese, not pre-grated. This recipe uses Pecorino, which is very strong, but if you want a less strong cheese or you're trying healthy eating diets, substitute a cheese of your liking.
✮  The mix of meats is what makes these meatballs taste so good and veal is a staple Italian meat. However, we don't eat veal and substitute chicken instead. We've also used lamb.
✮  If your family aren't keen on herby flavours, miss out the rosemary and oregano and just use parsley.
✮  Using English mustard gives these meatballs a real kick. If your family would prefer a milder flavour, use French mustard.
✮  Cooking healthy Italian food isn't always at the top of the agenda in Italy!  Italians fry these meatballs in olive oil. If you want to do that, fine, but if you're looking for a low fat or healthy eating diet, bake or barbecue them instead. We give instructions for both below.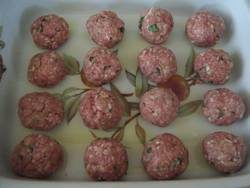 So - let's get cooking!

Ingredients for the best Italian meatball recipe
✮  1 lb (500 grammes) ground (minced) beef

✮  1/2 lb (250 grammes) ground (minced) veal

✮  1/2 lb (250 grammes) ground (minced) pork
✮  1 cup (120 grammes) freshly grated Pecorino cheese

✮  1 1/2 tablespoons chopped flat leaf parsley
✮  4 sprigs fresh rosemary
✮  1 tablespoon dried oregano
✮  4 teaspoonsful French or English mustard
✮  2 cloves garlic, finely chopped
✮  2 eggs, lightly beaten
✮  salt and ground black pepper to taste
✮  2 cups (90 grammes) Italian bread, grated into breadcrumbs
✮  1 1/2 cups lukewarm water
✮  1 cup olive oil (if frying)

Best Italian meatball recipe : how to do it
✮  Pull the leaves from the Rosemary sprigs and chop them finely.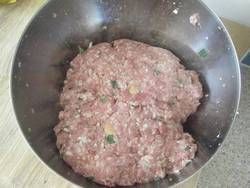 ✮  In a large bowl, combine the meats and add the garlic, cheese, parsley, rosemary, oregano, mustard, salt and pepper.
✮  Add the eggs and make sure the everything is well mixed.
✮  Add the breadcrumbs and knead by hand to make sure they are well combined.
✮  Now add some water, a little at a time. This step is one you will learn by trial and error.  The mixture needs to be wet, but to hold its shape when moulded into balls.
✮  Using a tablespoon, take a spoon of the mixture and roll it between your hands to make a smooth ball. Set aside on a baking tray until all the mixture has gone.

Best Italian meatball recipe : alternative endings
How you use these meatballs is really down to personal taste. Here are some choices.
✮ The Italian way - frying :

Heat the olive oil in a large skillet or frying pan. Fry the meatballs in batches. When they're  brown and slightly crisp remove from the heat and drain on a paper towel.
If you find your mixture is too wet, cover the meatballs while they're cooking so that they hold their shape better.
Fried meatballs are best served in a basic tomato pasta sauce, with a steaming plate of delicious home made pasta.
✮ The healthy Italian food way - baking :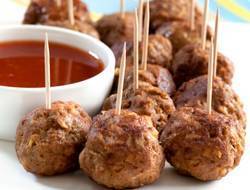 Bake the meatballs on a cake rack in the oven at 325 degrees for about twenty minutes. Use a  foil-lined tray to catch the fat.
This way means they brown well but the fat from the meats is drained off and they can be eaten straight from the oven. 
Use the baked meatballs at parties with a basic tomato dip - everyone will love them!
✮ For those on healthy eating diets - baked in sauce :
Sauce is an important part of Italian food customs. Part-cook the meatballs in the oven as above so the fat drains away, but for the last ten minutes put them into a simple tomato-based sauce and allow to cook for a further ten to fifteen minutes.
Or :
Drop each meatball straight into the tomato sauce (without baking at all) and cook over a very low heat for an hour. This means the fats from the meat soak into the sauce and it tastes amazing - but it's not low fat!<br>

✮ Cooking Italian food in the summer  - barbecues : 
Traditionally Italian kitchens aren't used much in the summer - it's just too hot to be inside. This recipe for Italian meatballs is ideal for the barbecue.  Cook on a rack and allow the fat to drip onto the coals.
Enjoy with a simple but tasty salad - here's our lovely Italian salad recipe.
✮ Freezing :
This recipe for Italian meatballs freezes well. Don't fry them - use the baking method. When they have cooled, put the tray into the freezer for an hour until they have set enough to avoid them falling apart. Then place in freezer bags and put them back into the freezer.
Make sure you de-frost properly before re-heating.

And there you have it - the best Italian meatball recipe you'll ever find!


---
These meatballs go particularly well in this Italian pasta sauce recipe  - just substitute them instead of the beef.
They go equally well in this warming Italian sausage soup - again, use them instead of the sausages.
And they're so versatile they also make a great snack with some tasty home made Italian bread - try them warm for a comforting winter lunch, or cold on your summer picnic table.
---

Click to go back to the home page.