Sunflower pictures: share yours, or buy ours!
Been to Italy and want to share your photos of sunflowers?  Here's your chance!
Sunflowers are iconic in Italy.  Every where you go in the summer months you'll see fields stretching as far as the eye can see - as long as you know where to look.
They're one of the most loved flowers ever.  They just make you feel - well - sunny!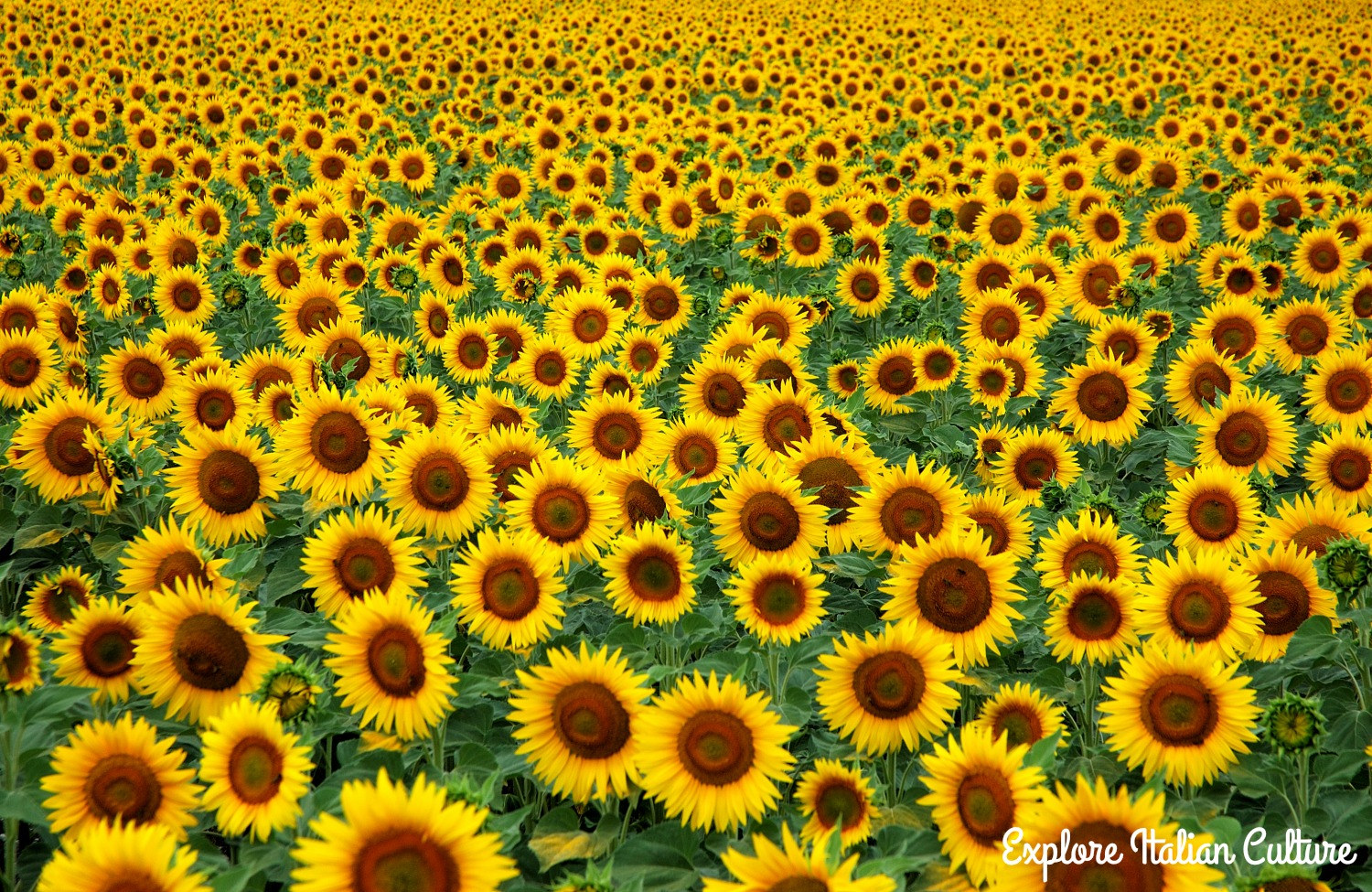 And when you go home?  It's nice to have a reminder of the sunshine and the colour they've brought into your life.  So on this page, you'll find our own pictures taken in Italy, and you'll have the chance to share your own.

We have them, so we know - they really do brighten up your life.  You just can't help looking at them - and smiling.

Sunflower fields: get down low!
Sometimes it's good to get right down underneath the sunflowers and take pictures looking up at the blooms.
Especially if there's a blue sky, this picks out the individual petals and the growing clusters of seeds in the middle of the plant.
Try it!
Close up pictures of sunflowers can be somehow inspirational.
This image of a sunflower in close up was taken just before the petals start to fall.  You can see they're starting to curl a little at the edges, and the seeds in the centre are maturing.
Both those things make for one of our very favourite of all sunflower pictures!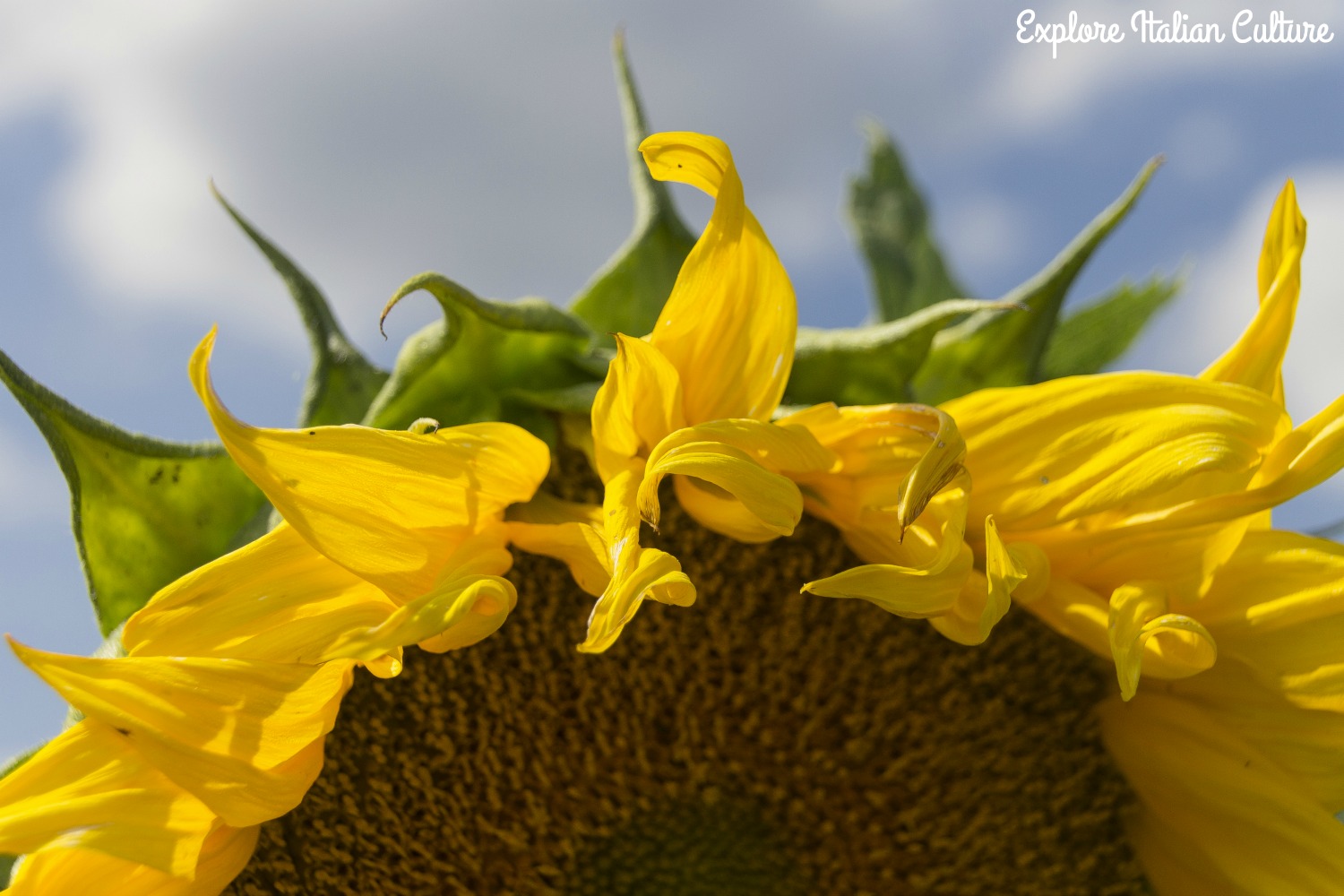 Our sunflower logo.
You may recognise this picture - if you have signed up to our newsletter you will have seen it on the sign-up box, and we use it on the newsletter header, too.
It was taken of a sunflower in full bloom, in a field just up the road from where we live, at the height of summer. The yellow of the sunflower against the blue Italian sky is always a favourite.

Want a more permanent reminder?
We love having sunflower pictures round our home in Italy.  Some are taken by Cath, others we buy from reputable websites.  Whoever they're by, they brighten up the house even on the darkest of rainy days (and yes, there are some in Italy!).
These are two of our favourites.  If you click on the pics, you'll be taken to a different website where you can buy them.
Sunflower field wall art - click on any of the pics to buy.
We've got this picture and love it.  In fact, I (Cath) keep it in my office because, no matter how tired I get, it never fails to cheer me up.
A field of sunflowers in early morning light - a very typical sight in rural Italy.  
The columns are available in two sizes, and are canvas stretched onto wooden frames.  They're light enough to be hung in any place on any wall, and they come with hooks already attached for easy hanging.
Some of the Amazon reviews talk about the pictures not matching up properly.  It's important, of course, to get them in the right order and to help with this, they come numbered.  Make sure you line them up from 1 to 5 and all will be fine.
Go on - bring your Italian vacation home with you!
To buy the sunflower wall art from
Amazon US

, click this flag.
To buy the sunflower wall art from
Amazon UK

, click this flag.
Gustav Klimt: 'Farm Garden with Sunflowers'.


To buy this pic click on it if you live in the USA.  If you live in the UK, click here.
This was originally an oil painting by Klimt, created somewhere between 1905 and 1906.  
Klimt was one of the most controversial artists of the 20th Century, but this is one of his paintings of nature taken from a garden in his native Austria.
The colours are stunning - the red really "pops" against the yellow, and all the colours stand out beautifully against the dark frame in this version.
Does this remind you of your vacation in Italy?  It's not Italy, of course - but it's very typical of the way in which Italian households use colour in their planting.
This reproduction measures 30" x 40" and comes ready to hang in a black frame.
To buy from Amazon USA, click on the picture or on this link.
Is the Klimt picture available in the UK?
Yes, it's also available from Amazon UK, but at a far higher price.  If you want to take a look, here's a link to the UK version. 
---
Now - let's see your sunflower pictures!
Do you have some great sunflower pics?
If you have some pictures of sunflowers which you're proud of and you'd like to share with the world, let's have a look! Click on the '?' for each section to discover exactly what to do.
Other people's pictures.
Click below to see contributions from other sunflower lovers!

Sunflowers in Italy: an Aussie's memories.
Hi Cath, We had just stepped off the little shuttle boat that had ferried us across from the Island of Murano. We actually had stepped onto the wrong …

Want to see more about sunflowers?  Click on the pic!
---

Click to go back to the home page.
Some links on this page are affiliate links, which means that if you purchase a product through them, we receive a small commission. There is no extra cost to you. To learn more please see our affiliates disclosure document.