Venice, Italy weather : the climate in spring.
We look at things to do in Venice when the weather starts to warm up, and offer you a way of seeing what the climate in Venice, Italy is like today.
Venice is the most amazing city. It's romantic, it's astonishing, it's sometimes crazy - it's like no other place on earth.
But when's the time to see it at its best?


Venice, Italy weather  :  general information
That partly depends on what the climate's like when you choose to visit Venice.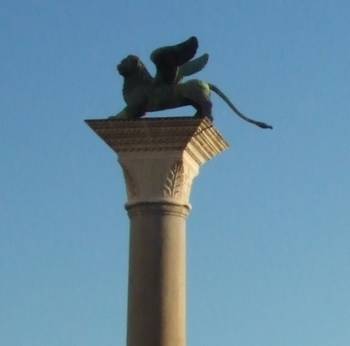 Italy weather varies remarkably from region to region.  Venice is situated on the north Italian plain, an very low-lying, flat region which has its own distinctive climate.
In winter, the weather in this area is surprisingly cold - sometimes colder than Paris or London - and fog is an accepted part of everyday life. In summer it can be very hot and dry - sometimes as hot and dry as the south of the country.
Rain falls more or less evenly throughout the year but in summer tends to be in the form of short thunderstorms on a few days whilst in winter, it is more persistent and drizzly; hours of sunshine range from an average of two or three per day in winter to over nine in summer.

Venice, Italy : weather in spring
When is spring?
Venetians define spring as being the months between the beginning of March and the end of May.
Temperature in spring
The average daytime temperatures in spring range from around 12°C (53°F) in the earlier part of the season to about 21°C (70°F) as the summer approaches.
At night expect the temperature to drop to around 5°C (41°F) in March - too cool to sit outside comfortably - to 13°C (55°F) in June.

Venice, Italy weather :  what about rain in spring?
Venice's rainfall is spread fairly evenly across the year - apart, that is, from the famous 'Acqua Alta'.
You may have heard of 'Acqua Alta'. It's the time when Venice floods. It's linked to spring and autumn high tides and is most likely to take place between late September and early April - more often during the winter months.
You might be lucky enough to experience 'Acqua Alta' in March. Why lucky?  Because it's a brilliant experience and provides the opportunity for some amazing things to do in Venice which you'll never find at any other time of year.
It may not be so great if you have to live with it of course, although local people take it very much in their stride.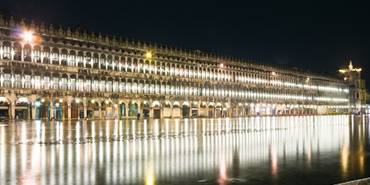 St Mark's Square at 'Acqua Alta'.
But as a visitor, take advantage of it. Buy a pair of yellow wellies (boots) which will suddenly spring at you from every shop doorway - not very trendy, but fun.
Wade with local people in the waters in St Mark's Square. Take some of the most amazing photos of Venice you'll ever have - watch out for some stunning watery reflections of the Basilica, the clock tower and the Doge's Palace.
It's all about how you approach it. By mid-April the chance will be over.   Any rains will be much lighter, and by the end of spring in Venice, Italy weather is warming up and rainfall becomes less and less frequent.

What's good about spring in Venice?
We have to be honest. We love Venice at any time of year. Each of the seasons has its own advantages.
Spring is one of the nicest seasons to visit Venice. The weather is warm and usually sunny, the temperatures are comfortable and don't have the humidity of summer, rains are easing off, days are lengthening, and although Venice is a year-round tourist venue, the mass tourism and huge crowds of summer haven't yet started.

Venice, Italy weather : what's not so good?
The climate of Venice, Italy, in spring is more unpredictable than any other season. It can be warm and sunny but rains can break into heavy and lasting thunderstorms.
But as long as you go prepared (take an umbrella!), you'll love it.

Any special things to do there in the spring?
In terms of special events, the city is still recovering from 'Carnevale' in February and gearing itself up for the tourist influx of the summer months, so until May there aren't many specific events.

Things to do in Venice  :  Easter week
Although there are inevitably hundreds of church services throughout Easter week in Venice, and although the sound of church bells ringing through the city on Easter Sunday morning is a wonderful sound, Easter in Venice overall is nothing like Easter in Rome.
Many Venetians leave the city and go to nearby resorts, and at the same time there is always a big influx of tourists.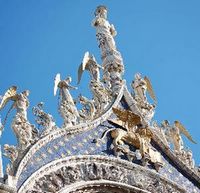 St Mark's basilica, front door detail.


Benedizione del Fuoco : This 'Holy Thursday' service at St Mark's Basilica is, in our view, the most moving event of Easter in Venice.
The service begins at around 6 p.m. with the church in total darkness. The 'sacred flame' is lit in the entrance, and a procession enters, lighting the basilica with candles as it goes.
Worth seeing, but get there early.
Italian traditions on Easter Monday are centered around families, and Venice is no exception to this. On the Via Alvise Pisani in the heart of the city, there's always a funfair for children : street performers, musicians and various stalls.
If you're in Venice on April 25, you'll see the 'Festa di San Marco' - the feast day of the patron saint of Venice is celebrated in and around St Mark's Square, although it's very low-key. 
Tradition has it that, if you're in Venice on that day, men should give their partner a long-stemmed red rose. You'll find plenty of sellers in the streets and restaurants  - with roses at vastly inflated prices, naturally.
Things to do in Venice in the spring :  the 'Vogalonga'
Probably the biggest event in Venice in spring, and absolutely definitely not to be missed, is the annual 'Vogalonga'. It's held on the first Sunday after the Ascension, and it starts around 9a.m. in St Mark's basin.
It's the most amazing sight. Around fifteen hundred boats of all shapes, sizes, ages and colours descend upon the lagoon and all the canals of the city.  Only boats powered by people are allowed, and to see the canals of the city covered in boats but without a single 'Vaporetto' around is one of the most amazing experiences Venice has to offer.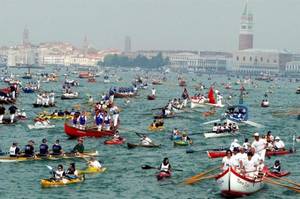 'Vogalonga' on the lagoon.
Don't miss it - and if you happen to have a kayak handy - join in!

Venice, Italy weather today
If you're travelling to Venice in the next few days, have a look at our page about the current weather in Venice, Italy where you'll find today's temperatures and a detailed forecast for the next six days.
Or if you're travelling in the future, bookmark the page and come back to check later.

---
---

Click to go back to the home page.