Can even the best bread machine make great Italian dough?  We say "Yes"!
(.... and so do our Italian friends!).

Want to give your family a healthy, additive free Italian bread but don't have time? Panasonic's best bread machine is your salvation.
How do I know?
I've owned one for over twenty years - and my Italian friends like the bread it produces better than our local Italian bread store!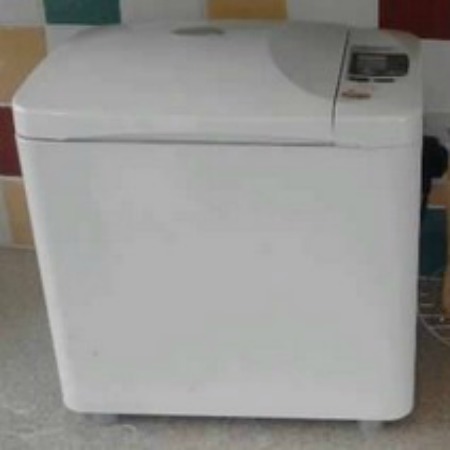 Our old Panasonic bread maker - still making great bread after 20 years!

It still works perfectly, and produces some genuinely lovely Italian breads - our favourite is the Foccacia.  But the thing we love most is the speed with which it makes the most delicious pizza dough.
Here's an example of the Foccacia it makes, and our fave Saturday night pizza Margherita.  Both these doughs were made using the Panasonic which in our view is the best bread machine on the market.
| | |
| --- | --- |
| Foccacia bread - sure to make your mouth water! | A firm favourite - Pizza Margherita.  Yum! |
As an added bonus, not only do they taste delicious but we chose to make them with a good quality, organic flour and no salt or additives at all.  A great way to feed your family healthily.

The Panasonic SD 250 (U.S.) and SD2501 (U.K.)

To make sure the Panasonic range is still the best, we've also had a look at a number of different reviews, including Amazon and the UK's 'Which?' magazine recognised as the gold standard for reviews.
All of them, without exception, score these models very highly.
In fact, 'Which?' scored the Panasonic range as not only 'best buy' but also 'best tested'.  You can't get a much more positive recommendation than that!
Why buy a breadmaker at all?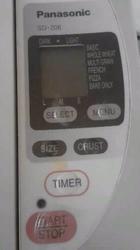 ✬  Simple to use - add ingredients, press two or three buttons and that's it!
✬  You can make your loaf without the additives of shop-bought bread and with the best ingredients which add to both the taste and the health benefits.
✬  Make special Italian-style breads - olive, tomato, herb and more!
✬  Ideal for special diets - salt or gluten-free for example.
✬  There's nothing like the smell of freshly baked bread or dough.
✬  Enjoy the benefits of fresh bread without the time-consuming process of making it by hand.
✬  It's cheaper than shop-bought bread.
✬  There's nothing like the smell of fresh bread!
Why are we reviewing two best bread machine models?


✬  The SD2501 is a new model currently only available in the UK; the SDYD250 only in the US.
✬  Each model has slightly different features but the brand quality and overall performance are exactly the same.
Features common to both machines.

✬  Both have an unique temperature-control programme which makes slight adjustments to ensure perfectly baked bread regardless of conditions like climate and room temperature.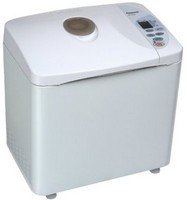 The US version - the SD-YD250
✬  Both scored highly in reviews on taste, consistency and quality of all breads and dough mixtures.
✬  Both found to make consistently good products over the range of cooking possibilities (normal, rapid bake and delayed mode) and sizes (small, medium and large).
✬  Both make specialist breads as well as white, brown and wholemeal - examples being rye, wholegrain, gluten free.
✬  Both make wonderful pizza dough!
✬  Both mix, knead, and rise doughs not only for pizza but for focaccia, croissants, and other pastries.
✬  Both have delay timers so that you can plan bread to be ready for when you wake up in the morning or when you arrive home at night.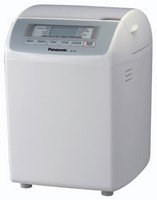 The UK version - the SD-2501
✬  Both have a count-down timer so you can see exactly how long is left to go, and a warning beep when the bread is finished.
✬  Both have a non-stick pan which really is non-stick (make sure you wash by hand in warm soapy water, not in a dishwasher).
✬  Both are very quiet - there's no shaking themselves off the work surface, which you find with many other models!
✬  Both include a measuring cup and mug, and a really good recipe book with over fifty recipes, as well as the instructions for use.

Best bread machine differences :  SD-YD 250 (US only).


✬  Does not have a nut and raisin dispenser - it has a bleep to let you know when to add.
✬  Does have a yeast dispenser which automatically adds yeast at the right time in the process.
✬   Like our own SD105, this model does not have a viewing window so you can't see the bread-making in progress.
✬  However, there are advantages to this - it ensures that because the bread in encased completely in the metal surround, the temperature is constant and the bread cooks perfectly each time.
Best bread machine differences  :  SD2501 (UK model).


✬  This model has a viewing window so you can check on your bread's progress as it bakes.
✬  It has no automatic yeast dispenser - you add the yeast along with all the other ingredients at the start.
✬  It does have an automatic fruit and nut dispenser so if you love early morning fruit bread you'll love this!
✬  Sandwich option bakes bread with a softer crust - ideal for packed lunches or picnics.
✬  It has a 60 minute 'keep warm' function.
Best bread machine : reviews.
Here are some genuine user reviews, picked at random, from 'Which?' magazine and from Amazon:
"You get what you pay for in this world and the Panasonic SD-YD250 is a perfect example. Quiet as a mouse. No jumping around the counter and whining and improperly mixing as a Breadman we purchased (and returned) did".
"If you are looking for a rock solid, flexible unit that turns out a perfect loaf time after time (up to 2.5 lbs), this is your bread machine. The automatic yeast dispenser is a great feature, particularly if you use the timer. "
"This is the easiest and best machine I have ever used, and the bread comes out fantastic!"
"I am extremely pleased with my Panasonic SDWD 250, I do not believe there is a better bread machine that will even come close to this one."

Want to buy Panasonic's best bread machine ever?


Honestly? - You won't regret it!

We have found that Amazon has the best prices and is the most reliable merchant in terms of returns if you are not satisfied.  Clicking on the images below will open a window on your computer to take you to your local Amazon store.

---
Here are some other pages you may find useful.  Click on the pics to see them.

---
Want to read through again to make sure?  Return to the
top of this page about the best bread machine.

Some links on this page are affiliate links, which means that if you purchase a product through them, we receive a small commission. There is no extra cost to you. To learn more please see our affiliates disclosure document.
---

Click to go back to the home page.