Surviving Fiumicino Airport
How to survive Fiumicino airport, Rome.
Heard horror stories about flying into or out of Rome's Fiumicino airport?

Officially called 'Aeroporto Internazionale Leonardo da Vinci di Fiumicino', the grand-sounding name belies the fact that it is not exactly the best airport in the world. In fact, it can be a bit of a nightmare.
Worry not! We will guide you through it and make your stay in the airport, whether you're arriving, leaving or just passing through, as pain-free as possible.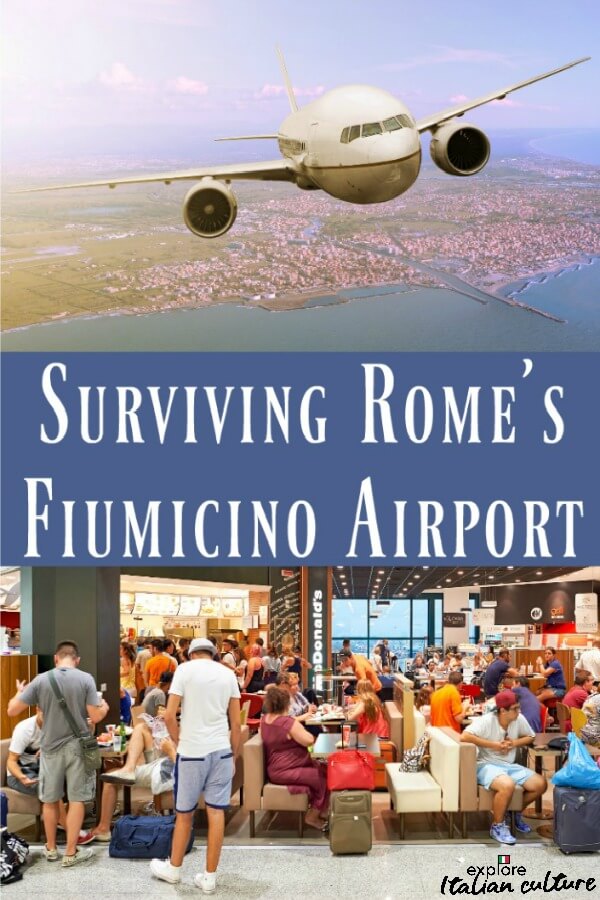 Looking for information about Rome Ciampino airport? You'll find it at this link.
For the fourth most visited city in the world, Rome's major international airport is surprisingly outdated. 
It has some great features - the shopping is particularly good - but it's old, sprawling, lacking technology and smacks of the very Italian way of dealing with chaos which goes something like "it'll all sort itself out in the end".
But it is possible to get through your time there with a minimum of problems. All you need to do in order not to stress yourself and your family out is to make sure you plan ahead.
So our first and most important tip is simple : plan, plan, plan.


Where it is and how to get to and from.
You may be surprised to know that Fiumicino is not in Rome itself. It's about twelve miles south east of the city, near the coast and less than ten minutes by car (or taxi) from the picturesque little fishing port of Fiumicino.

It's pretty easy to get there from Rome - and vice versa - and there are a number of different ways of doing that, ranging in price from very inexpensive to more costly.

Click on this link to go to a page which will give you very detailed information about getting into Rome from Fiumicino airport and back again at the end of your stay. It will open in a new window so that you can come back here and plan the rest of your time in the airport.

Arrivals.
Any language difficulties?
No. As you would expect from a large cosmopolitan airport, staff speak multi-languages and signage is international. It's in both Italian and English and the important locations like passport control, toilets, transport and the exit use the usual worldwide icons as well as text.

Passport control and immigration.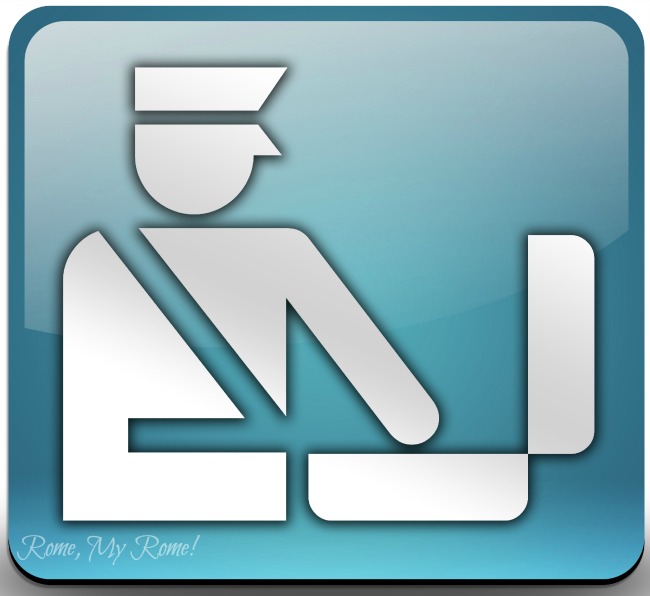 Fiumicino is not known for speed. Times will vary depending on the number of flights arriving but even so, expect to spend a long time in security and immigration queues (lines) even if you're arriving from another European Union (EU) or Schengen country. 

EU countries: You may be lucky, particularly if you don't have stowed luggage, but even so allow around thirty minutes to get through passport control - more if there are a lot of flights arriving at the same time. 

Arrivals from the United States: Flights from the USA usually arrive at a different terminal and you will need to get the shuttle train to the main terminal. It runs every few minutes and only takes a couple of minutes to arrive at the main building.

Once you're there, passport control can take anything from thirty to around ninety minutes. Fiumicino is often under-staffed and you may well find only two or three immigration booths open to deal with hundreds of passengers. 
Be prepared - have a book and a bottle of water handy, particularly if you're travelling in the summer. There's no point getting irate about it. The queue won't move any more quickly.
Collecting luggage and going through customs.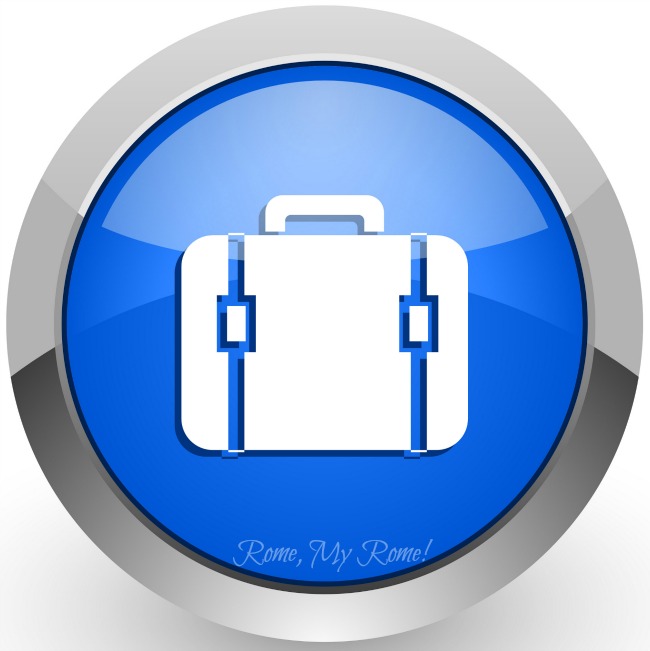 Watch out for the arrivals boards which will tell you the number of the carousel you need to go to. Experience of this process varies from very short waits of ten minutes or so to well over forty. It's pot luck. Don't automatically expect you'll be through quickly.

Customs again varies depending on where you have travelled from. Within the EU customs are now more or less non-existent, although officials are always on duty and will stop passengers at random to check luggage.

From non-EU countries you will stand more chance of being stopped. One of the main issues for Italian customs is ensuring that large amounts of cash do not come into the country.

If you're carrying more than €10,000 (ten thousand Euros) in cash (notes, coins, banker's drafts or traveller's cheques) you need to declare it by going through the 'red' channel. You will be asked to explain why you have such a large amount of money.
Getting money.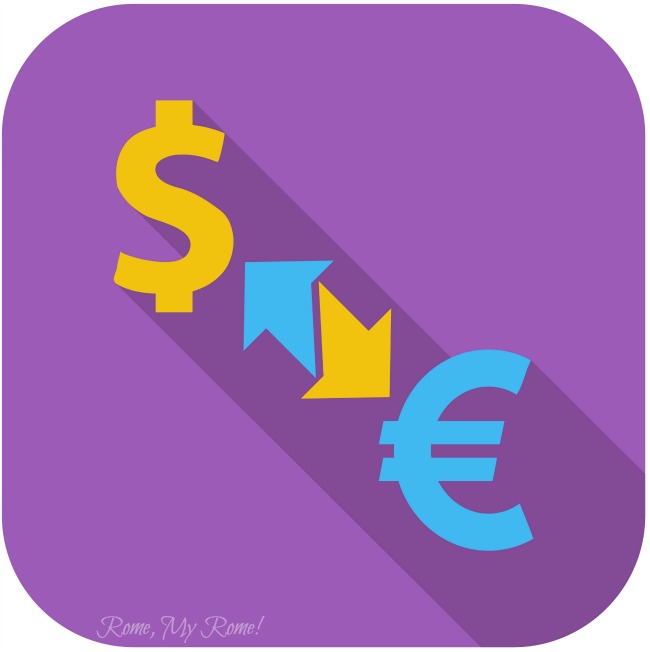 It's possible to change money at the airport, of course, but you'll pay a premium. Exchange rates at any airport are generally bad and Fiumicino is no exception. Additionally, you won't be able to use American 'swipe and sign' cards in the cash machines - Europe uses 'chip and pin'.  

If you have a 'chip and pin' card you will find cash machines (ATMs) in the terminal building once you have passed through customs. 
But beware: you will only be able to withdraw a maximum of €250 in one day. If you try to withdraw more than this you won't be able to and your card may be kept or your account frozen.
So again, plan. If you're flying into Rome, get some Euros before you travel. If you arrive without any and you need more than €250, use the currency exchange desks - but be prepared to pay for your lack of planning.
Click here to see more information about money in Italy.

Travelling into Rome.
In case you missed the earlier section on this page about getting into Rome, here's the link again.
The fact that Fiumicino airport is several miles outside the city makes for great views of the Mediterranean as you land and take off, but means you really need to plan ahead if the journey into the city is going to be seamless.

Links between the airport and Rome are excellent. The method of transport you use will depend mostly on the size of your group and the amount of money you're prepared to pay for convenience.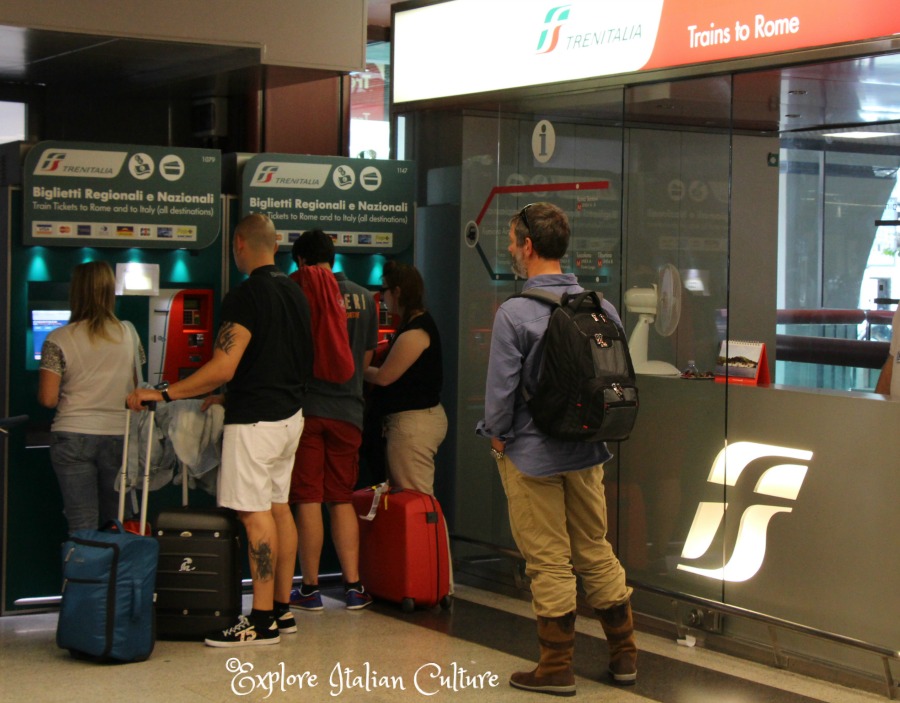 Tickets for trains into Rome can be obtained from machines within the airport.
A word about car hire.
There are, of course, many car rental agencies based at the airport, but unless you have an onward journey there is really no point in renting a car to get into Rome. Driving there is chaotic if you don't know where you're going (or even if you do!) and parking is nigh on impossible - and very expensive.

Take our advice - use public transport or book a private transfer instead.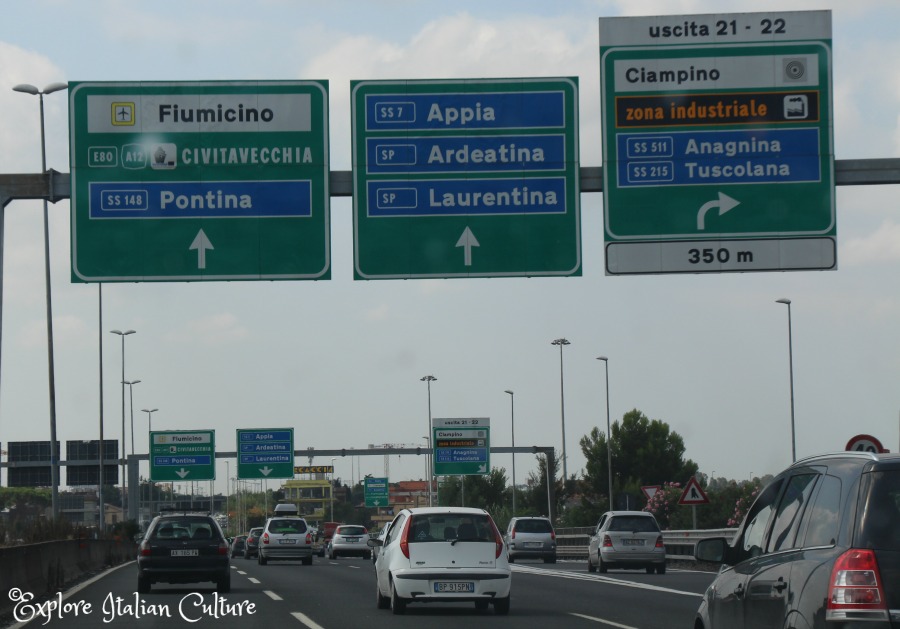 The Rome ring road to and from Fiumicino airport is always an adventure!
In transit through Fiumicino.
If you're not going into Rome but just changing flights in Rome airport, you need to make sure you allow plenty of time.
Whether you have to go through passport control and security again depends on whether you're coming / going from a Schengen country. If you are, there won't be a problem.
It can take a very long time to move between terminals when in transit through Fiumicino!
If yours is an international connecting flight, you will need to go through passport control and immigration when you land at Fiumicino. To allow time for this and to get between terminals it's a good idea to allow at least two hours between connecting flights.

Luggage will normally be checked through to your final destination.

Connecting flights are very well signposted and you'll find a board giving flights, times and gates as soon as you come off your flight in the connections area.
Departures.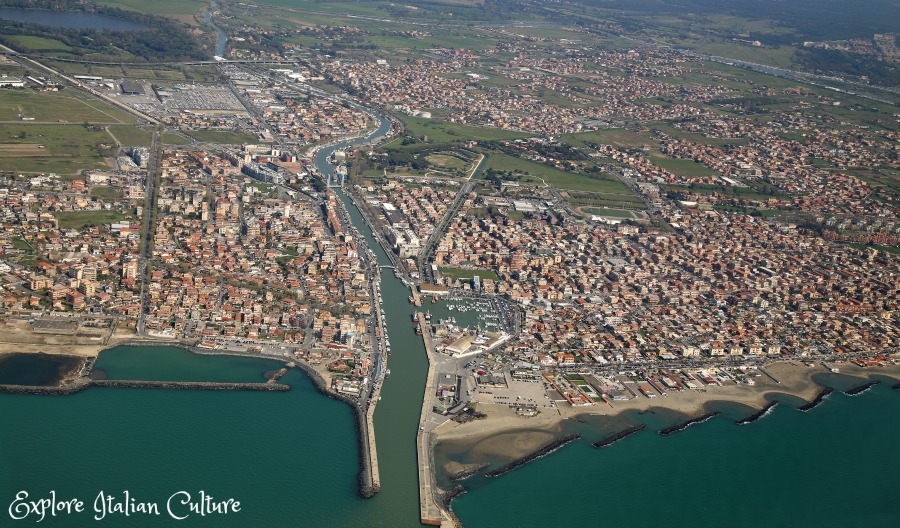 he view flying out of Fiumicino airport, with the town and small port of of Fiumicino visible.
The departure terminals at Fiumicino have been described as "a zoo", and it's easy to see why. Hot, crowded and usually chaotic, departing from Rome's major airport can be a stressful experience.

But to some extent that's because passengers haven't planned ahead. In this section we help you make sure you know what's in store and plan accordingly.

Getting back to the airport from Rome.
As with arrivals, there are several transfer options available depending on your budget. If you haven't done so already, take a look at the five most popular ways by clicking on this link.
Checking in at Fiumicino : When to get there.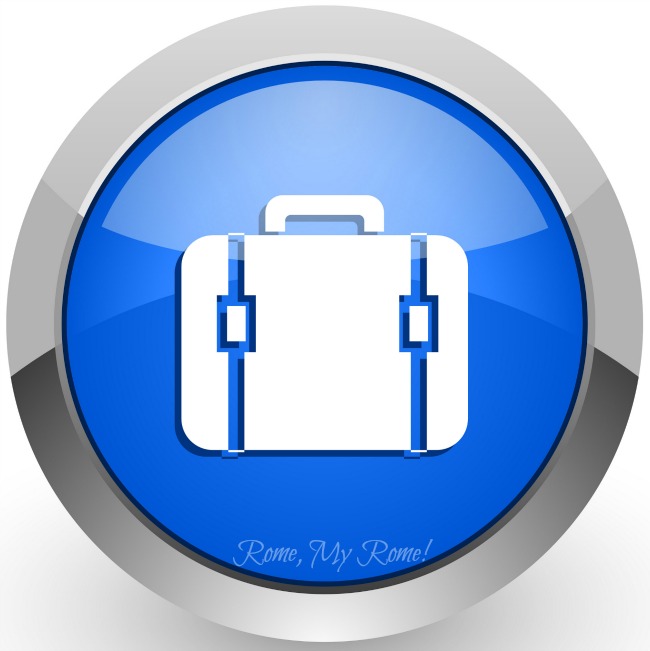 How far in advance of your flight departure you arrive at the airport depends partly on where you're flying to and with which airline.  
If you've not checked in online (which we strongly recommend you do if you can) you'll need to find out from your own carrier when their check-in and baggage drop desks open. 

Plan to arrive at least 30 minutes before the check-in and bag drop opens to make sure you get a good place in the inevitable queue.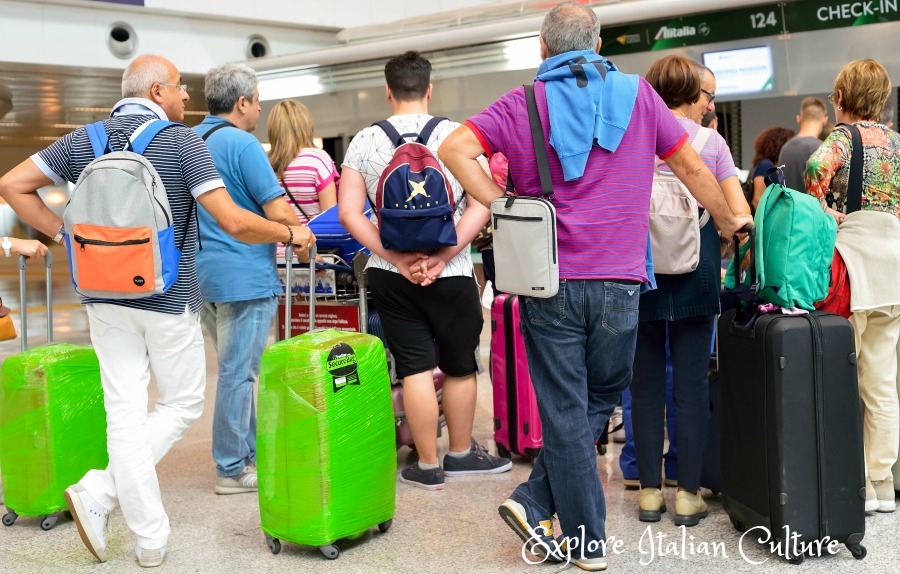 Checking in at Fiumicino is never very quick...
It is really, really important that you leave as much time as you can to find your way through the check-in and security processes. Do not leave checking your bags until the last minute. 
Departures from Fiumicino are far more chaotic than arrivals. Queues (lines) move very, very slowly and security is generally notoriously and irritatingly slow.
Important information for passengers flying to the USA with an American carrier.
N.B.  This is probably the single most important piece of information on this page.

For passengers flying out of Rome to the USA using an American carrier, and all passengers flying to Israel.

For passengers to the United States flying with any of the American airlines, and for all flights to Israel, you will be ushered to a completely separate terminal building - Terminal 5 - to go through rigorous and extremely slow security procedures.

You need to allow plenty of time before your flight to get through Fiumicino's often chaotic system. Our advice, having done this a number of times, is to leave at least three hours - preferably four - between arriving at the airport and your flight departure time.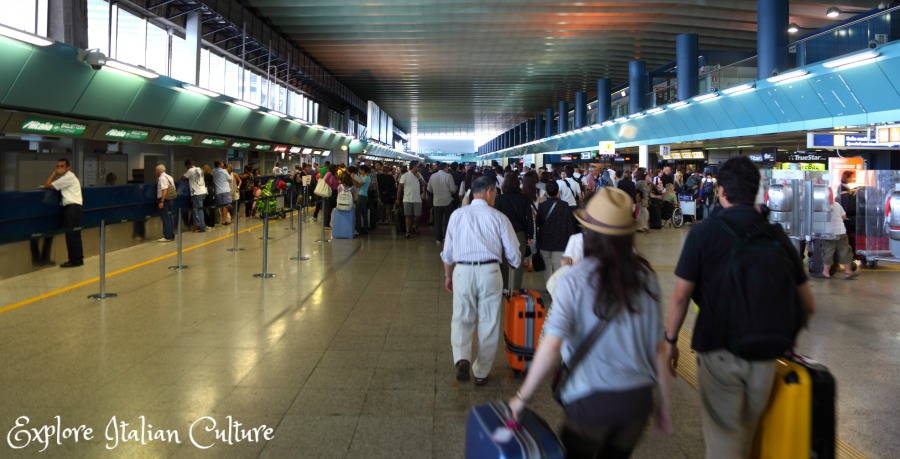 We can hear you already saying "that's over the top - two hours will be fine". Here's Cath's reaction to that :

"Take my word for it - two hours will not be fine. I fly to the States from Rome at least once a year. I know it's a pain, I know many American flights leave early in the morning which means an incredibly early start before a long, long travelling day. But trust me - three to four hours is what you need, and even then on a bad day you can be cutting it fine".

So allow two hours if you want to but - don't blame us if you miss your flight.

Which terminal?

Roughly speaking all flights with Alitalia, the Italian national airline, use terminal 1 for both arrivals and departures. U.S. carriers going to the United States, and all flights to Israel, use Terminal 5. See above for important information about using Terminal 5.

Other airlines are split haphazardly between Terminals 1, 2, and 3. (There is no Terminal 4).  T
To check which Terminal you need, have a look at this page which lists every airline flying out of Fiumicino. 

Walking time to each terminal is shown on information boards.
Wherever you are dropped off at the airport you'll find helpful signs telling you how long it is to walk from wherever you are to the appropriate terminal. The exception is Terminal 5, which is reached by a shuttle train from within the airport building.
Security and immigration.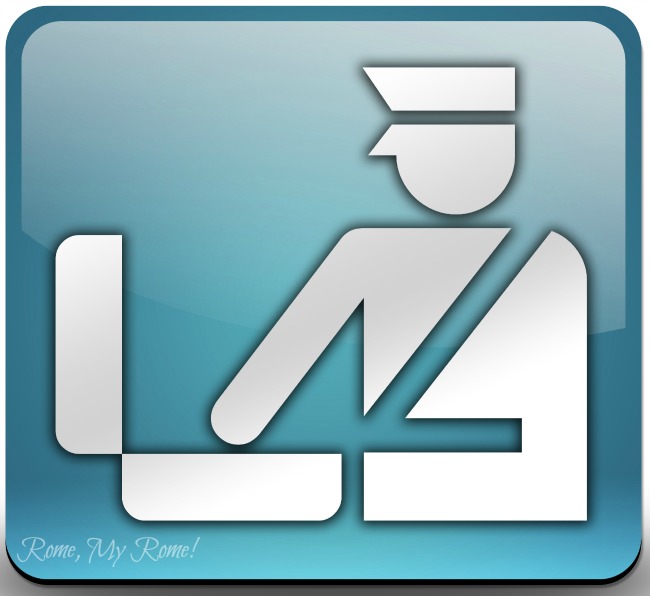 You'll find shops and places to eat and drink before security. 
Take our advice - walk past. You will need all the time you've got to get through the security systems and there's plenty more shopping opportunities available on the other side.

Travellers who are citizens of the European Union (EU) will have the least hassle, particularly if you have a bio-passport (if you have, you'll see a small gold icon on the front). Even so it can take anything up to 90 minutes depending on how busy the airport is.

Travellers from outside the EU will need to allow as much time as possible after check-in and bag drop-off.  On a good day it will take as long as two hours to get through security and if you're unfortunate enough to be leaving on an American or Israeli flight from Terminal 5 it will take even longer. Allow at least three hours.

'Fast Track': It's possible to pay for 'Fast Track' through security, and if you've booked the Leonardo Express online before you travel you can get a reduced rate by taking your ticket voucher to the information point in the main body of the airport.

Is it worth it?  It may be if you've left yourself short of time, but at times even the 'Fast' lane works incredibly slowly. 
Again, the message is simple. Plan ahead. Be prepared.
What's on the other side of security?
Food.
The less said about food in the airport, the better really.
It's fast food. It's mostly Italian (although there is a McDonald's if you really can't wait), but it's still fast food. So it's not great, it's expensive and it's usually crowded.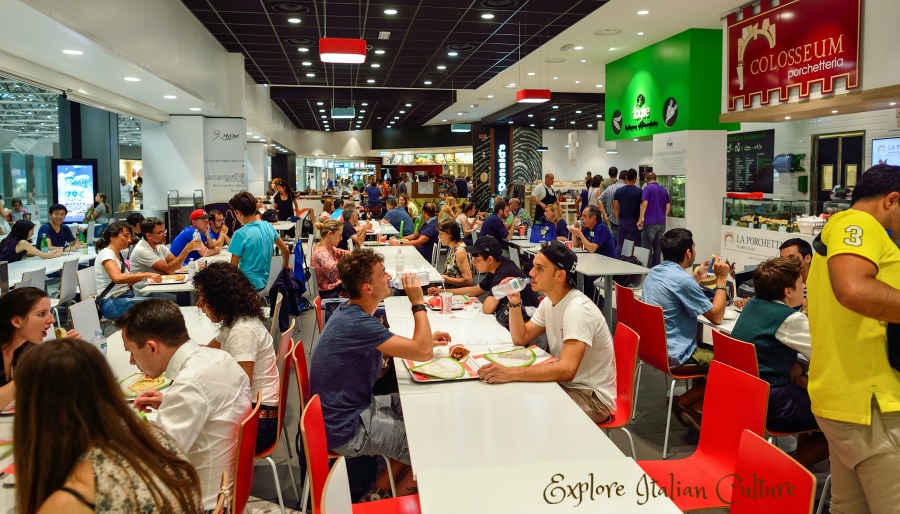 Shopping.
Shopping is probably the best thing about Rome airport.

Perhaps not surprisingly, the general standard of stores at Fiumicino is rather more up-market than in many other airports. You'll find such names as Fendi, Bulgari and Gucci as well as outlets selling Venetian glass (the jewellery makes for a small and light gift if you've forgotten someone) and Italian food and drink.

Shops in Terminal 3 of Fiumicino airport - a cut above!
Remember, though, that airport prices are inevitably more expensive than buying while you're in the country itself - you're a captive audience. What used to be called "duty free" still exists in the large duty free stores in Fiumicino but prices of cosmetics, perfume and in particular drink all tend to be marked up, rather than marked down.

The majority of shops are to be found in Terminals 1 and 3.
Tax free refunds.
If you're a non-EU citizen leaving the EU, you may be entitled to a tax refund for goods you've bought within Italy. 
For small items this is negligible and really not worth the hassle you'll go through to get it, but for larger items you may want to run the gauntlet of the reclaim office.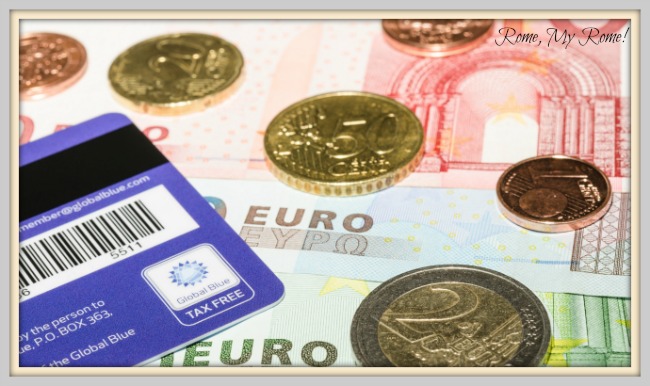 It's much, much easier to carry your purchased goods as hand luggage - otherwise you'll have to go through a whole rigmarole of checking in your luggage but asking for it back to take it with you to the customs office and then depositing it in a special baggage channel once your forms have been stamped. It's a long, frustrating process.

Even with your goods in hand luggage be prepared, as with everywhere in this airport, to spend up to an hour in a queue (line). Having just come from the security lines you may not have either the time or the inclination.

If you're choosing the hand luggage option, you'll find the customs office just after passport control. Next door are the premier tax free offices where you can get an instant cash refund, or have it paid directly to your credit card.
Internet access.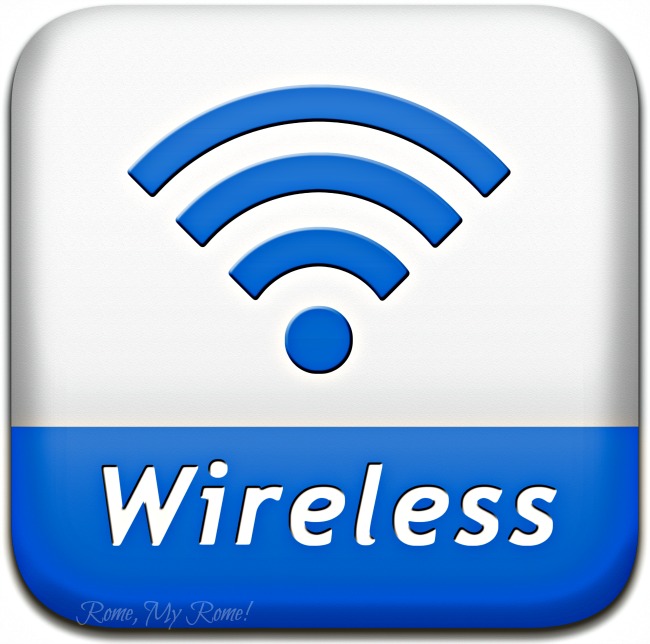 As of May 2017 Fiumicino offers free wireless internet connection. There used to be a time limit of 30 minutes, but it is now said to be unlimited. 
There are two speeds to choose from - you'll find more details (in English) at this page on the Fiumicino website.
You won't find charging stations at the airport, so don't expect to spend whatever free time you have there working or re-connecting with friends at home if you have no charge on your battery.

Be prepared. Take a book.
For further information...
For further information about Fiumicino airport, have a look at the English version of their very detailed website at this link.

And finally, try to remember...
Fiumicino: it's not pretty - but it's an airport, not a place of entertainment.
Its staff may not always give the most friendly of customer service because they're often tired, hot and stressed by the number of people they're dealing with, not all of whom are as pleasant as you and most of whom have to be addressed in any one of a number of different  languages.

And this is Italy, so don't expect incredible efficiency because you're unlikely to find it. 

As long as you understand that, and plan ahead, you'll have a reasonable experience.

"Buon Viaggio" - Have a good trip!

Some other information you may find helpful.
Click on the pictures to go to that page.

---

Click to go back to the home page.