Our authentic olive tapenade recipe: a quick and easy Mediterranean snack.
Looking for healthy Mediterranean diet recipes? This scrummy olive tapenade recipe is an ideal, healthy, inexpensive snack or starter.
This is one of our very favourite quick and easy recipes - takes about ten minutes (if that) to make and looks great either on the picnic table, as a lunch option, or as part of a buffet spread. At the same time it's full of everything good which the people of the Mediterranean have included in their diet for hundreds of years. 

This recipe will make enough olive tapenade for six people as a lunch. 
Ingredients.
400 grammes of black olives
1 red pepper
3/4 tablespoon good quality extra virgin olive oil
The juice of half a lemon
Salt to taste (optional).
Instructions.
Make a paste of the olives, using either a food processor or a fork.




Whilst mixing, add in the olive oil and lemon juice a little at a time.

Ensure you have a good, thick mixture - don't allow it to become too runny.

If liked, add a pinch of salt to taste.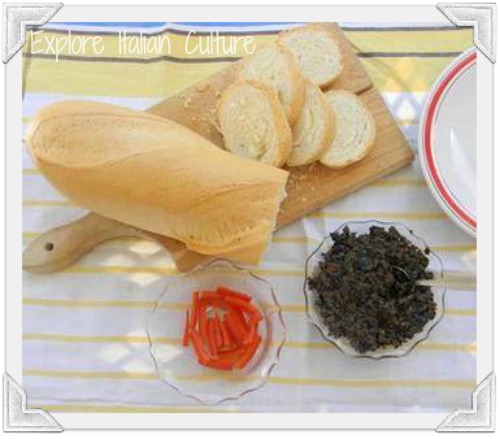 Enjoy with a loaf of crusty bread.

Big it up!

If you'd like to make it a bit more special, try piling your olive tapenade onto some crostini.  It's great as a buffet dish.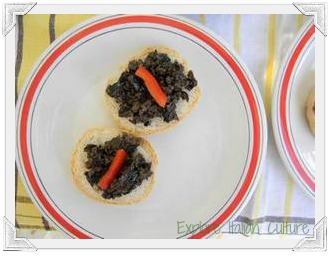 Not sure how to make crostini?  It's simple!
Cut a small sized crusty loaf into regular, quite thin slices.

Remove the crusts, if you choose.

Rub a clove of garlic onto each side.

Toast lightly on both sides.

Spread the paste onto each slice and drizzle a tiny amount of olive oil and lemon juice on top.

Finish with a garnish of a small piece of red pepper.



Top tips for our olive tapenade recipe.



Buy the ingredients as fresh as you can.  It makes a big difference to the overall taste.

In particular, buy the best possible olive oil you can afford.  If you're not sure what a good olive oil is, have a look at this page.

Italian families make recipes their own by adding their favourite ingredients.  Try adding in a clove or two of finely chopped garlic.
Buon Appetito! - Enjoy!


---
If you'd like to know more about how to eat healthily by following a Mediterranean style diet, click on the pic below to learn how the Italians do it.
---

Click to go back to the home page.