Italian Frittata recipe  : the Italian omelette you can make in minutes.
The Italian frittata is one of the most popular cold picnic food recipes in Italy.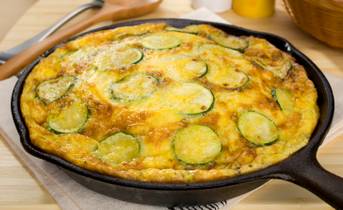 Italian frittata with courgettes (zucchini).
Here's our easy frittata recipe for you to enjoy hot or cold.

What is a frittata?
The frittata is Italy's version of the Spanish 'tortilla.'  It's a thick, open Italian omelette with an egg base but containing more or less anything you like.
It's cooked very slowly in a large, usually cast-iron, frying pan and finished under a grill to set the top. The end product should be very moist.
Like one of the other popular cold picnic recipes, Torta di Riso, and indeed a lot of food in Italy, it's often made to use up ingredients left over from other meals. It can be eaten for breakfast or a light lunch and is one of the particularly popular cold picnic food recipes. It's also used for packed lunches.

Food in Italy can be complicated - how easy is this frittata recipe to make?
It's a 'Cath can make this one' dish - if Cath can make it, anyone can!  It takes about twenty minutes to prepare all the vegetables but only ten minutes to cook.
And actually, most food in Italy is quite simple to make - it tends to be English or American versions of it that add complications.

Italian frittata recipe : preparing the ingredients.
Italians are great meat-eaters and not much Italian food is vegetarian. The Italian omelette  is a very versatile exception, at least for veggies who eat eggs.
The most popular additions to the egg base are potatoes, spring onions and cheese but just about anything is fair game as long as it's properly cooked.
The actual cooking time for this frittata recipe is quite short, so any added ingredients will need to be cooked first.
Vegetables should either be diced into small pieces or, in the case of courgettes (zucchini), cut into rounds. Then they should be boiled, steamed or sautéd until just tender.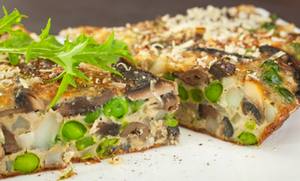 This frittata recipe includes mushrooms and peas.
If using frozen vegetables (peas and sweetcorn are particularly good) make sure they're defrosted and lightly boiled.
If you want to add meat, make sure it's cooked and again, cut into small pieces. If you want to add a bit more flavour try sautéing it in olive oil for a short time before adding it to the egg mixture.
Pasta can also be added as long as it is cooked and cut into pieces about an inch long. It's not unusual to find leftover cooked spaghetti as part of an Italian omelette.
This recipe will make an omelette for four people as a light lunch and goes particularly well with a simple Caprese salad.

Italian frittata recipe :  ingredients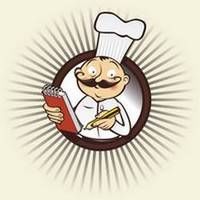 2 tablespoons olive oil
4 eggs

400 grammes (just under 1lb) cooked and diced potatoes
4 spring onions
1 small courgette (zucchini), cooked and diced
Handful mint leaves, roughly chopped
50 grammes (2oz) hard or goat's cheese, grated or crumbled
Salt and pepper to taste

Italian frittata recipe :  preparation
✮ Heat the grill.
✮ Heat the olive oil in a non-stick frying pan. 
✮ Add the potatoes and sauté on a medium heat for about five minutes.  Turn the heat down to low.
✮ Whisk together the eggs, spring onions, mint, salt and pepper.
✮ Empty the egg mixture into the pan and mix the potatoes in quickly so that they are evenly distributed.
✮ Leave the mixture to set for five minutes or so. 
✮ Place the pan under the grill and leave for several minutes until the top is set.
✮ Remove from the heat and loosen the frittata from the pan. Slide onto a serving plate.
✮ Serve while still hot, or leave to cool.
✮ To take on a picnic, cut into pieces when cold and wrap in silver foil.  Store in a fridge until ready to eat.
And then - enjoy!
Buon Appetito!

---

Click to go back to the home page.