The Rome Metro, and how to survive it.
The Rome Metro, and how to survive it.
So you're visiting Rome and you want to use the Metro system to get around?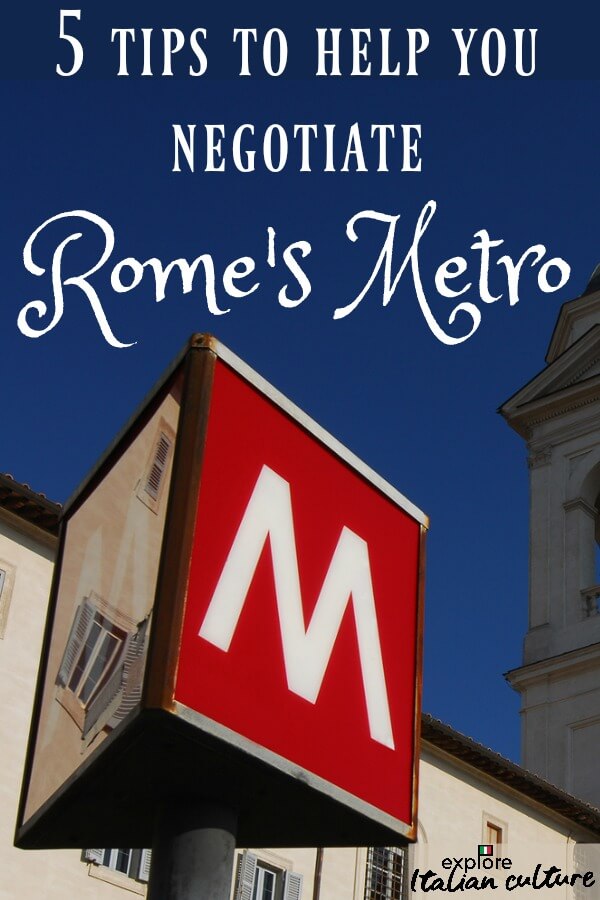 Here's some advice.

Don't.

Why not?
It's hot. It's noisy. It's not close to many of the main attractions. And it's known as a prime location for pickpockets.
But it can be a useful way of getting around - and it's without doubt the quickest.
So if you feel you have no alternative, here are our 5 best tips for getting out of it unscathed.

When there's no choice...
There's always a choice. You could choose to travel by taxi cab (although that can have its own problems) or you could walk.
But if it's a hot summer's day, you're at Termini station and you need to get across to your apartment near the Vatican...
That's the kind of choice you have to make. And in circumstances like that, it's worth it. It's a fraction of the price of a taxi and, although it can be hot and unpleasant, it's over relatively quickly.
So let's give you 5 tips which will help your journey go more smoothly when you've decided the Metro is the way to travel.
Tip #1: Know where and when it does and doesn't go.
The Metro's main use is for those who live and work in Rome to get to and from work and their homes. So you'll find the lines less useful than, for example, the Paris Metro or London Underground, both of which cater for tourists in providing lots of stops at well-known destinations.

Rome's Metro tends to skirt the city centre, for the simple reason that digging down very far has a nasty habit of de-stabilising ancient buildings. When they do try to create another line - there's one being dug right now (2018) in the centre - they also keep finding more ancient remains, and work has to stop while archeologists review the site.

It's a long, slow process.
Atac, the company which runs public transport in Rome, has a very detailed map on their website - so detailed it's more or less incomprehensible.
To help with this, here's a more straightforward map of the Rome Metro system for you, courtesy of
Arbalete
on
Wikipedia.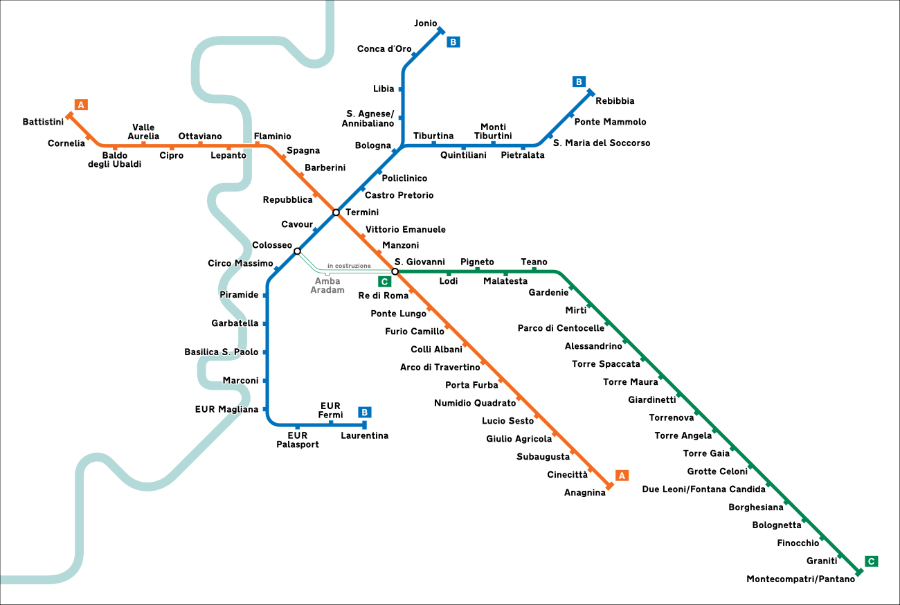 The main routes used by tourists are between Termini - because a lot of people stay around that area - and the Vatican museums, which would take over an hour to walk and is about 10 minutes on the Metro.
We use this one when first arriving from our home in Marche with small bags - we like to stay in the Cipro area behind Vatican City. It's more like living in a neighbourhood, less like being a tourist.

The other well-used route is between Termini and the Colosseum. To be honest, though, the Colosseum is only two stops - about a 20 - 25 minute walk from Termini. Using the Metro can take longer than that, just finding the right platform.
It does not go to either Fiumicino or Ciampino airport and although you can go partway on the Metro and then catch a local bus, it's much easier to travel to either of the airports direct from Termini station. 
The Metro runs every day between 5.30 am and 11.30 pm. On Friday and Saturday nights it goes until 1.30 am to cater for city revellers.

Tip #2: Choose your ticket wisely.
Ticket machines at Metro stations are available in different languages, and very straightforward to use. You just need to work out in advance which ticket you want to buy.
An individual Metro ticket costs €1.50 (2018) no matter how far you want to travel, and is valid for 100 minutes from when you first use it. Buy from tobacconists, most bars, or the machines at any Metro station.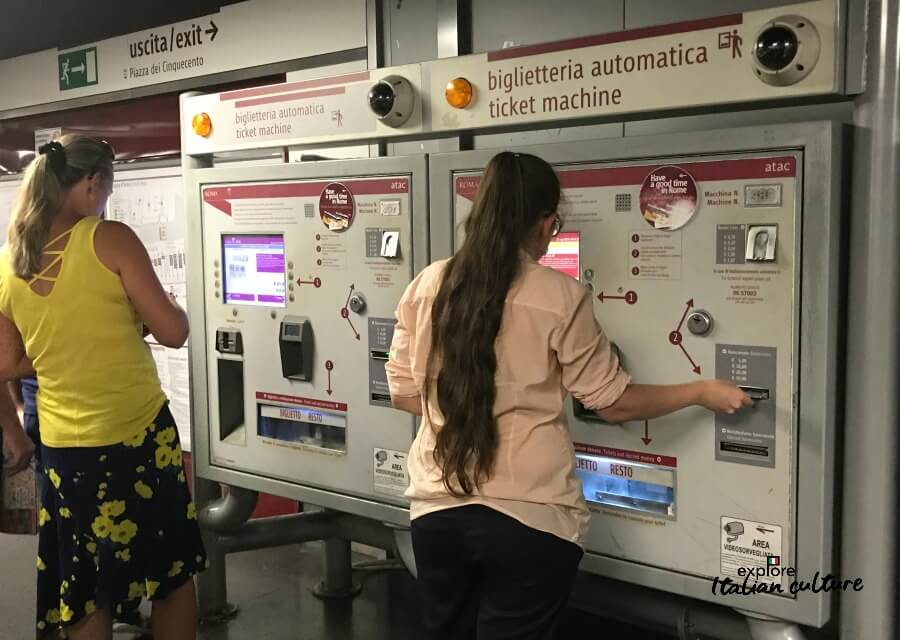 Metro ticket machines - easy to use in any language.
Try to work out how many times you'll need to use the Metro or bus (the tickets cover both) during your stay. It's possible to buy a pass for 24, 48 or 72 hours and one of those may be better value for you.
A lot of people buy the Roma Pass, but unless you're going to use the Metro and public buses more than 7 times a day, another pass may be more cost-effective. Although the Roma Pass includes "skip the lines" tickets to various sites, it does not include any tour guide - only the entrance fee.
And that can often mean a wait at a "skip the line" line, anyway!
As in any other Metro system, you'll need to pass your ticket through a machine when you enter the station. If you have more than a single ticket, don't forget to pick it up from the machine.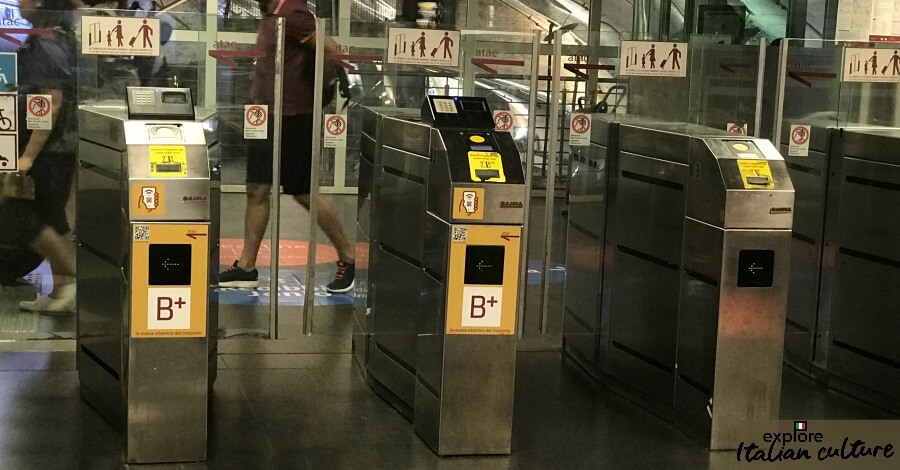 Tip #3: Forget Paris - expect graffiti.
It can be quite a shock using the Rome Metro if you've been used to Paris or London. Whereas they tend to have fairly clean stations and trains with some interesting artwork and frescoes, Rome can be a much less pleasant experience.

You'll be hot, the stations are often dirty, the smell is unpleasant and the trains are sometimes completely covered in graffiti. So completely that it can be hard to see out of the window.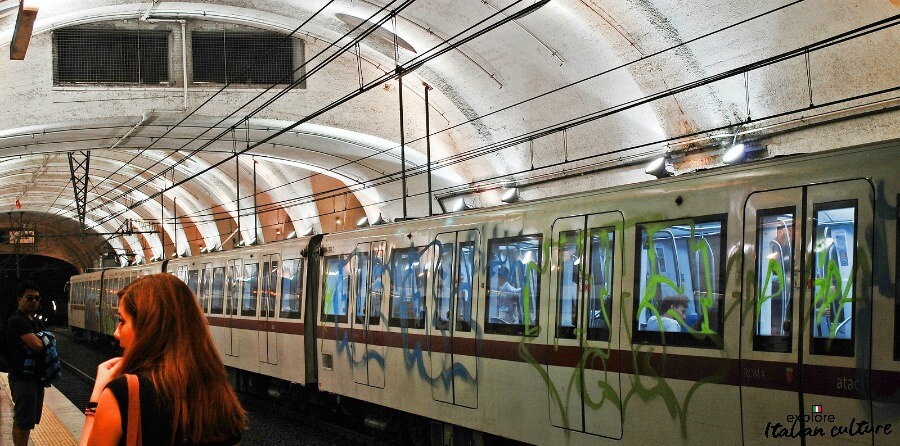 Having said that, Rome is trying hard to improve the Metro's image, and a lot of their rolling stock is modern and clean.
And although you'll find the Metro unpleasantly crowded for most of the year, it's not always the case. In August, when many businesses close for the month, you can actually choose a seat...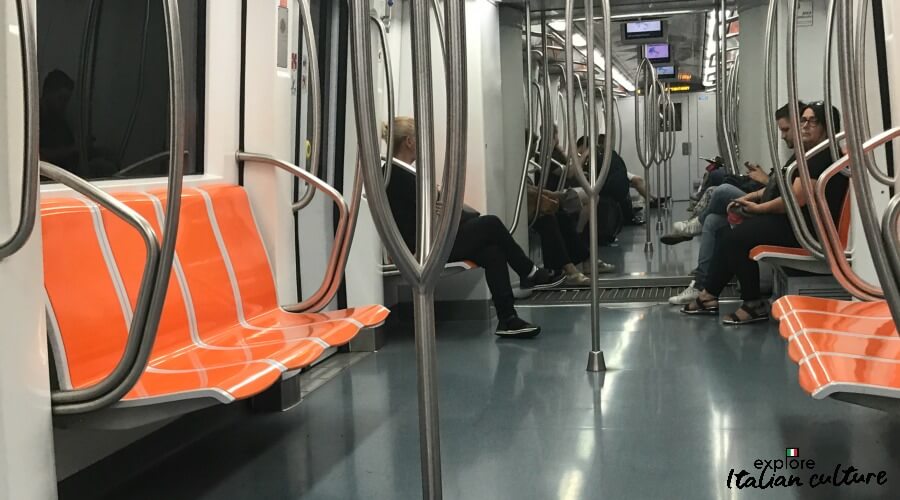 For the rest of the year, though, be prepared to stand. In general, if you expect very little, you'll be fine.


Tip #4: Hold on to your hat.

Well, not so much your hat as your valuables.
Rome's Metro is known to be a place where pickpockets hang out. It's literally easy "pickings" for them. With crowds of people huddled together on hot, noisy trains, it's simple to take money from unguarded bags, purses and pockets and disappear into the crowd.

It's really no different to any other major city. To stay safe, you just need to use some common sense.

So carry your belongings in a safe place, always. Never think money is safe in a pocket, even if it buttons. Use a money belt like this one which keeps your cash in a safe place and also guards against card readers - the latest way of thieves making a quick buck...
(This is a link through which we make a small commission if you buy. See here for more details).
Don't keep money, your smartphone or your passport in your hand, either. It's too easily snatched away. Carry bags in front of you. If you have a rucksack, keep it on your front, not your back. You may think it's not possible to break into it. The Metro's thieves know differently.
And try to look as though you know where you're going, even if you don't. If you can manage not to look like the archetypal tourist, that will help, too. Like it or not, it's those who are clearly unused to the city who are targeted first.
We've used the Metro on lots of occasions and never yet been targeted. As we've said - common sense precautions are all it takes.

Tip #5: Don't get distracted.
This goes hand-in-hand with the keeping your valuables safe tip.
Thieves on the Metro often work in pairs or even groups. Do not get distracted by people who come begging, or by singers, musicians, jugglers, or people who seem to be having a huge argument (a relatively new twist).
Some are legitimate. Many are not. They'll distract you while their partners deftly search your bag for valuables. 
Concentrate on keeping your belongings close to you. Never, never leave a bag open and even if it's zipped or buckled, keep your hand over it. 
If you feel you're being targeted, make a noise. If you see someone else being targeted, make a noise. You'd want someone to do the same for you.

One final bonus tip...
Rome is no different to any major city, and it's much safer than some. 
Like any city, it has its proportion of people who are looking to make a living by taking from others. And a larger proportion of people who are kind, considerate and hate the fact that tourists are targeted in this way.
Most of the people using the Metro are going about their daily business and are no threat whatsoever. Just exercise common sense. Take precautions. 
And take time. Don't feel you have to rush from one sight to anther to tick them off your list. Do a lot of walking. Take frequent stops at local cafes, off the beaten tourist track.
You'll see more of real Roman life that way, and arrive at your destination feeling refreshed and excited rather than hot and hassled. 


Staying in Rome a while? You might find these pages interesting.
---

Click to go back to the home page.