An exclusive café in Venice : Caffè Florian.
The best café in Venice to sit and watch Italian people, culture and the Venetian world go by.


Want to see and be seen in Venice? Since it opened in 1720 Caffè Florian has always been the only place to be. But expect it to come at a price.

What's so special about this particular café in Venice?
One of Italy's oldest and most popular coffee rooms, Florian's was always a favourite haunt of the rich, famous and erudite - and still is.
Charles Dickens, Henry James, Lord Byron - even Casanova - are all known to have called in for coffee.  In more recent times Brad Pitt and Angelina Jolie were seen there during the filming of "The Tourist".
And although within the last five years two other Florian's have opened up - one in Florence and one in Rome - neither will ever match the timeless splendour of this amazing café in Venice.

Caffè Florian - an inside view
Peering in from its lovely stained glass front windows you'll be able to get some idea of the magnificence inside. Originally just two rooms, it has added five more over the centuries and now boasts seven, each of them decorated lavishly with mirrors, huge works of art and gold leaf everywhere.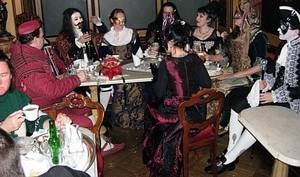 Inside the Florian at Carnevale time.
Its tables are marble, its seats red plush, its waiters immaculately dressed in elegant white jackets.
In the winter you'll find it difficult to get a seat; in the summer when the tables spread to the square outside it won't be a problem except on rainy days.
But at 'Carnevale' time don't even bother trying to find space inside unless you're in costume.
If it seems just a little overdone to you - well, that's all part of its charm. You can always sit outside, at least in the summer months.

Caffè Florian from the outside
In the summer every café in Venice has tables outside, and the Caffè Florian is no exception. You will, of course, pay premium rates to sit there, but if you have the money it's worth it.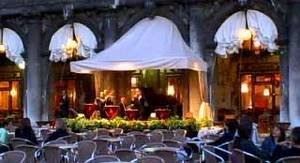 Sitting outside the Florian in the summer is one of the most romantic things you can do.

You'll find the Florian located under the arches in the enormous Piazza San Marco outside St Mark's Basilica - if you stand with your back to the Basilica, it's on the left side of the square.
So sitting at one of its outside tables gives you the chance both to marvel at the wonders of the golden mosaics glinting in the sun, and to people-watch as tourists feed the pigeons and Venetians go about their daily business.

The best food and drink of any café in Venice?
In a word - no!
No-one goes to the Caffè Florian for its food.  If you expect the finest Venetian delicacies you'll be greatly disappointed. If you even expect a reasonable standard of sandwich you won't be happy. The food is poor and the prices, extortionate. If you want a good place to eat in Venice, go elsewhere.
Drink is another matter. The Florian has always prided itself on selling the finest coffees and wines from Italy and beyond. It's still very highly priced, but at least it's reasonable quality.
In our view the best way to enjoy the Florian is to order one bottle of their Prosecco (Italian champagne) which will also come with a few nibbles, and with deferential service from the waiters.
Make up your mind you know this is going to be expensive and you will not beat yourself up for spending that much money. It's a once in a lifetime thing.
And then - sit there for hours, sipping gently and enjoying all the sights this lovely Italian city, its people and its culture have to offer.

And the service?
Can be a bit hit and miss. The Caffè Florian employs 45 staff in the winter months rising to an impressive 75 in the summer. They're all highly professional, but it's not necessarily the most friendly café in Venice.
In the summer months from lunchtime till close, there is usually a quartet of musicians playing outside the cafe. Be aware that you will be asked to pay for the pleasure of listening to them - and such pleasures sitting on St Mark's Square don't come cheap. It won't be the most impressive music you've ever heard, but it will leave you with great memories which will last a lifetime.

Special events at the Florian Café in Venice
The Florian still prides itself on being a venue regularly involved in the appreciation of art, and for that reason you'll often find an art exhibition going on inside its rooms.
If you're feeling really flush with money, the Caffè Florian will hold any event you like there - a special birthday party, an anniversary gathering, a business meeting... but expect to pay a lot.
If you want to set it up in advance you will need to contact them by e-mail, explain your requirements and ask for a price. It's fine to do this in English.


Top Tip :
Here's one of the best and most romantic Italian engagement traditions we know.
If you're thinking of using your time in one of the most romantic cities in the world to propose to your loved one, the Caffè Florian will arrange a very special occasion for you.
It involves champagne, music played especially for you and a seat in a prime location of your choice. It also involves money, of course, but can you put a price on such an amazing location for a proposal to remember?
If you're interested in this, the best way of organising it is through your hotel conciérge when you're actually in Venice, or by calling in at the Florian yourself. The staff there speak English, and you need to ask for details of the 'Marry Me' package.
Our view? Worth every penny!

---
Looking for other romantic things to do in Venice?  Why not surprise your love with a serenaded Venetian gondola ride?

The Hotel Danieli, Venice is one of the great romantic hotels of Italy. See why here.
---

Click to go back to the home page.