Rome's Lent calendar : where to find Lenten prayers in the weeks before Easter.
Looking for things to do in Rome during Lent?
We provide a full Lent calendar from Ash Wednesday to Easter Sunday to help you get the best from your stay.

Rome's Lent calendar - what exactly is it?

Rome is the most amazing place to be at both 'Carnevale' - Shrove Tuesday - and at Easter.  But what about the four weeks in between the two?
This is a very religious time throughout Italy and particularly in the home of the Catholic religion - Rome.
You won't find the usual Italian celebrations and carnivals - Lent is a sombre period - but you will find places to go if, like the thousands of pilgrims who flock to the city every year, you want some quiet time for prayers and reflection. 
Every day during Lent, there's a different 'station' church within the city where the faithful gather for special prayers. All these churches are worth seeing in their own right, but over the forty days from Ash Wednesday to Easter Sunday they form the backbone of Rome's Lent calendar.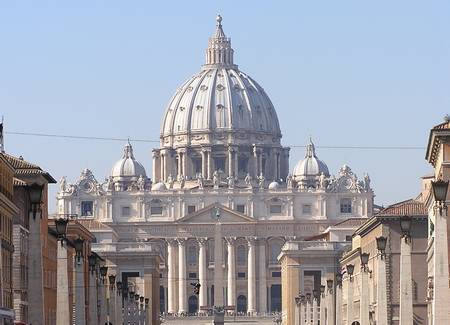 St Peter's Basilica, Rome -
the heart of Italian religious observations during Lent and Easter.
'Station Churches' - what are they?
'Station' is taken from the Latin word 'statio' meaning a stopping point. 'Station' churches are those which have been specially selected to be the place where everyone stops whatever they are doing and congregates for worship on a particular day during the Lent calendar.
This is an ancient custom - the tradition of pilgrimage to a particular holy place has existed for centuries. Rome's 'stations' were started by returning Crusaders who saw processions in Jerusalem when the faithful followed the path Our Lord had taken to the place of his crucifixion.
They brought the custom back to Europe, and this particular Italian Lenten tradition began in the fourth century.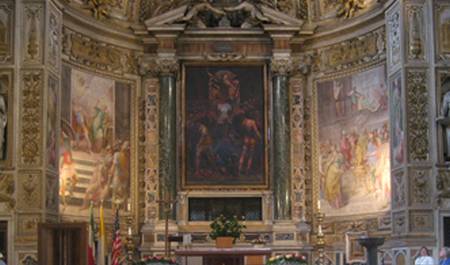 The American church in Rome, Santa Susanna,
is one of the Lenten calendar places of worship.
But instead of always processing to a single place, the Italian version had pilgrims coming together at a central point from where they were led by a priest to a succession of different churches. 
To join in with this while you're in Rome is to take part in one of the oldest, most traditional and most important Italian religious cultural customs of the year.

What actually happens during Rome's Lent calendar?
These days there are no processions from church to church. Instead, a different church each day is the focal point and each one will have several different times for worship. You'll find all of them attended by local people as well as pilgrims.
The main Mass of the day usually starts at 7 a.m. to allow for people who wish to attend before work, but there are generally prayers said throughout the day, often in different languages to cater for the many hundreds of people from all over the world who come to join in.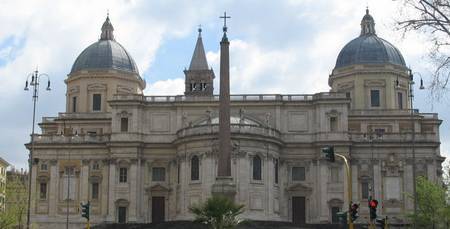 Santa Maria Maggiore, one of Rome's Papal Basilicas.
Some churches - Santa Maria Maggiore, for example - display their patron saint's relics on their 'station day' and as well as Mass, prayers are offered to the specific saint after whom the church is named and to the different martyrs and saints of Rome.
Time is always allowed for reflection on their lives and example, and there is often also a meditation on the different 'Stations of the Cross'and the suffering of Christ. 
Do bear in mind that Rome's Lent calendar is not a tourist attraction. It's a real reflection of the strong religious beliefs still prevalent in Italy and a large number of Italian people, and people who live and work in Rome, attend and often go to Mass on every one of the Lenten days.

What's the significance in this day and age?
It is, quite simply, a public testament to faith and a chance for people to gather together not just to worship but to encourage each other through the sombre days of Lenten fasting.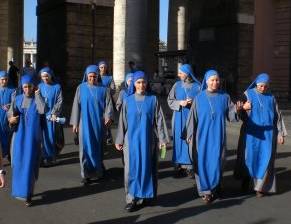 Nuns in Rome for Lenten prayers.
Although many of the people who attend are Roman Catholic, by no means all are. People of all religions - or none - are welcomed into a very public demonstration of community, or as the Pope put it :
"It is a conscious reminder that we are part of one Christian family moving together towards God through the sacrifice of the Mass."
Where do the Lent prayers take place?
Although times differ, the same churches which have been used for centuries are involved each year, unless they are undergoing renovation.  They range from the large Basilicas like St Peter's to older, relatively unknown mediaeval chapels. They have one thing in common - they are all amazing buildings in their own right.

St John Lateran :
the Pope traditionally says Mass here on Holy Thursday.
This link will take you to the Vatican's own calendar page which each year updates its list of churches and times. You will find a link to each of the churches here which will give you addresses, times and further details, although most of the individual information is in Italian only.

Are there any particularly special locations?
During Holy Week itself - the week before Easter Sunday - some of the most stunning churches in Italy are the locations for worship.
The beautiful 'Basilica di Santa Sabina' is a magnificent church in its own right, and is the church where traditionally the Pope celebrates Mass on Ash Wednesday.

This is an afternoon event, when ashes are used to make the sign of the cross on penitents' foreheads as a sign of humility. If you're anywhere in Italy on Ash Wednesday you will regularly see people walking around with this grey mark all day.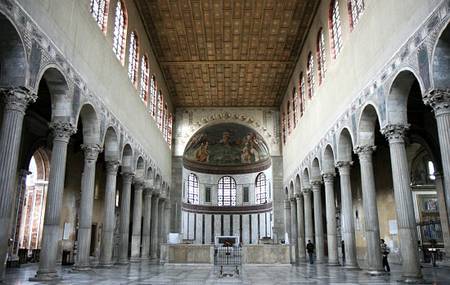 The beautiful church of Santa Sabina is the Ash Wednesday station venue.
Santa Maria Maggiore is a Papal Basilica - which means the high altar with its magnificent canopy can only be used by the Pope - and is the venue on three separate days in Lent, although the Pope himself won't necessarily be there.
On Holy Thursday, the day before Good Friday, the Pope traditionally says early evening Mass at the Basilica of San Giovanni in Laterano (St John Lateran) when he also washes the feet of priests to symbolise the humility of his office. This is a fascinating service, but one for which you will need tickets (see below).
The magnificent St Peter's Basilica is obviously a focal point for the Catholic Church at Easter and it is here the Pope celebrates Mass on both Palm Sunday - the Sunday before Easter - and Good Friday.

And, although it's not one of the Station Churches, if you're in Rome on Good Friday it's well worth seeing the 'Way of the Cross', celebrated by the Pope at the ancient Roman Colosseum - one of the most spectacular of all Italian religious observations.

Is it worth joining in Rome's religious Lent prayers?
Absolutely, particularly if your religion - whichever it may be - is important to you.
Lent is a quiet time in Rome. There are the same things to do as at other times but the city takes on a generally more sombre, thoughtful air. It is a time before the crowds of Easter take over the city, and the Lent calendar prayers as celebrated here are unique to the Eternal City. 
So it may not be the usual type of Italian celebration, but it's an unique and worthwhile experience.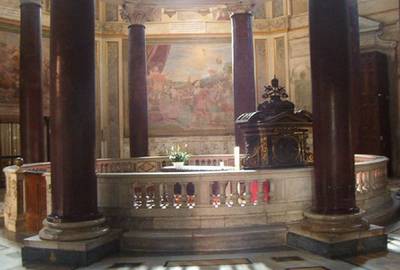 All the churches are worth visiting at any time -
this is the beautiful font in St John Lateran.
How to join in?
Use our link to the official Vatican Lent calendar to identify which church is the 'station of the day', and use the link to that church to find out where it is and the time of the main Mass.
If you're not sure of the times, identify the church and ask your hotel to check the times for you - your concierge should have a list.
If you're going to one of the better known churches make sure you get there early, particularly for the stations on Ash Wednesday, Holy Thursday and Good Friday. 
Don't worry if you're not Roman Catholic. Any denomination - or none - is welcome.
But do make sure you observe Italian religious etiquette. Dress respectfully - no shorts or bare arms - and don't expect to be allowed to take photographs during the service, or to walk around the church. 
Remember - this is not a tourist attraction.
It's a centuries old religious observance taken very seriously by those who attend. Treat it with respect, and you'll be fine.

---
If you're in Rome in the days leading up to Easter Sunday and want to know what's going on, you will find these pages helpful.

Click on the pics to see our detailed information.
---
If you will be in Rome for the Good Friday 'Stations of the Cross', you may be interested in our pages about the history of the Roman Colosseum.
If you're anywhere in Italy at Lent you need to know about Italian Lenten traditions of eating and drinking. This page about Lent fasting will tell you all you need to know.
This is a good page for you if you'd like more information about the Pope : where to see him and how to get tickets for Masses and the Papal audience.
---
These pages cover more general information about visiting Rome. Enjoy!
---

Click to go back to the home page.