What is Palm Sunday like in Rome?  - Italian Easter traditions explained
Easter in Rome is a special time to visit but what is Palm Sunday like?
We review things to do in Rome on Palm Sunday and Holy Thursday, including where to hear
the Pope's Palm Sunday sermon.
The faithful carry palm leaves into St Peter's Square
while the Vatican guard looks on.
What is Palm Sunday?
Palm Sunday in the Christian church marks the beginning of Holy Week (Settimana Santa - also known as Easter week).
It celebrates Jesus' journey into Jerusalem to celebrate the feast of the Passover.  Palm leaves were spread before him by the crowd as a sign of a triumphal return - and to save him from the dust of the road.

What is Palm Sunday like in Rome?
Easter in Italy is a busy time and it all starts on Palm Sunday. For general information about business opening, transport, climate etc have a look at our guide to basic Easter Italian facts.

What is Palm Sunday tradition in Rome?
The Pope blesses both palm leaves and olive branches in
St. Peter's Square, Rome.
Palm Sunday is the Sunday immediately before Easter Sunday. 
At 9.30 a.m. on the morning of Palm Sunday in Rome the Pope, Benedict the 16th at present, appears in St Peter's Square to celebrate mass and take part in one of the great Easter traditions in Rome - the solemn but very colourful procession of palms and the blessing of the faithful.
This is a long ceremony which you should expect to last about three hours.  Cardinals, Bishops and priests as well as the Pope and his closest clergy advisors all take part in a lengthy procession which winds through the Square to the altar in front of the Basilica, where mass is celebrated.
Because palms are not readily available in Italy they are often replaced in Easter traditions with branches from olive trees which symbolise both local olive culture and peace.
At Easter in Rome you will see the Pope blessing both.

What is Palm Sunday like in Rome : the Pope's Palm Sunday sermon
The Pope's Palm Sunday sermon, delivered from the steps in front of St Peter's Basilica during the Palm Sunday mass, is traditionally known as the 'Angelus message'.
Palm Sunday has been designated World Youth Day in the Christian calendar and the Pope's Palm Sunday sermon is therefore always a message to the young people  of the world, often linking the hardships and trials faced by today's youth to those of young people in Jesus' time.

What is Palm Sunday like in Rome: the days between Palm Sunday and Good Friday
Are there things to do in Rome between Palm Sunday and Good Friday? - Apart from all the 'usual' sights, of course.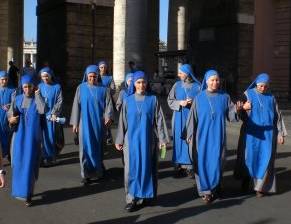 These nuns travelled from South America
to be in Rome.


On the Monday of Holy Week (i.e. the day after Palm Sunday), at 6p.m. in a side chapel of St Peter's Basilica, Pope Benedict the 16th  traditionally celebrated mass in honour of his predecessor, Pope John Paul the 2nd. 
Between the Monday and Holy Thursday there are no specific Easter traditions or religious events but you will notice Rome filling up, slowly but surely, with pilgrims gathering to join in the celebrations at Easter in Rome.

Things to do in Rome on Holy Thursday
(Giovedì Santo)

Holy Thursday at St John Lateran.
Photo courtesy of Reuters.
The Pope traditionally celebrates two masses on Holy Thursday in Rome.  The first is the unusual 'Chrism Mass' at St Peter's Basilica in the morning at 9.30, when he blesses the holy oils to be used for the rest of the year in the sacraments of baptism, holy orders and the anointing of the sick.
In Italy the 'chrism' is generally local olive oil, perfumed with balsam.
The second mass is at his Cathedral church, St John Lateran, in the early evening (5.30) in remembrance of the 'Last Supper'. At this mass the Pope washes the feet of twelve priests to symbolise the humility of his office - 'not to be served, but to serve'.
Expect both to last about two and a half hours and again, both require tickets - see below for details.

What is Palm Sunday like in Rome  : will I see the Pope?
Don't be under any illusions. The Easter week celebrations are immensely popular with pilgrims from all over the world and Rome becomes hugely crowded in the days leading up to Easter Sunday as tens of thousands of people descend.
If you want to attend any of these masses you will need a ticket.  They're free, but you must apply for them well in advance (we would suggest as soon as you know you will be in Rome at Easter) from the Vatican itself. 
This page of facts about the Pope will tell you how.
And, even if you do have tickets, you'll need to arrive very early to get a seat good enough to see a glimpse of the Holy Father. It may sound excessive, but we'd suggest at least two hours before the event you want to go to begins.
In St Peter's Square there are massive screens set at either side of the Basilica which will give you close-up views of what's going on.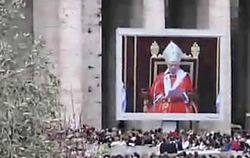 One of the big screens in St Peter's Square.
What is Palm Sunday in Rome like  : is it a good place for children?
We would advise probably not, certainly not for very young children. Most of the religious celebrations are likely to be above their head and involve a lot of standing around waiting for things to happen.
But if you do take children to Rome at Easter try to mix the religious with the secular. There are lots of things to do in Rome for kids and the whole week - particularly Easter day itself - is full of joyful celebration. It's a great atmosphere.

What is Palm Sunday in Rome like  : is it worth it for adults?
Yes - no question in our view. Rome's climate in spring is generally warm and often sunny and, after the cold days of winter everyone starts feeling festive again. Easter brings not just religious fervour but a real feeling of the life and colour of spring having arrived.
And in terms of the religious ceremonies it's not just to do with seeing everything up close - you may or may not do that.  It's the fact of being there, of taking part in some of the most amazing Easter traditions in the world, and of being able to say - "I was there".

---
Palm Sunday in Rome to more
Italian culture and customs at Easter
---

Click to go back to the home page.