Cold picnic food recipes from Italy :
tasty Easter food to take away
'Torta di Riso' is one of Italy's favourite cold picnic food recipes and a big part of
Easter Italian food customs.
Use it any time as Italian finger food
to eat at home or away.

Easter Monday in Italy is a favourite time for picnics and Italian food customs quite often use ingredients to be found in any self-respecting store-cupboard in Italy, or left overs from other meals.
'Torta di riso', or rice cake, is the most common Italian finger food enjoyed as a cold picnic food recipe on Easter Monday.  It uses up one of the major ingredients of Easter food  - eggs - and spinach, often grown in vegetable plots and frozen over the winter.

Easter food recipes : how easy is this one to make?
It's 'Cath easy' - if Cath can make it (and she does), anyone can! It takes about thirty minutes to prepare, and twenty-five to cook.

Cold picnic food recipes : can 'Torta di Riso' be frozen?
It doesn't really freeze well, but it can certainly made in advance and kept in a fridge for three or four days.
Italian food customs have it served either hot or cold, and both are delicious though we actually prefer it cold, with a lovely Italian Caprese salad.

How many does it serve?
This is a very filling 'cake' and the amount below will make four substantial, or six smaller, pieces.

Ingredients :
200 grammes (1 cup) Arborio (risotto) rice
150 grammes frozen spinach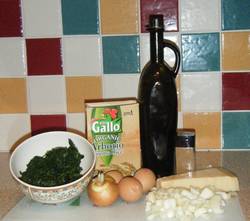 3 medium sized eggs
1 medium sized onion
4 tablespoons grated Parmesan cheese
1 tablespoon olive oil
2 tablespoons butter
1 teaspoon salt
1 teaspoon pepper
Pinch nutmeg
1 ovenproof dish

To prepare :
✮ Preheat the oven to gas mark 6, 200ºC, 400ºF.
✮ Defrost the spinach and squeeze as much liquid out of it as possible.
✮ Boil the rice in salted water until 'al dente'.
✮ Fry the onion in the olive oil until soft and golden.<br>

✮ Break the eggs into a cup and beat lightly.
✮Put the rice in a large bowl and add the Parmesan, nutmeg, salt and pepper. Mix well.

✮ Add the spinach, onion and butter, followed by the eggs.
✮ Mix everything together thoroughly.
✮ Grease an ovenproof dish. Make sure it's not too big - the mixture should be three inches or so deep.
✮ Bake for about 25 minutes, until firm and golden brown.

✮ Enjoy!
---
More Italian cold picnic food recipes - chocolate biscotti
Cold picnic food recipes from Italy
to our home page about Italian culture
---

Click to go back to the home page.