A Venetian gondola ride : what it is and where to find one.
Always wanted to be serenaded on your own private Italian gondola?

Here's where to find the best Venetian gondola ride ever - one of the most romantic things to do in Venice.
Think of Venice (Italy) and you think of gondolas. Well, perhaps canals. But gondolas and canals go together.
And if you're visiting this beautiful city for the first time, or for a special occasion, a Venetian gondola ride is an absolute must-do.

Where to find an Italian gondola in Venice?
You'll have no trouble on that score. There are hundreds of them, all wanting your business.
You'll see them tied up on the Grand Canal, often outside the most prestigious hotels, and you'll certainly be approached by gondoliers as you walk round the city.

Is a Venetian gondola ride one of the most expensive things to do in Venice?
How did you guess?!
Venice is not a cheap place to visit. The rates for gondoliers are now set by the Venetian authorities, but nevertheless booking one 'on the spot' is dicey.
You're unlikely to get one boat to yourself unless you pay a premium, and you certainly won't be serenaded, again unless you're prepared to pay a lot extra.

Should we book an Italian gondola in advance?
The canals of Venice are very crowded throughout the year, so we would say if you want to be assured of a great experience, definitely yes.
This particular Venetian gondola ride ensures you have one of the traditional sleek black gondolas  to yourself rather than sharing with people you don't know and will probably never see again.
It also provides a serenade, which you otherwise won't get without a lot of negotiation - and a lot of extra money.

What else will we get for our money?
The ride will last for around thirty-five minutes. It will take you round some of the smaller, less well-known canals of Venice which are actually much more romantic than the larger, very busy waterways.

How many people can fit into an Italian gondola?
Some gondolas will take as many people as they can - at times up to ten.  This trip, however, will take only your party, which can be two, three or four people.
Where and when?
The gondola will leave from outside the famous luxury Hotel Bauer on the Grand Canal, just a short distance from St Mark's Square.
You can choose your time yourself when you book. We would suggest at any time of year the light on the canals in the time just before dusk is stunning.  In the winter months that probably means you leaving on the trip at around 3 - 3.30 p.m. 
In the summer a gondola trip just after your evening meal is a wonderful way to end a romantic night.

Is it safe?
Completely. The gondoliers used by our partner company are all local men and licensed to trade as gondoliers. They are all experts at negotiating both the chaos on the Grand Canal, and the sometimes tight corners of the smaller canals.
These Italian gondolas are very stable. Gondoliers take a great pride in keeping their boats well maintained and you'll find them comfortable and steady even in the wake of motorised boats.

Who would like a Venetian gondola ride?
Who wouldn't?!  The sight of Venice from the canals is unlike anything else you'll ever see.  If you get the chance to do it, just do it!
This particular trip is especially good for couples wanting the most romantic way ever to see one of the most romantic cities in the world. Because you're guaranteed a private gondola of your own you can relax in each other's company and enjoy the serenade which is included in the price.
It's also great for smaller families who want to give children an unique experience. Your kids will love not only the fact of riding in a gondola, but the experience of being stared at by hundreds of tourists, and waved to as though they're royalty!
And if you're in Venice to celebrate a special occasion - a birthday, an anniversary, Valentine's Day - it is probably the most memorable of things to do in Venice.

What do other people say about this experience?
The reviews of this are universally excellent.  This is a typical comment  : 
"What a wonderful trip. The musician and singer were so attentive and friendly. This tour was worth every penny spent. The gondola company was very efficient and the whole experience was one we will never forget!"

How do I book?
Our first advice is to book this trip as soon as you know you're going to Venice. It often sells out long before the season begins.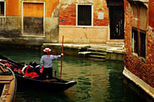 Click on this image which will take you to our partner agency, Viator, who are one of the few agents in Venice to provide the private gondola tours and who also give the most competitive rates. 
On their site you have the option of choosing date and time, seeing the total cost, and reading other reviews to help you decide whether this is the perfect way to spend your time in Venice.
---
If you would prefer to pay a little more and combine your Italian gondola with another of the great things to do in Venice - a meal in a local restaurant - have a look at this trip : a Venetian gondola ride and serenade with dinner.
---
---

Click to go back to the home page.