The Roman Colosseum : how to see the secret parts.
So you know you can see the Colosseum but you've never heard of its secret underground parts?  

We need to put that right!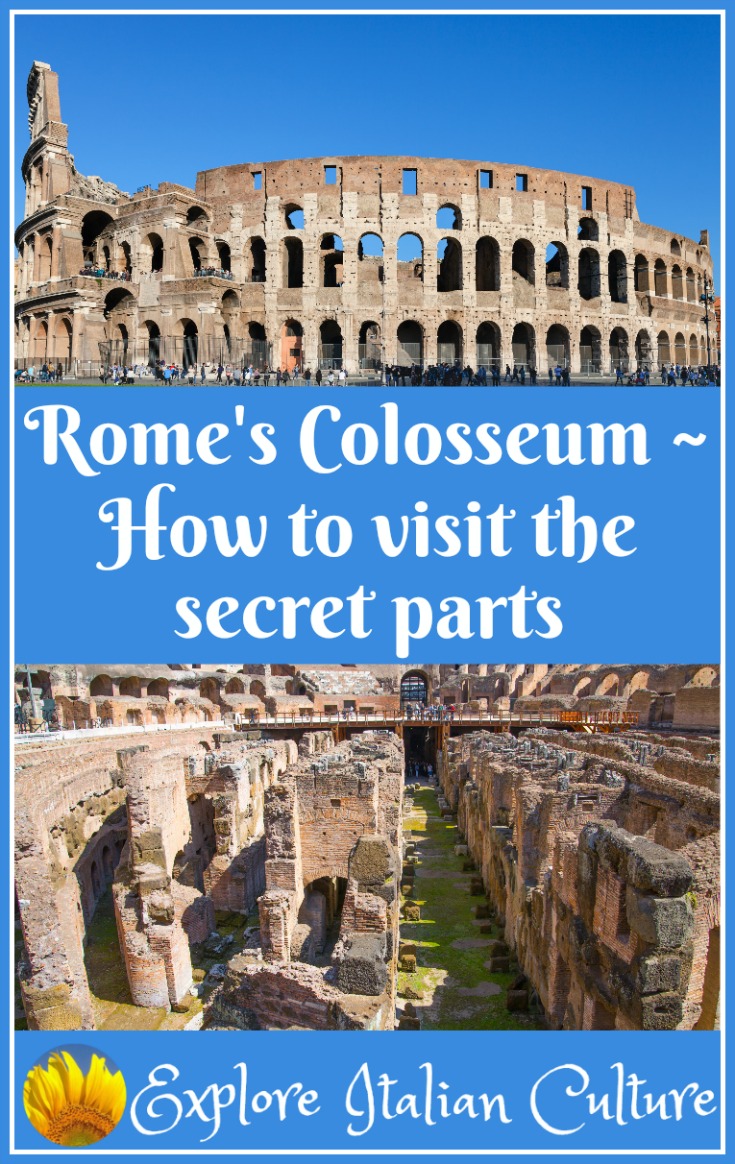 You really shouldn't leave Rome without seeing this amazing part of the Colosseum. It's a fascinating look at history which kids will love as much as adults.
After all, who wouldn't want to see where the lions were kept before being released for their fights into the main arena?
The Roman Colosseum itself is an incredible experience, and anyone visiting needs time to take it all in. We have been there several times and each time it takes our breath away.
We always advise people to ignore the signs herding you onto the top level. Climb instead just as far as the first and head out through the tunnel you will see in front of you.
Your first sight of this enormous arena is one you will never forget.  
And for that experience, you don't really need a travel guide. It's good to stand and wonder at the grandeur of it all, and to imagine gladiators entering through the very doors you too can go through.
But for visiting the underground parts, a guide is a must.
Why? Because in order to preserve the area from erosion by millions of feet tramping through, the City of Rome decreed that visitors can see it only with a limited number of guided tours per day.
What exactly are the underground parts, and are they worth seeing?
In 2011 an area of the Roman Colosseum previously not accessible to anyone but archeologists was opened - underneath the Arena itself.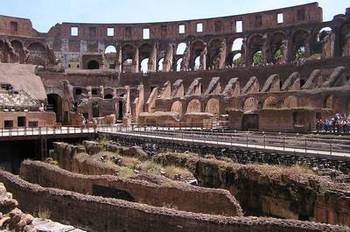 It's a maze of tunnels where gladiators waited their turn, where lions and tigers were kept in tiny cages, and where an amazing array of pulleys and platforms pulled up those taking part into the Arena itself, as if by magic.
It must have been quite a sight.
But there's a catch.  In order to preserve this incredible historical site, the authorities have said that only people visiting with an organised tour are allowed - and even then, the tours must be at specified times. We can understand that - it makes vandalism and erosion less likely, which has to be a good thing.

Why Viator Tours?
We use Viator for all our travel needs. They're a company providing tours just that little bit different from others, at a reasonable price. So we were delighted to know that they are one of the few companies allowed to take visitors into the underground caverns of the Colosseum.
Exciting!

---
If you can't wait, here's a link to the Viator page -
click on the pic!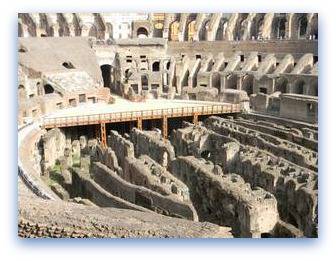 Or carry on for more information

---
What does the tour involve?
Please note that the basic tour doesn't include the underground part but does include a tour of not just the Roman Colosseum but the Forum and the Palatine Hill as well - a bargain! If you want the underground tour included you need to book in the 8.30 a.m. visit - it's the only one allowed to go into the tunnels.
This is a three hour guided tour but if you do the underground area as well, it's extended by thirty minutes.
The first advantage (and it's a big one!) is that your entry into the Colosseum is guaranteed to be quick. There's no standing round in queues for two hours or more - there are always huge lines to get into this site, no matter when you go.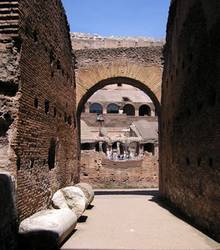 The second advantage is that the guides are all enormously knowledgeable but not only that, they're also great fun. They don't just give out information, they make it easy to understand for the youngsters in the group and bring it to life for anyone not terribly interested in historical facts.
They really bring the Roman Colosseum to life.
Thirdly, the groups are kept very small. The general tour is no more than twenty-five; the 'underground' tour ten or fewer. What this means is an unique, personal experience with a guide who's always able to answer questions and cater to the needs of the whole group. You'll find you become friends for the few hours you're together, which is a far cry from other tours we have experienced.
And finally, everyone in the group wears a small earpiece. What this means is that you can wander off a little to inspect something of interest, but still listen to the commentary. Everyone we know who has done this tour finds this a real bonus because you can hear every word, perfectly. No more craning your neck to see the guide and try to lip-read!

Although reviews (and there are over three thousand reviews of this tour on the Viator Tours website) all speak highly of the Forum and Paletine parts of the tour as well, it is undoubtedly the Roman Colosseum part which has everyone completely transfixed.
It's just incredible.  Amazing.  Stunning.  And all the other superlatives you can think of!

The Roman Colosseum  :  seeing the underground chambers.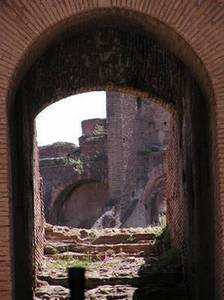 The maze of tunnels -
an unique experience.
It's this part of the tour which is new, and to take part in it you must book the Viator Tour's early morning trip. There is also a very strict time limit imposed on tour companies by the City of Rome for access to the underground site so be warned, if you turn up late the group is likely to have left without you.

Also be aware that, if it rains heavily, you may not be able to go as the underground passages tend to flood.
As well as the underground parts, you will be taken up onto the third tier (very high - wear comfortable shoes and be ready for the climb!) which has not been open to the public since the 1970s.  It's the most incredible view down into the Arena.

Who will enjoy it?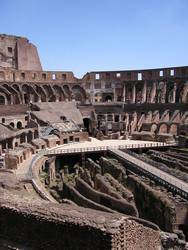 Who could fail
to be awestruck?
Anyone who has the slightest interest in history, ancient Rome, or just likes imagining the spectacle of a gladiator fight. And kids love it because they are actually and quite literally following in the footsteps of gladiators.

If you're only in Rome for a short time, it's a great way of learning and seeing a lot, quite quickly. Without a guide the structure of the Roman Forum in particular is very difficult to work out.

One piece of advice here : you will enjoy it far more if you make sure you wear a pair of comfortable shoes. Heels are a definite no-no - you will hurt yourself!

Anyone it's not suitable for?
Sadly the under-ground is very uneven and there are many steps, so it's not suitable for wheelchairs, pushchairs, anyone unsteady on their feet or anyone not able to climb stairs.

Any other pieces of advice?
It is a very tiring programme so our advice would be to try to do an early morning tour before the sun becomes too hot, even if you're not doing the underground part. This is especially valid if you're visiting in the summer months. Make plans to return to your hotel for a couple of hours' rest before heading out for more sight-seeing later in the day.

Is it worth the cost? We ask visitors.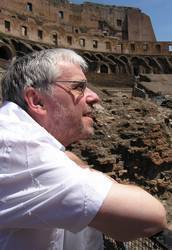 We love the Colosseum -
and we think you will, too.


We have never heard anyone complaining about this. Everyone says it is exceptionally good value. There's no more compelling way of saying this than to allow people who have been to speak for themselves, so here are a few quotes from the Viator Tours website:

"The guide was so entertaining and very passionate about ancient Rome. A fantastic afternoon out".

"My 11 and 14 year olds loved this tour".

"I would thoroughly recommend this tour as excellent value for money.  We got much more than we bargained for!"

"The tour ran almost an hour longer than expected and not a single one of the 20-strong party wanted leave. Great value for money and once again, most professional".

"Amazing, simply amazing. Great tour-guide, great history lesson, great everything. My family had been looking forward to this trip for months and we couldn't stop talking about it for hours after. This will definitely be a trip we remember well into our "golden years." "

"If I could give this more than 5 stars I would."

Really, need we say more?
The Roman Colosseum - how to book
For your convenience, here's a link for you to book through Viator Tours.  And remember, the previously unseen underground passages are only allowed a very few visitors a day so if you want to see them - book early.  Otherwise, you may be disappointed.

Click on the picture below to go straight to the Viator booking page, which will open in a new window - and remember to book the early tour to see the underground parts.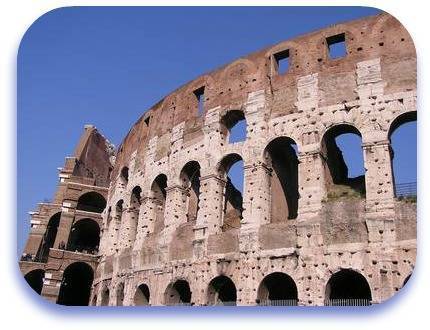 ---
If you like this tour, you might also like our featured half day at Rome's Gladiator School  - another way to make lasting memories.

Want to know more about the Roman Colosseum?  Here's our top tips for visiting  Rome's most famous monument.

Worried about how you're going to entertain your family in the Eternal City?  Our page about Rome for kids  will give you lots of ideas other tourists don't know.

---

Click to go back to the home page.
Some links on this page are affiliate links, which means that if you purchase a product through them, we receive a small commission. There is no extra cost to you. To learn more please see our affiliates disclosure document.