The Colosseum in Rome :
Enjoy one of the best places to visit in Italy.
Planning to visit the Colosseum in Rome but not sure where to start? Here are our insider tips on this most well known of ancient Roman buildings to make your visit extra special.
Here's a promise. You will never forget your first view of the Colosseum.  And here's another promise. You will never forget the moment when you first climb the steps and come out onto the inside terrace. It is, truly, absolutely stunning. There is just no other word for it. 

But it can be overwhelming. We love this building so much, and we want you to as well. So this page is dedicated to giving you some tips about the best times, and the best ways, so see it. And if you don't find what you're looking for, feel free to contact us - we would be more than happy to help.
When's best to visit the Colosseum in Rome?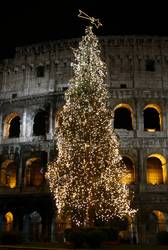 Who wouldn't love this?
We would say - any time!  It has its attractions all year. At Christmas there's no doubt in our minds that it's one of the greatest places to visit in the whole of Italy. Seeing it lit up against a starry sky with its huge Christmas tree standing outside is an experience like no other.

If you're in Rome in the winter months, don't miss it. This is probably our very favourite time to see the Colosseum.

Spring and autumn are also good times because the weather's usually quite warm which makes standing and staring (which we guarantee you will want to do) much more pleasurable than in the heat of summer. The only problem is that it often rains during these months - pack an umbrella and you'll be fine.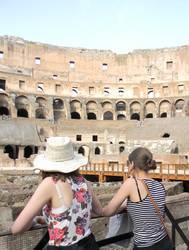 Our god-daughter Sarah and friend Anne at the
Colosseum in summer.
Summer can bring its own difficulties. July and August in particular are baking hot and inside the Colosseum there are very few places to shelter.  Temperatures quite commonly reach well over 40°C - that's more than 100°F - and dehydration can be a real problem.

If you're visiting in the summer, try to go in the late afternoon when the sun is lower and parts of the building are in shade. Take a bottle of water (each) with you, but don't buy it outside the Colosseum - the prices are extortionate. Wear a hat too, or buy one of the pretty paper parasols from the vendors near Termini station for a couple of Euros - they're a great way of keeping the sun off.

---
If you want more detailed information about Rome's climate, follow this link about the weather in Rome.

---
The Colosseum in Rome : How to find it
Believe it or not, for the most famous ancient Roman monument in the world, it's not that easy to find!

If you use a 'hop-on, hop-off' tour bus, you won't have a problem as all the tours stop immediately outside.  And if you can find the Forum and either walk through it or down the side of it, you will find the Colosseum at the bottom.

Of course, anyone in Rome will be able to point you in the right direction and your hotel will give you a map - but for your convenience in planning, have a look at this - use the zoom to see the Colosseum in relation to the rest of Rome.

Walking is the easiest way to get there, but if you're on the other side of the city you could take Line 'B' of the Metro to the stop called 'Colosseo' (although it's really not a pleasant experience!).  Trams number 3 and 8, or buses number 60, 75, 85, 87, 175, 810 and 850 also stop near the Colosseum in the Via Labicana.

When is it open?
Every day apart from Christmas Day and New Year's Day, from 8.30 a.m. to 7 p.m. or one hour before sunset in winter.

But don't leave it till the last minute.  You will need a good couple of hours to take it all in.

How to see it.
Queues for tickets to the Colosseum in Rome are always long and can be tedious in the heat of the summer. We've seen lines lasting two hours or more.

Rather than buy your ticket there, buy a combination ticket for the three main ancient sites (Colosseum, Palatine Hill and Forum) at the nearby entrance to the Palatine Hill. It's valid for two days so you don't have to visit all three in one day.

If you're prepared to pay for an audio tour there's a separate queue inside the main entrance which is usually much shorter. The audio guide isn't brilliant, but it's a good starting point if this is your first visit and it's available in a number of different languages.

Better still, buy your tickets before you travel.  Clicking on the picture below (it will open in a new window) allows you to buy online and print tickets before you go for a number of different options, some of them self-guided, some not.  When you arrive at the Colosseum, go straight to the desk (inside) marked 'Online Reservations' and hand over your papers.  The person who booked and paid must also produce identification in the form of a passport or identity card.

Make sure you don't miss the newly opened part of the Colosseum in Rome!
Book by clicking the pic underneath.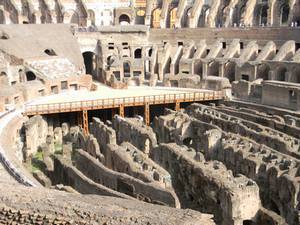 The lower levels - only accessible with a guided tour.
In our view, the best possible option is to pre-book a fully guided tour. This is actually the option we would advise, particularly if it's your first visit. The knowledge of the guides is second to none and you will be given a full explanation of the different layers of this massive building.

But also, and very importantly, a new section of the Colosseum was opened for the first time in 2011 and it is only viewable with a guided tour. It unveils a part of the Colosseum previously seen only by archeologists : the tunnels under the main Arena through which gladiators and animals would pass before being lifted by pulleys into the Arena itself. 
This is an absolutely fascinating experience - don't, whatever you do, miss it.  Seeing the Colosseum in Rome itself is incredible, but experiencing its lowest floor is one of the best experiences we know of.<br>

And if you're trying to entertain your children, or interest them in history, and having a hard time, walking in the footsteps of gladiators will, we guarantee, do the trick!

---
If you want to interest your family in the Colosseum in Rome before you travel, have a look at our pages covering little known fun facts about the Roman Colosseum - they'll love this!

And here are some more strange but true facts about ancient Roman culture to entertain and delight!

If you're planning to visit Rome, or even if you're just dreaming about it, don't forget to have a look at some other great things to do in Rome to suit all ages.

---

Click to go back to the home page.