The ancient Roman Colosseum :
strange facts to entertain you.


The Roman Colosseum is both one of the best things to do in Rome and a great source of fun facts about Italian history and culture.
Whether you want to astound your friends, amaze your children, or simply know more fun facts about Italy or things to do in Rome, this is the place to start.
Here's the first five of our facts about the Colosseum.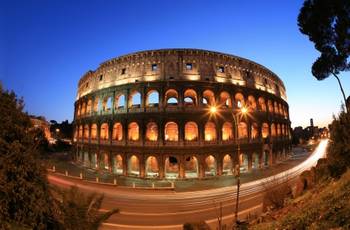 Everyone knows that the Colosseum in Rome is a magnificent building. Everyone knows that it held gladiatorial games for between fifty and eighty thousand spectators at a time.
But here are the first of our ten little known and strange facts about the Roman Colosseum to entertain and fascinate you. You can find the next five here.
Strange facts - number 1 :

The Arena of Death lights up for life.
The Roman Colosseum has become known as the arena of death.  In the hundred days of the opening ceremony alone it is thought that around two thousand gladiators and five thousand animals were slaughtered.
But thanks to the City Council of Rome and Amnesty International, the Colosseum has recently emerged as an important symbol in a campaign against capital punishment.
In 1999 the City of Rome led an initiative involving over sixty cities, each of which agreed to light up a well known public monument in a campaign against capital punishment.
Since the campaign began, the Colosseum has been lit with a bright golden light for two days each time an execution anywhere in the world is commuted, or when a nation abolishes capital punishment - about twenty times since 1999. 
It was most recently lit in December 2007 to celebrate New Jersey's abolition of the death penalty.  So in what many see as poetic justice the Roman Colosseum, once the arena for executions, entered the new millennium as a symbol of life.
Strange facts - number 2 :

Mark Twain used the Roman Colosseum to play a practical joke.