Italian culture and customs at Easter.
Easter in Italy is one of the best times to visit. Here we look at Italian culture, customs, traditions and sayings and offer you some delicious Easter recipes from Italy.


Apart from Christmas, Easter is the most important date in the Italian year. It is celebrated as a religious and family occasion in much the same way that American families celebrate Thanksgiving.
Click on the links below to find out more about the Italian culture, customs and traditions of Holy Week, including what happens in Rome, details of where and how to see the Pope, how to say "Happy Easter" to your Italian friends and family, and how to cook them all a lovely Easter Monday picnic.
Oh and - let's not forget the all-important matter of chocolate eggs ...

Italian culture, customs and events :

Let's start with some basic facts : when is it, what will the weather be like, are the banks and the shops open, do the trains and buses run?
All you need to know about spending Easter in Italy is on this page.

Italian culture, customs and events : Holy Week in Rome

Easter is our favourite time to visit Rome.
Shop windows dressed with ribbons and bows and glitter, delicious smells of roast lamb wafting through the doors and open windows of restaurants, the first outdoor dining tables of the year, and azaleas on the Spanish Steps ... what could be better?
But hold on a minute - before we get as far as the celebrations of Easter Sunday, there's a whole week of religious events to get through ...

Italian culture, customs and events at Easter :
Essential facts about the Pope
You're in Rome. It's Easter. Whatever your religious views the Pope is going to be involved somewhere along the line. There's just no avoiding it.
But - and this is often a surprise to visitors - it's not always easy to know where he is, or to get to see him.
This page is all about the wheres, the whens and the hows, as well as general information about the Pope. If you want to see him - at this or any other time of year - if you want Papal souvenirs, or if you want to visit his absolutely stunning summer residence, this page will tell you exactly how to go about it.

Italian culture, customs and events :
What is Palm Sunday like in Rome?
Pope Benedict 16th, Palm Sunday, Rome.
Easter in Rome - crowded, noisy, busy. And emotional, moving, buzzy.  Everyone should experience it at least once in their lifetime.
This page covers traditions in Rome between Palm Sunday and Holy (Maundy) Thursday : what's going on, where the Pope will be, how to get to see him, and whether it's worth taking your children.

Italian culture, customs and events at Easter :
What is Good Friday like in Rome?
Good Friday is the most solemn day of the whole of Holy Week in Italy - in fact probably of the whole year. But Good Friday in Rome is nevertheless an amazing and emotional experience - whether or not you're religious. 
This page tells you all you need to know about where to go, what to see - even where to stand - so you don't miss out on any of the very special traditions.

Italian culture, customs and events in Holy Week :
What is Easter Sunday like in Rome?
When do the celebrations start? Where will the Pope say mass? Do I need a ticket? Is everything closed on Easter Sunday? What attractions will be open?
As one of the better known Italian Easter sayings goes :

"Natale con i tuoi, Pasqua con chi vuoi"
("Christmas with family, Easter with whoever you like")
- but what happens after all the religious celebrations are over?  Find out on this page.
Italian culture, customs and events :
Easter Monday egg painting competition, Pignano.
After all the emotion of Holy Week and the celebrations of Easter Sunday, what happens next? Traditionally Easter Monday is the time to move out of the cities and into the fresh air of the countryside.
We have picked out six of our favourite places to go on Easter Monday in Italy, all of them in or near to favourite tourist destinations.
So if you want to join in the cheese-rolling, horse-riding, egg-painting, bread-eating, wine drinking, Italian culture and customs of Italy on this wonderful happy day, start planning here!

Italian culture, customs and events :
Italian Easter Monday traditions
What if you can't get out of the city? Or what if you just want a nice, quiet family day?
Picnics! Easter Monday is above all a family time and, traditionally, is spent eating outdoors. This page tells you all about how and why, and even gives you some delicious traditional Easter recipes from Italy.

Italian culture, customs and events :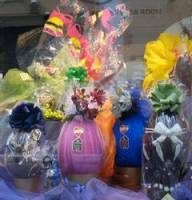 Italian chocolate eggs are always prettily wrapped!


Easter in Italy is far less commercialised than celebrations in, for example, America or the U.K. Cards are not often exchanged and the only gifts, apart possibly from flowers for the 'mamma' of the house, are those found inside chocolate eggs.
In fact, it's becoming one of the most popular traditions amongst young people to give engagement rings at Easter, hidden inside an egg. Definitely one of the more modern of engagement ring traditions in Italy.
Easter egg tradition in Italy is very strong (inevitably - it involves chocolate!) and it might not surprise you to know that the Italians built (and ate!) the biggest chocolate egg in the world.
Find out about it on this page.

Italian culture, customs and events :
Easter sayings in everyday Italian
OK, so Italian traditions don't really involve sending each other cards.  That's no reason for you not to - in fact we've discovered that our Italian friends think it's a lovely idea (although they don't understand the Easter bunny!).
If you want to include a few Easter sayings in Italian, you'll find them on this page. And, if you've not got time to find a card to post, use one of our free interactive e-cards of Italian images.
We guarantee - you'll be an instant hit!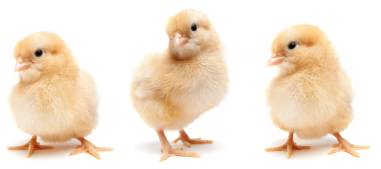 As they would say at Easter in Italy :

BUONA PASQUA!

---
If you're in Italy before Easter Sunday you may want to know about Lent fasting traditions including what you'll find to eat in Italy during the forty days of Lent.
And if you're in Rome at that time, this page will tell you all about the city's Lent calendar including which churches you'll find the special 'Stations' Masses.
---
If you enjoyed this article, we'd love you to let us know - just click the button below. Thank you!
---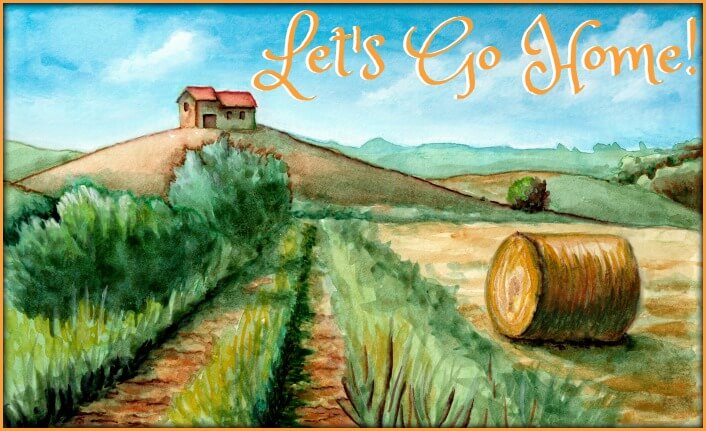 Click to go back to the home page.
---
Italian-issimo!
---
Ads by Google.
Some links on this page are affiliate links, which means that if you purchase a product through them, we receive a small commission. There is no extra cost to you.  Because our integrity and your satisfaction are very important to us, we only recommend products we have purchased or would purchase ourselves, and which we believe would benefit you. To learn more please see our affiliates disclosure document.