Easter in Italy : Easter Monday traditions in Italian villages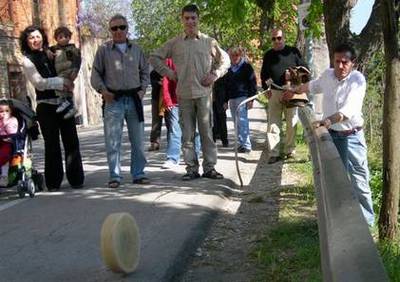 Sometimes the cheese gets lost ...
Cheese-rolling in Panicale on Easter Monday.
Spending Easter in Italy?

Here are some of our favourite places to visit in Italy
which celebrate Italian
Easter Monday traditions in style.

Once you've sorted out the basic Italian Easter facts - like when is Easter Sunday and how are you going to celebrate it? - one of the happiest ways of spending Easter in Italy is to look for events in Italian villages near wherever you will be staying on Easter Monday.
Each town and village has its own culture and traditions and celebrates in very different ways.
Here's some of our favourite places to visit in Italy, with the oldest Easter Monday traditions, near to some of the large cities and tourist destinations.

Easter in Italy : Rome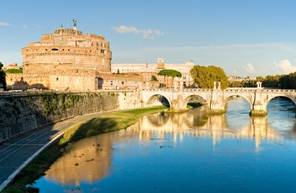 Castel Sant'Angelo -
make sure you can see the angel on top.
Castel Sant'Angelo firework display

Rome is probably the most popular place to visit at Easter in Italy.  For the whole of the week from Palm Sunday to Easter Sunday Rome takes on a solemn, pensive, rather sombre air.
Easter Monday is a different story altogether. Most Romans try to get away from the city for the Italian Easter traditions of the family picnic during the day itself; others take their picnic to the Borghese Park.
And if you're in Rome on Easter Monday evening, have a look at the firework display at the Castel Sant'Angelo. It happens any time between 8.30 to 11.30 p.m. (ask at your hotel for a more accurate timing); the fireworks are best seen from any vantage point along the river Tiber from where you can see the famous angel standing on top of the castle.
Our view? One of the most spectacular Italian Easter traditions.

Easter in Italy : Siena, Tuscany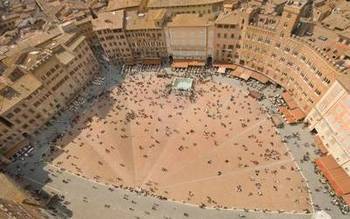 Siena's Piazza del Campo.
Picnic in the piazza

Traditionally, Easter Monday picnics take place at the beach or in the country - but if you can't make it there, small towns will do just as well. 
In Siena, huge numbers of Italian people take their picnics to Piazza del Campo, the large shell-shaped 'square' in the centre of the town. It's not one of the best Easter treats for kids - it's always crowded and there's not a lot of sand in the piazza - but for adults it's a great experience.
Although it's a national holiday, it's such a popular venue that you'll find some shops open where you can buy delicacies for your own Italian picnic - Italian frittata and Italian Easter bread are sold everywhere.
Our view? Siena is one of the loveliest places to visit in Italy.  If you're anywhere nearby at Easter, try it. You won't be disappointed.

Easter in Italy : Panicale, (nr Orvieto), Umbria
Roll that cheese!

Halfway between Rome and Florence is the tiny mediaeval hilltop village of Panicale. And on Easter Monday, amongst its tiny, winding streets and out into the countryside around its walls, large round cheeses are the stars.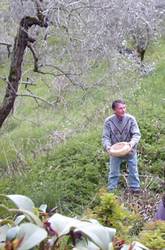 The cheese makes a bid for freedom..
Ruzzolone, or rolling the cheese, is a tradition dating back to Etruscan and ancient Roman culture.
Part 'bocce' (the Italian version of 'boules') and part yo-yo, the contestant launches a four kilo (nine pound) round of pecorino cheese with a leather strap wrapped around the cheese's middle.
Once rolling, the cheese is followed by 'spotters' whose job it is to mark where the cheese falls. The player who rolls their cheese around the outside of the town's walls in the fewest number of strokes, wins.
It's more fun than it might sound. The cheeses often go tumbling down the hillsides or become trapped under cars -  and when the races are over there's food, wine and the inevitable band in the piazza.
Our view? Panicale is one of the most picturesque of Italian villages. Add to that this most eccentric of Italian Easter traditions and you're onto a winner!

Easter in Italy : Merano (nr Venice), Alto Adige (South Tyrol)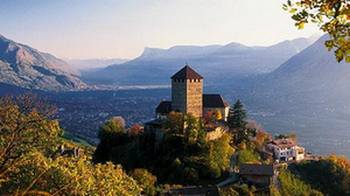 Merano, nestled amongst the Alps.
Golden horses and traditional costume amongst the mountains.

Tucked away close to the Austrian border and surrounded by the peaks of the Alps, Merano is a pretty, elegant, sedate village. Occupied by the Romans from the 15th Century B.C., its ancient Roman baths have developed into a modern spa complex - there's even a special 'grape cure' for those who want to lose weight fast!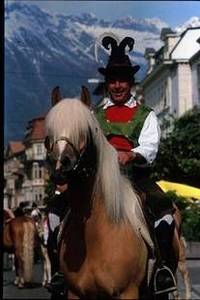 At 10.30 a.m. every Easter Monday morning in the old town, the streets are filled by a procession of the local and very beautiful golden, white-maned "Hafflinger" horses ridden by local young people dressed in traditional Tyrol costume and accompanied - inevitably - by the local band and folk dancers.
And from 1.30 in the afternoon the same horses take part in the 'Corse Rusticane' races at the local 'Maia' racecourse. The whole day is, of course, accompanied by food, drink and, in the evening, dancing.
Well - let's be honest - no Italian Easter traditions would be complete without them!
Our view? Even without the horses, this is one of the loveliest of Italian regions with some of the most spectacular scenery - and in the early spring the valleys are full of wildflowers and apple blossom. It's one of the prettiest Italian villages to spend Easter.

Easter in Italy : Fontanelice, (nr Bologna), Emilia Romagna
Fried bread and donkeys

Forget about Siena's 'palio'. Ignore Italy's great chocolate Easter egg tradition. For at Fonntanelice there's fried breadh and a donkey race at Easter.
Ever since 1956 this small town has held a double celebration on Easter Monday.  The 'Festa della Piè Fritta' celebrates a local speciality - piadina, an unleavened fried bread which has been eaten in this area since the middle ages and is as much a part of the local culture as pizza is in Naples.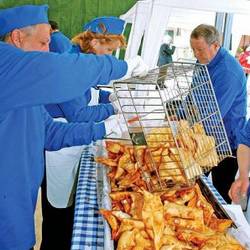 This is an amazing sight. From the early morning onwards thousands of pieces of the dough are cooked on hot stones or a huge cast-iron griddle.
It's eaten warm with local meats, cheeses and vegetables and accompanied by the local Sangiovese wine.
Everyone wanders round eating their bread and browsing the plentiful market stalls lining the streets, until bands announce the coming of the parade of donkeys around the town and into the main square.  Here, they're 'presented' to the public before heading for the sports field where the famous donkey race takes place.
The race happens in the mid-afternoon, generally ending at about 5 p.m., but the party in the town carries on until the last person decides to go home. It's all huge fun.
The whole thing is free to enter and if you want to try the bread, only a voluntary donation is asked for. Don't try to park in the village - you'll find places to park signposted near the river.
Our view? Fifteen thousand people a year can't be wrong. This is a colourful, fun way to spend Easter in Italy. Go if you can.

Easter in Italy : Buonopane (nr Naples), Barano d'Ischia
Wooden swords and an Easter dance

Thirty kilometres from Naples, on a tiny island in Campania, Easter Monday is the day they dress up in costumes from the 1500s and re-enact an historical combat with a dance called the 'Ndrezzata'.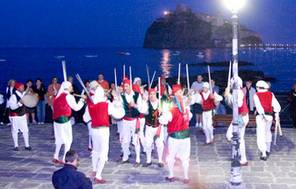 Not unlike the 'Morris Dancers' of Britain, about ten pairs of dancers are armed with wooden clubs and swords and perform a rhythmic, pretend violent 'fight' accompanied by pipes and a frame drum similar to the Irish 'bodhran'.
Tradition has it that the dance re-enacts a fight between two rivals for a woman's love which then divided the village and needed a Bishop to intervene to sort it all out. The long-standing feud was settled on an Easter Monday long, long ago.
Our view? Clear blue sea, green pines, a dormant volcano, meadows of flowers and mineral springs - Ischia is the most beautiful island to visit at any time.  Combine that with one of the most colourful Italian Easter traditions and you're onto a winner. If you love Morris Dancers, you'll love this!

---
Looking for something Italian as an Easter gift?
Our e-shop has it all!
More Italian culture and customs at Easter
---
If you enjoyed this article, we'd love you to let us know - just click the button below. Thank you!
---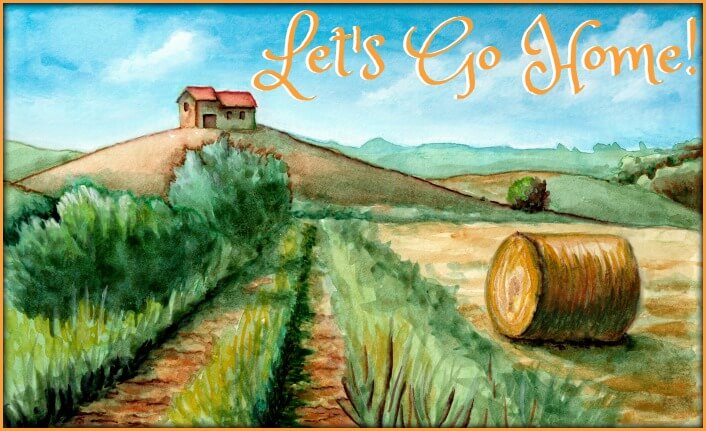 Click to go back to the home page.
---
Italian-issimo!
---
Ads by Google.
Some links on this page are affiliate links, which means that if you purchase a product through them, we receive a small commission. There is no extra cost to you.  Because our integrity and your satisfaction are very important to us, we only recommend products we have purchased or would purchase ourselves, and which we believe would benefit you. To learn more please see our affiliates disclosure document.