An Italian Easter bread recipe : part of holiday traditions in Italy.
Italian bread is an important part of food culture in Italy. Here's a delicious Italian Easter bread recipe that anyone can make.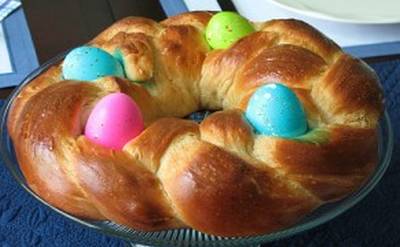 Easter food in Italy
Food in Italy at Easter has three important ingredients : lamb, eggs and bread.  This most delicious of Italian bread recipes combines two of them - eggs and bread.
Use it as the Italians do : as a colourful table centrepiece on Easter Sunday, as an Easter gift for friends, or as part of your traditional Easter Monday picnic.
It's a sweet bread, so won't go well with Italian salads or savouries but is delicious eaten between courses.

Italian Easter traditions
The origins of this Italian Easter bread recipe are uncertain. Different regions - notably Sicily and Abruzzo - will claim they thought of it first. What is certain is that it's now made at Easter in all parts of Italy, with variations on the basic recipe according to regional and family customs.
Traditionally it was made in the shape of a horse for boys, a doll for girls and a wreath for adults. These days it's usually made in a plait (braid) and either left long, or pulled into a circle.

Italian bread recipes : can this one be varied?
The dried fruit and nuts can be added or left out according to taste.
The ingredients which are common to every Italian Easter bread recipe are aniseed and cooked eggs.
The eggs can either be coloured, using food colouring - or more traditionally, red onion skins - or left in their natural colour.
Do not cook them before you put them into the bread dough - they'll cook in the oven.

Italian Easter bread recipe :  how easy is it?
Like any bread recipe, this one isn't so much difficult as time-consuming.  It has to be left to rise twice and so all in all will take about two hours to make.
To enjoy at its best it should be eaten on the day it's made.

Italian Easter bread recipe - ingredients :
355 grammes (3 cups, 12 oz) plain (all purpose) flour
1 packet (about 8 grammes, 0.25 oz) dried yeast
60 grammes (one quarter cup, 2 oz) white sugar
1 teaspoon salt
6 fluid oz (two thirds of a cup) tepid (not hot) milk
2 tablespoons butter, softened at room temperature
2 medium sized eggs
75 grammes (one half cup, 2.5 oz) chopped mixed crystallised (candied) fruit
30 grammes (one quarter cup, 1 oz) sliced or chopped (slivered) almonds
Half teaspoon aniseed (anise seed)
6 eggs for decoration, either dyed or plain
Small amount olive oil

Italian Easter bread recipe - preparation :
✮ Use a large mixing bowl to combine  120 grammes (1 cup, 4oz) flour, sugar, yeast and salt.
✮ Add the milk and butter.
✮ Beat either manually for five minutes or for two minutes with an electric hand blender set at medium.
✮ Add the two eggs and another 60 grammes (half cup, 2 oz) flour.
✮ Beat well by hand or with an electric whisk for two minutes on a high setting.
✮ Stir in the fruit, nuts and aniseed. Mix in well.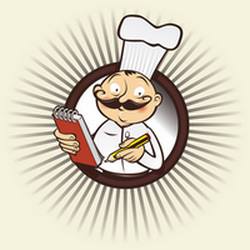 ✮ Add enough of the remaining flour to make a soft dough.
✮ Turn this dough onto a floured work surface and knead it until it becomes smooth. This will take anywhere between five and ten minutes.
✮ Lightly grease the mixing bowl and return the dough to it, turning it once to make sure the top is greased.
✮ Cover with a cloth and leave in a warm place until it's doubled in size.  This should take about an hour.
✮ Remove the dough from the bowl again, place on a floured surface and knead it lightly for a minute or so to take the air out of it.
✮ Cut the dough into three equal pieces. Roll each one until you have a rope measuring about 16". Loosely 'plait ('braid' the three pieces together.
✮ As an alternative,cut the dough into two pieces which will make a longer loaf of about 24". Twist them together loosely.
✮ Either leave your loaf as one long piece, or twist it into a ring and 'pinch' the two ends together so they stick. Place it on a greased baking tray.
✮ Now, take your six eggs (dyed or undyed). At intervals, gently make a space in between the dough 'ropes' and place an egg in it.
✮ Cover the loaf and leave to rise again for about half an hour.  It should again double in size.
✮ You can glaze the loaf by brushing it with a beaten egg at this stage if you want to give it a shiny look.
✮ Bake at 180º Centigrade, 350º Fahrenheit, gas mark 4, for thirty minutes or until golden brown.
✮ Take off the baking tray and cool on a wire rack.

BUON APETTITO!

---
Looking for other popular authentic Italian Easter recipes? Try this so, so delicious easy Tiramisu recipe with a difference - it's savoury!
We love Italian bread, and this tastiest ever Focaccia bread recipe is one of the most delicious and simple recipes we know.
Family, chocolate and picnics - catch up with other Italian Easter Monday traditions here.
Love bread making but just don't have the time?  e have been using an electric bread maker for twenty years! Our best bread machine review will help you know if it's the right thing for you too.
---
Favourite Italian culture and customs at Easter
---

Click to go back to the home page.