What is Easter Sunday like in Rome?
Things to do in Rome at Easter 2012:
when is Easter Sunday,
what is Easter Sunday like,
where to see Pope Benedict 16th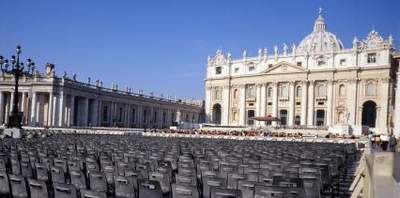 St Peter's gears up for Easter Sunday mass.

What is Easter Sunday?
Easter Sunday is the most important date in the Christian church's calendar.  It is celebrated as the day on which Jesus Christ rose from the dead.
In Italy, a passionately Roman Catholic country, you will find that Easter is celebrated with at least as much fervour as Christmas. Although there is some commercialisation, largely with the thriving Italian Easter egg tradition, it is above all a religious festival.

What is Easter Sunday like in Rome?
Easter in Italy is a busy time and it all culminates on Easter Sunday ('Domenica di Pasqua'). Easter Sunday and Easter Monday are the two main bank holidays, when banks, offices and many museums will be closed (including the Vatican museums).
However, you will find restaurants and those shops which serve mainly tourists will be open - after all, this is the busiest time of the year in Rome.
If you're looking for things to do in Rome apart from religious services, take advantage of the fact that most of Rome's population will be in church, and use the time to visit 'open air' sights like the Colosseum, the Forum, the Spanish Steps and the Trevi Fountain.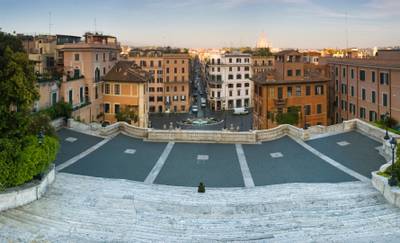 A rare sight - the Spanish Steps, almost deserted.

For general information about business opening, transport, climate etc have a look at our guide to basic Italian Easter facts.

What is Easter Sunday like for kids?
The religious celebrations of Easter Sunday, like those of Palm Sunday and Good Friday in Rome, aren't really suitable for children. There's a great deal of standing about waiting for things to happen, and very lengthy services which won't mean much to them. 
When is Easter Sunday good for kids?  When the religious celebrations are over and the city starts celebrating the warm weather and the vibrancy of spring in Rome.
There are other things to do in Rome for kids which they will enjoy far more.
In terms of Easter Saturday, older children may enjoy the Easter Vigil because of the spectacle of the candles, although it doesn't start till late at night and will last until after midnight.

When is Easter Sunday in Rome?
That may sound like a strange question, but the fact is that Easter celebrations in Rome begin on Holy Saturday ('Sabato Santo') night, with the Easter Vigil held inside St Peter's Basilica and presided over by Pope Benedict 16.

Pope Benedict 16 carries
the Paschal candle.


The service begins with the Basilica in more or less complete darkness. The Pope then lights a large 'Paschal' (Easter) candle, from which thousands of other, smaller candles, are lit until the whole church is flooded with candlelight.
This is one of the most moving services of the religious Easter celebrations in Rome. During the service, converts to the Catholic faith are baptised by the Pope, symbolising their 'birth' into the Catholic church.
This service takes just over three hours. Tickets are required for entry into the Basilica for this mass and, despite what some travel agents may tell you, they are free.
See below for details about how to get them.

What is Easter Sunday like in Rome?
Spring flowers decorate the altar of Easter Sunday mass
(and it looks as though Pope Benedict 16th may have hayfever!).

After the solemnity of the days between Palm Sunday and Holy (Good) Friday, Easter Sunday bursts onto the scene with colour, song, elation and great outpourings of gladness.
Spring in Rome has arrived!
Tens of thousands of people descend on St Peter's Square to see the Pope celebrate mass in the Square outside St Peter's Basilica.
This service begins at 10.15 a.m. and is followed immediately afterwards at mid-day by the Pope's famous 'Urbi et Orbi' message, delivered from the central balcony of the main facade of the Basilica.
All the Easter celebrations in Rome are extremely popular, but none more so than this Easter Sunday service - and you can't just turn up - you need to get tickets.
Be aware that you need to apply for tickets well in advance - we would suggest as soon as you know you will be in Rome at Easter.
This page of facts about the Pope gives you information on how to request tickets and links to a downloadable request form which must be posted or faxed to the Vatican.

And what is Easter Sunday like after the religious celebrations are over?
All over Italy, Easter is celebrated as a time with family and friends. If you're looking for things to do in Rome, you'll find families out walking, after church and before disappearing for lunch either to their homes or as it's a special occasion, to one of Rome's restaurants.
The Piazza del Popolo is a place to see and be seen, as are the Spanish Steps and the Borghese Park.
And occasionally you'll happen across spontaneous events. In 2009, the year of a massive earthquake in Abruzzo, a giant chocolate egg was made in one of Rome's shopping centres, following the best Italian Easter egg tradition.
The egg was made of dark chocolate and weighed in at an enormous 2,300 kilogrammes. It was then broken into small pieces and sold to raise money for the earthquake victims.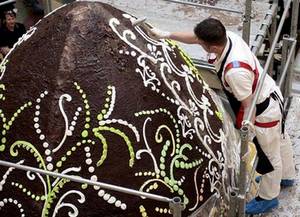 Rome's giant Easter egg, 2009.


It could only happen in Rome!


---
Easter sayings : Italian words and phrases
to help you through Easter week
Easter Sunday in Rome to
more Italian culture and customs at Easter
---

Click to go back to the home page.