Rome for kids : activities in Rome
for toddlers to teens
Attractions in Rome for adults are easy to find
but Rome for kids can be more difficult.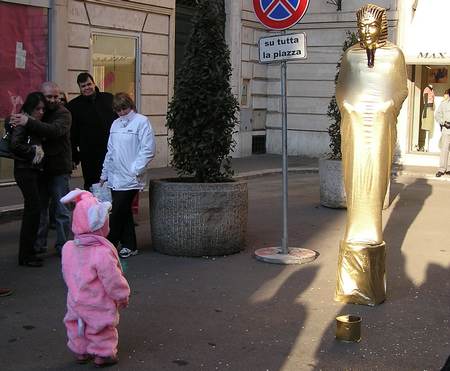 Kids in Italy are always the centre of attention!
Rome, November 2009.

Here are some practical and some unusual
things to do in Rome to occupy youngsters.
Is this city a good place to take kids?
Not sure whether there are enough things to do in Rome for kids? Worried about the heat - or the cold? Not sure how Italian people will react to a small person making a large noise?
Some travel books will advise  you not to travel with kids to Rome. We've even seen a couple saying Italian people don't welcome kids in their capital.  All we can say is, that's definitely not our experience. 
Children are at the very centre of Italian culture. Babies and toddlers in particular can be assured of a warm welcome all over Italy, including  Rome. Not just that - they are very likely to become  the centre of attention, often to the exclusion of their parents!
Don't be surprised if your little one is offered a free sweet treat in the café or given a piece of fresh fruit at a market stall. It happens -  not because the owners want anything in return,  just because they like kids.
When is a good time in Rome for kids?
Every season has its attractions. As long as you plan ahead and make sure you mix adult interests with things to entertain children you'll have a great
time. Click on the links to go to pages which will give you an idea both of Rome's climate, and special activities for toddlers and older kids during each season.

In many ways the most beautiful and kindest of all the seasons. This page tells you what to expect in terms of Rome's lovely warm spring climate, and suggests activities for toddlers to older kids.

Group of Italian kids
at summer camp.
Rome for kids in the summer can be overwhelmingly hot. Have a look at summer temperatures and if you decide summer is the season you'll go, make sure you plan ahead. 
Take precautions both before you go and while you're there.  Check out our tips on how to keep cool in the heat to make your family safe in the sun.

Our favourite of all Rome's seasons, autumn in Rome for kids can be ideal.  Crisp autumn mornings are ideal for walks in the Borghese park, or hire a bike there and exercise while you see it in style!

Entertainment in Rome for kids during December is wonderful as Christmas approaches. Don't miss the huge Christmas tree in St Peter's Square, and the beautiful outdoor nativity scenes to be found all around the city - not to mention the Christmas market in the Piazza Navona.
And in February or March, the Eternal City celebrates its very own brand of Carnival magic which is all about children, before the much more sombre time of Rome's Lent calendar begins.

Things to do no matter what the weather
Shopping might not sound the greatest of attractions in Rome for kids, but it kills two birds with one stone. Italian shops are often different and exciting enough to keep all ages of young ones occupied; and as most businesses are air conditioned it's a way of getting out of the sun in the heat of summer, or into the warmth in the cool of winter.
Here are some of the best family shops to keep everyone happy.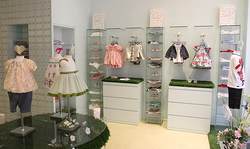 Clothes shops for kids in Rome
are always stylish.
Clothes shopping may not be what your kids have on their list of things to do in Rome but there are some stylish bargains to be picked up for children of all ages, from babies to young adults.
On this page you'll find some of our favourite of Rome's most stylish Italian clothes shops for kids.

Toys in Italian shops are wonderful. In recent years some manufacturing has been moved to China, but it's still possible to find genuine Italian toys if you know where to look. Here you'll find our choice of the best to be found.

Holidays wouldn't be the same without your kids spending some hard-earned pocket money. If yours are anything like ours an essential element of their activities will be looking for souvenirs, not just for themselves but for a seemingly never-ending list of friends back home.
This page suggests some possible gifts and gives details of where to find souvenirs in Rome for kids.

Looking for a slice of Italian life away from the main tourist attractions?  Roman markets are ideal for families : chaotic, full of life, fun places to be and an
excellent source of bargains to take home with you. This page describes the best, and tells you where to find them.

Attractions for younger kids
Activities for toddlers and young children can be particularly hard to find. Rome is an inland city and the main attractions are ancient sites and adult-based. But if you know where to go, there's some good entertainment in Rome for kids in that younger age group. Here are our top suggestions.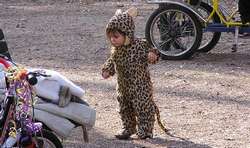 An escapee from Rome zoo?
- Borghese Park, November 2009.

Now re-designing itself as a 'Biopark', Rome's city zoo is one of the best of activities for toddlers the city has to offer. Along with the larger animals beloved by all the family, it has a special area for younger children where they can see smaller, domesticated animals.
This page tells you where to find it and when it's open.

The nearest coastline is half an hour's train ride from the city, but did you know that the Eternal City has its own beach?  Follow this link to find out where it is and when to go.

Attractions in Rome for kids from six years to young adults
The ancient Roman Colosseum is one of the best places to visit in Italy and a must-do part of any Italian trip for kids and adults alike. This page gives practical information about opening times, location, how to get there and our top tips on getting tickets and beating the queues.

Information about the Colosseum is plentiful - but not all of it is easily understood by kids, and telling them they're going to visit an historic site might not fill them with great enthusiasm. 
So we've put together ten little-known and strange facts about the Colosseum for your kids to have a look at before you travel. Telling them it's where the Britney Spears 'Pepsi' commercial was set may make them more interested!

If you've enjoyed our first five strange facts about the Roman Colosseum, have a look at the next five here.

Most kids will learn about gladiators in school lessons about ancient Rome but often find them a bit dry. Booking them into gladiator school for a day will bring ancient history to life. This page tells you where it is and what it has to offer kids and adults from six years up.
Everyone we know who has been there, of all ages, absolutely loves it.  It's a boon for parents trying to make Rome for kids more interesting than "not another old building" ...
Don't miss out!

Entertainment in Rome for soccer fans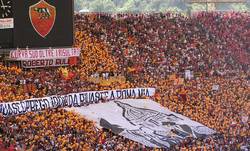 The Roma - Lazio derby - an amazing sight.


If you have soccer fans in the family, take time off other activities and find one of the official stores selling everything related to the two Roman teams : Roma and Lazio. This page gives details about where to find those shops and how to access their online stores.
And, if you're feeling very adventurous, let us also try to persuade you to buy some tickets at the Stadio Olimpico to see one of the teams in a home game. It's a wonderful experience and media coverage of violence is largely unjustified.

Calamity! You arrive at your hotel only to discover there's no internet access. What to do in a strange city for kids who are computer-starved?
This page will give you some tips about how to access the internet in Rome, including how to use wireless access around the city and where to find internet cafés near the major tourist sites.

Food and drink
Unlimited amounts of pizza, chocolate and ice cream - food in Rome for kids is a dream. 
So, if other activities become too much for your family, have a look at this page which gives our personal recommendations about good places to eat in Rome with kids. They are all near to main sites and places of kids' entertainment, so plan to include at least one in your daily itinerary and keep the family happy!
And remember, particularly in the heat of Rome's summer climate to keep you kids topped up with liquids - it's the most effective way to avoid problems with the heat.

---

Top Tip:

Don't overdo it!
Don't rush around trying to fit in all of Rome's architecture and art before the flight home. You won't do it anyway - we've visited Rome many times and still haven't seen anything like all of it, and you'll make your kids tired and cranky in the process.
Instead, make a list of perhaps one or two Roman sites each day the adults would like to see, combine that with one of the activities in Rome for kids, and make sure that you also spend some time just sitting in a square drinking coffee, letting the kids pig out on delicious Italian 'gelato' (ice cream), and watching the world go by.
You'll enjoy it far more, and you'll go home feeling you really have all experienced Rome as a family.


Top Tip for Kids:

Using buggies in Rome :
Many of Rome's streets, particularly round the main tourist attractions like the Colosseum are cobbled and not friendly to buggies. Add to that the fact that in the height of the tourist season the city is crowded and sights can be difficult to negotiate, and you have a potential problem. 
If you have a small baby try using a baby sling or a backpack carrier instead. If you have a toddler you will need to use a pushchair, as the best way to see the sights is definitely on foot, but it can be tiring even for adults walking round the main sites. 
Try to take an all-terrain buggy - the bigger wheels will be better able to cope.

---
Rome's weather today
Things to do in Rome for kids to our home page about Italian culture
---

Click to go back to the home page.