Rome Zoo  : one of the best places to visit in Rome for kids fed up of the sights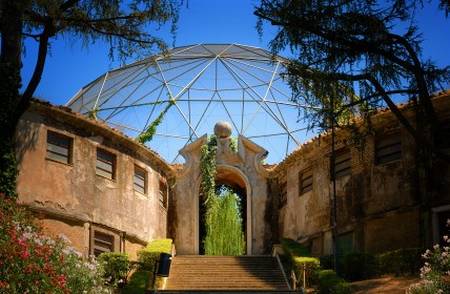 Rome Zoo - a wonderful mixture of ancient and modern.
Looking for things to do in Rome for kids? 

This page is all about Rome Zoo -
what's there, how to find it, when to go,
and some strange animal facts for kids
you'll come across while visiting.
Will my family enjoy it?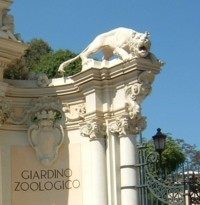 Stunning entrance.
This is one of the oldest animal reserves in Europe and has a lot to recommend it.
Opened in 1911, it was allowed to fall into near ruin until quite recently. In the last few years it's been renewed and renamed a "biopark".
It's much more modern and environmentally worthy than previously and concentrates on conserving and educating, giving interesting and sometimes strange animal facts for kids to keep them entertained.
But be prepared for parts of it to be disappointing. Some of the enclosures are small and the elephant enclosure is still just a concrete base surrounded by a moat. It's a massive restoration project, the park has come a long way in re-branding itself and the zoo management has much to be proud of - but there's still a long way to go.
But all in all yes, it's one of the best things to do in Rome for kids who are overloaded with culture, or just not interested.

What's there?
Since ancient Roman times large animals have played an important part in Italian culture. Rome Zoo carries on that heritage and you will find all the usual suspects here : lions, tigers, monkeys, giraffes, zebras, wolves ...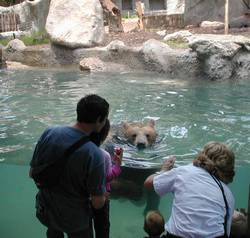 Rome zoo bear enclosure.
Two enclosures are specially worthy of mention. The lions can be viewed very close up through two enormous glass windows, and the bear enclosure is as close to a perfect place for animals in captivity as it's possible to have, with trees, rocks and waterfalls. 
As a special treat your children can watch brown bears swim, through a viewing window which allows you to see exactly how good they are underwater.
Thanks to the zoo management's concentration on conservation you'll also see some newborn zoo pets : in 2008 a baby giraffe called 'Pallina' made her first appearance and in 2009 two kangaroos, a baby Mandrill - 'Blanca' - and a gorgeous Zebra called 'Primo' were the latest additions.

Are there places to visit in Rome Zoo for younger children?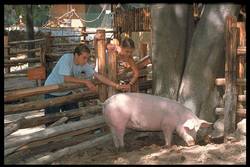 Rome Zoo pets area.
There are. For toddlers there are 'zoo pets' in a farmyard area.  These are small domestic animals : pigs, goats, lambs, donkeys, rabbits and hens were there last time we visited. Children are encouraged to stroke them, feed them and learn about their care.
Additionally there's a safe play area imaginatively designed in the shape of an ark with swings, seats beneath shady areas and water fountains to make sure kids keep cool in the heat of Rome's summer.

What about places to rest and eat?
There's more things to do in Rome Zoo than just seeing animals. There are a good number of places to rest in the shade complete with comfortable seats, including a lovely lake 'Oasis' where it's possible to take a picnic.  There are also toilets, a gift shop, a small café by the zoo's entrance, and a rather expensive restaurant which has a wonderful view overlooking the giraffe enclosure.
All in all, it makes for one of the best places to visit in Rome for kids and adults alike if you want a break from the more cultural tours.

Where to find Rome Zoo, when it's open, how much it costs
Rome Zoo is on the northern edge of the Borghese Park in the Viale del Giardino Zoologico. It's on tram line numbers 3 and 19, or is fairly easily walked from the top of the Spanish Steps (probably not with small children though). It's well signposted throughout the Borghese Park.
The zoo is open all year : from March to November between 9.30 a.m. and 6 p.m., and from January to March between 9.30 a.m. and 5 p.m.
The cost in 2009 is €10 for anyone over the age of 12 years and €8 for over 60s (except on a Wednesday when over 60s get in free!), carers for the disabled and children up to 12 years old.  Disabled people and kids under one metre tall go free.
---

Website :
The Rome Zoo website is excellent and the home page is available in English as well as Italian. It has a very useful downloadable interactive map of the zoo. It's also possible to buy tickets online here and to keep up to date with information just before your visit.


Top Tip :

The restored aviary is well worth seeing. Originally built in the 1930s, it's a beautiful glass domed building which, like a lot of the zoo, fell into disrepair but has now been restored to its full glory.
The aviary is part of Rome Zoo which takes in injured animals and birds and, with the help of a local vet who gives his services free, restores them to health ('flight rehabilitation' is a specialist area here) before deciding whether they can be safely released or should be permanently housed in captivity for their own safety.


Top Tip for kids :

The reptile house is one of the places to visit that kids love best. It costs an additional €2.50 to get in, but it's well worth it. 
Before you go, have a look at these strange animal facts for kids to stir their interest. And when you're inside, make sure they go to see Mario.
Mario is a famous (in Italy at least!) crocodile who, until he was rescued and taken to Rome Zoo, was living in a flat in Rome. Bought originally as a small 'pet' croc, he quickly outgrew the bath where he was kept and now lives much more happily in the zoo's reptile house.
---
More activities in Rome for kids
---

Click to go back to the home page.