How to travel by train in Italy : a guide to using the Italian rail system with confidence.
Looking for a convenient way to see the beautiful Italian countryside without breaking the bank?  We tell you how!
Like many Italian people, we travel by train in Italy all the time.  They're clean, spacious, fairly inexpensive - and they run on time.  Some of them even give you free soft drinks and snacks to make the journey pass more pleasantly. And while you're waiting you can enjoy the stunning architecture of many of the main stations.

What's not to like?
The benefits of that for you as a traveller are obvious.  You'll leave when you expect to leave, you'll get to where you want to go quickly, you'll be comfortable and, if you want it, you'll have the company of your dog, your bike - and your Italian co-travellers, who like nothing better than to share a good natter with people from other countries, even if they don't speak your language.  
The downsides?  The train won't wait if you're late, and because of their popularity for internal travel the cheaper seats sell out very quickly.  Leave it till the last minute and you could find yourself having to pay a business or first class rate at a price three or four times that of a pre-booked ticket.
How to use this page.
There's a lot of information here, all based on our own experience of using trains in Italy extensively.  That makes this a long page.
If you have a particular issue you need help with and you don't want to spend time looking at other information, use these links to take you to the different sections :
Tip #1 : Buying tickets online.
Once you know what your planned dates are - book.  The easiest and most inexpensive way to do that is online at the TrenItalia website - this link goes to the English site.  Just enter your start and ending destinations, date and preferred time of travel and number of passengers and wait for it to spit out all the possible "solutions" for you.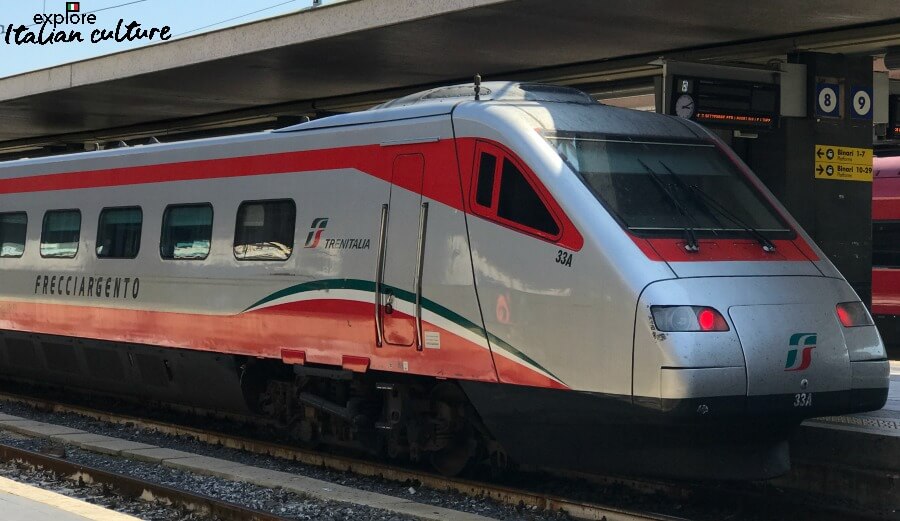 Inter city trains in Italy require you to book a seat.
Top Tip: If you want to book a train earlier than those you see being offered, enter the date of the day before you want to travel.  Scroll to the bottom of that list and you'll see the early trains for the following day.
Why?  We have no idea - it's just the way it is.
On some trains you'll be offered the option of booking a seat.  Do it.  It doesn't cost any extra and can save you long journeys standing in corridors.  Some journeys, notably on fast trains between the larger cities, require you to book a seat anyway.

Make your choice, pay with a card and print out your vouchers.  No need to have them pre-stamped at the station.
It really is that easy.
Tip #2 : Buying tickets at the station.
Of course it's possible to buy tickets at the station if you don't have access to the internet.  It's easily done by the 'Fast Ticket' machines you'll see in all the large stations, or in the ticket office of smaller towns.  Payment can be made using cash, or credit or debit card and the machines operate in a variety of languages.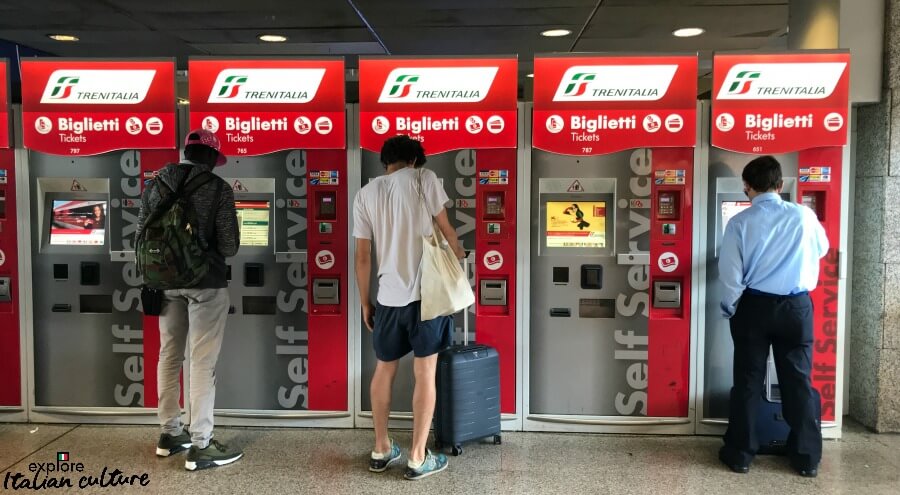 Look out for the 'Fast Ticket' machines in multi-languages.
The drawback here is that you may find the less expensive seats are sold out, particularly if you're travelling between cities and / or at weekends.  Sundays are especially busy times as people travel back from their family towns to their places of work.
You then have a choice to pay business or first class rates which will be far more expensive - or travel on a slower train, or at a different time.  Once the seats are all sold that's it - there's no overcrowding here!
Tip #3 : Concessionary fares.
Children, students and pensioners can all travel at a reduced rate.  Look out for these at the time you book.  
But don't try to claim a concession to which you're not entitled.  There's a very tight inspection system on trains in Italy and you may well be asked to provide proof of age or to show your student card either when you book or on the train.  Fines for improper use are steep.
Tip #4 : Travelling in class.
Local trains in Italy tend not to have different classes - the seats are all the same, and there's usually no food or drink served.  Some routes still have carriage trains where there are six places in each compartment with a corridor running between them.  That type of train, though, is becoming increasingly rare as Italy is constantly upgrading and modernising its stock.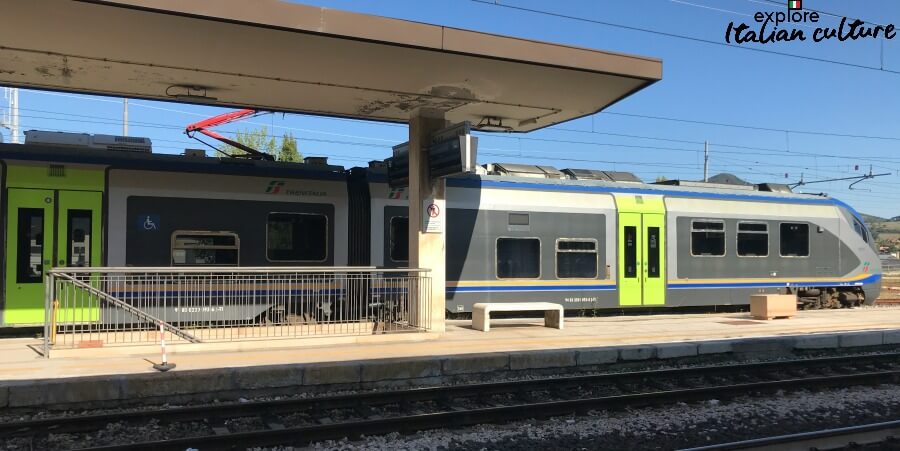 Local trains in Italy are becoming modernised over time.
Like many other countries, Italian inter city trains, including the Eurostar, are split into economy, business and 1st class.  The difference between them is what you'd expect : seats are slightly wider, they're not generally as crowded, they're quieter and you can choose to travel in a 'quiet compartment' on some business class trains.
There's also free wifi access on some (but not all) routes, and you'll get more individualised treatment - including a good selection of free soft drinks and snacks.
To get 1st class tickets at the cheapest rate, you need to book your seats as soon as they're released - generally about three months before the date of travel.
Tip #5 : At the station - finding the right train.
All trains in Italy have a number.  You'll find it on your voucher or ticket, and you need to look for the corresponding number on the departures board. Don't just look for your destination name and assume that's your train - quite often trains will leave within minutes of each other for the same destination, or for different stations within the same city.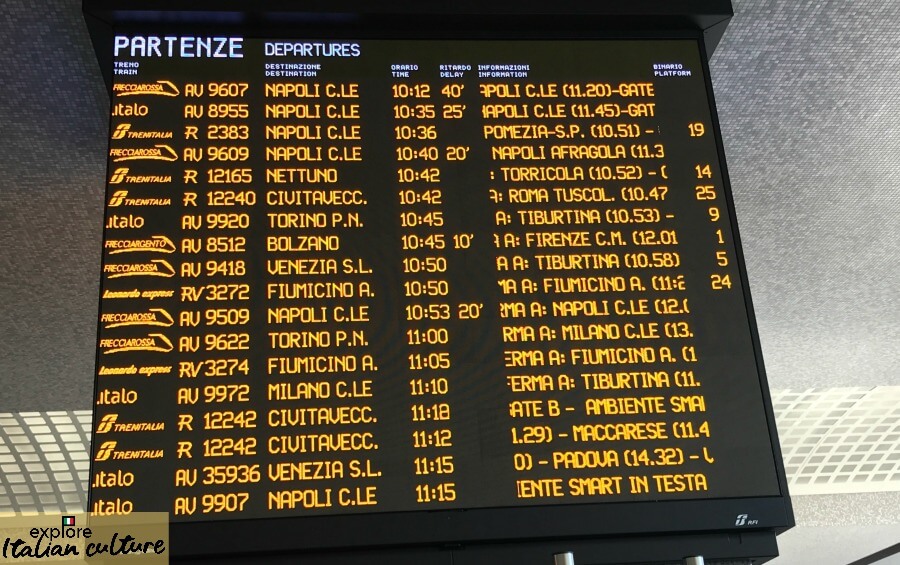 Once you find your train's number on the notice board look for the platform number to the right of the destination - most notice boards, certainly in larger cities, are now in English as well as Italian but if not, find the word "binario" which means platform.  

The platform number is often not notified until very shortly before the train is due to leave, particularly if you're getting on at a destination in the middle of a long journey.  If you're boarding at the start of the journey or at a smaller station, the platform will be on the timetable notice board which may be electronic or, in the case of small stations, is usually to be found as a noticeboard near the station entrance and on platforms.  
Finally, information about the number of the train, its final destination and when it's due is to be found on the platform itself - look out for the black sign hanging at the start or in the middle of the platform.
Tip #6 : Carrying luggage on trains in Italy.
There are left luggage counters at all major stations although the process of checking bags in and out can be long and tiresome.
There's no extra charge for carrying luggage on trains in Italy but nor are there any separate luggage compartments - your luggage travels with you in your carriage.  
On larger trains you'll find space for the luggage on racks at either end of every carriage.  Don't worry about leaving it unguarded - thefts are really extremely rare.
If you'd prefer, most trains also have luggage racks both above and between seats.  You won't fit large suitcases there but smaller, hand luggage size will fit in very easily.
All trains in Italy are a long way off the ground!  We've found the best way of getting all our luggage safely on board is for one person to climb on while the other stays on the platform to hand the luggage up.  
If you're travelling alone you'll find that other people are very willing to help. 
Tip #7 : Welcome on board - now find your seat!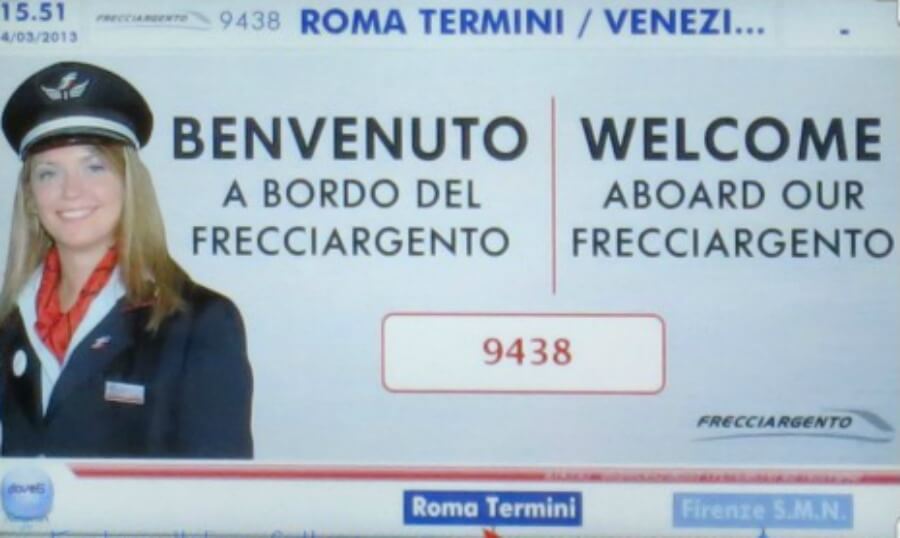 Welcome on board - the Intercity train from Rome to Venice.
This can often be a bit of a hit and miss affair.  If you've booked online you'll probably find that all the seats you booked at the same time are for the exact seats you chose.
Booking at a station, however, is not as reliable and although you'll be asked which seats you would like to choose, you won't necessarily find those same numbers on your ticket, particularly if the train is nearly full. The machine gives out whichever seats it knows are available and they won't necessarily be next to each other.  We've even had seats allocated two carriages apart!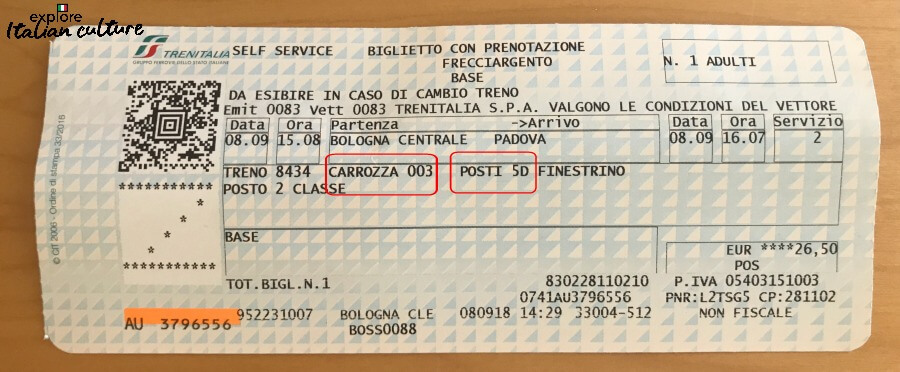 Need to find the ticket office? Look for the word 'Biglietteria'.
Once you've found your carriage and seat, you may well find someone else sitting in it - more often than not because people are confused about the numbers but sometimes because of an innate dislike of being told what to do and where to sit!
You can, of course, insist that whoever is in your seat leaves it - after all, everyone will have an allocated number.  The flip side of the 'I'm not being told where to sit' story is that if you have seats apart, more often than not an Italian traveller will vacate the seat you would really like and go to sit in the one you were allocated.  
We've been on a number of journeys where this has happened so although our seats were miles apart, accommodating Italians have let us sit together and wandered off in search of our seats.
The one exception to this 'musical chairs' game is the Eurostar.  For some reason people travelling by Eurostar tend to stick with their own places, and expect other people to do the same.
Tip #8 : On board information.
On the more modern inter city trains in Italy (Eurostar and Frecciarosa) you'll find constant information about your trip relayed on monitors above your head - speed, name of next station, time of arrival, even what the weather's like!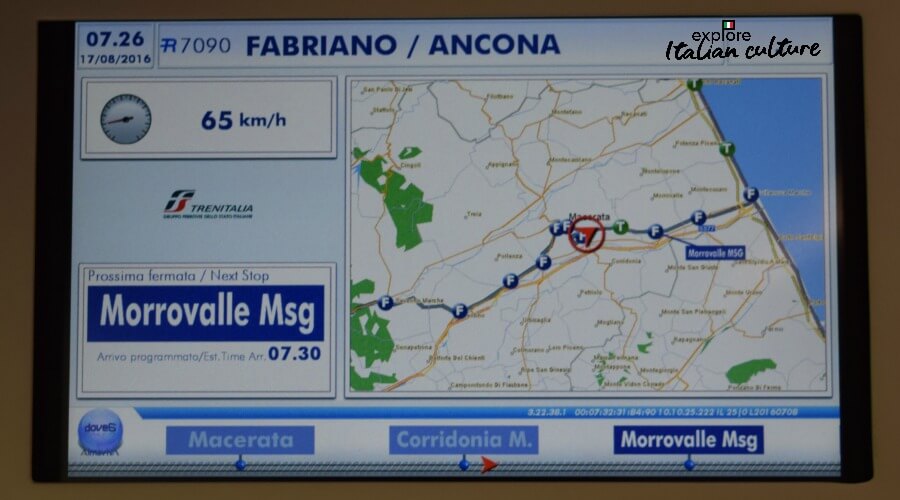 Information on the train between Naples and Turin.
Local trains don't have the same luxury. You'll need to make a note of which station is the one before yours, and how long between that station and your own, so that you're ready to begin getting your belongings together in time to get off.  
If you're not sure - ask.  People are always willing to help.
Tip #9 : Food and drink.
Again there's a difference here between the different types of train.  The large inter city trains have a buffet serving typical train fayre - sandwiches, coffee and so on - and many also have a trolley service with soft drinks and snacks. Some of these are free, even when you're in economy class.
Local trains tend not to have that luxury.  Buy sandwiches and drinks before you board, and if you're going on a longer journey expect your Italian traveller friends to offer you some of their home made picnic!  
All but the very tiny rural stations have platform buffets where you can buy food and drink before you travel or to take with you.  The food tends to be excellent - leave plenty of time to buy because queues are often long, particularly during rush hour.
Tip #10 : Toilets.
Inter city trains in Italy have very good toilet facilities with excellent access for the disabled.  On local trains they're still OK, just smaller.  Toilets shouldn't be used when the train is not moving or when it's pulling into a station.
Tip #11 : Travelling with dogs.
Trains in Italy are very dog-friendly.  Dogs can travel with you but you must carry with you the 'pet passport' or, in the case of Italian dogs, the dog registration certificate.   Failure to be able to produce this can mean you're asked to leave the train at the next stop.
One small dog per person can be carried in a pet carrier or as part of your luggage in a bag free of charge.  No one is phased when a tiny dog pokes its head out from within a handbag - and it's often the start of a long and friendly conversation about dogs in general.
Large dogs which can't fit into a carrier can also travel by train and are allowed to sit with you, but by law they should be muzzled and on a leash. They must also be in possession of a ticket! - which costs half the price of an ordinary adult ticket.
Service dogs of any size can be carried on trains in Italy at no cost.
Tip #12 : Travelling with your bike.
Italy loves cyclists, largely because many Italians are themselves keen bike riders.  So it's no surprise to know that bikes can be carried on all trains.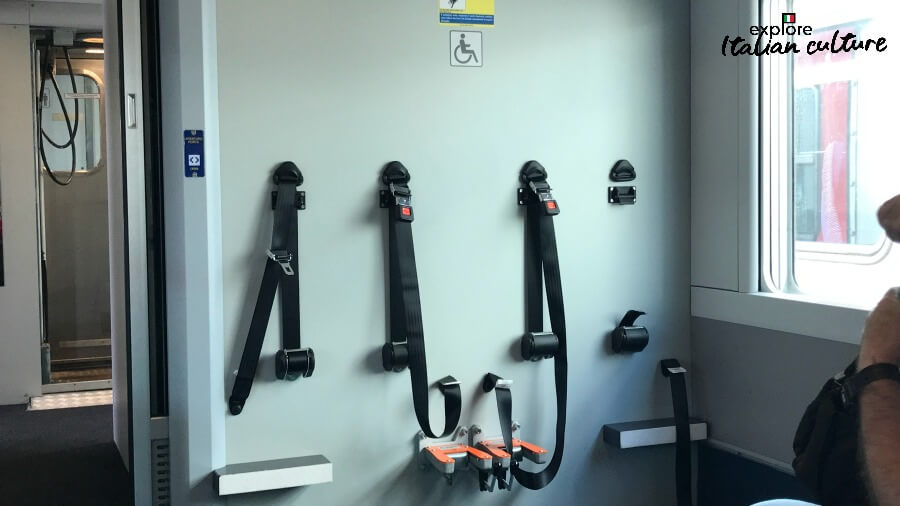 If you don't want to carry your own bike on trains in Italy many city stations now have public rent-a-bike ranks outside - this one is in Milan.
On internal journeys cycles are carried free of charge.  On some local trains there's an allocated space within the carriage; some regional trains insist that the bike is packed in a bag.  You need to check wherever your journey begins.  

The international Eurostars leaving from or arriving at Rome, Milan and Venice levy a charge on bikes; see the TrenItalia site for current prices.
Buon Viaggio! - Have a good trip!

Want to know about travelling into Rome? Click on the pics!
Or follow these links to find your way home again!
Home

>>>
Getting Around

>>Travelling by train
---
If you enjoyed this article, we'd be delighted if you'd let us know - just click the button below. Thank you!
---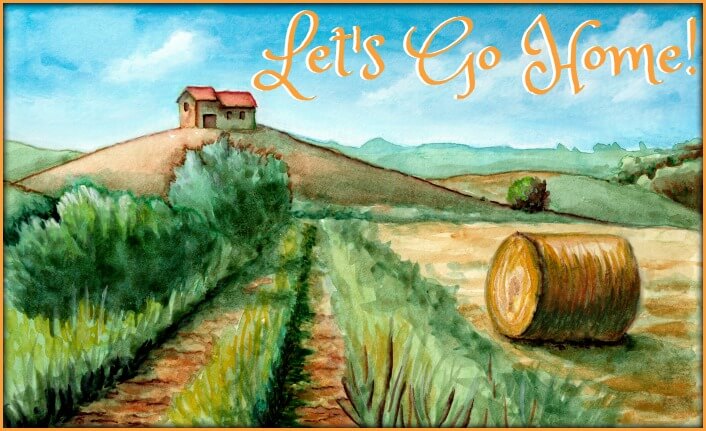 Click to go back to the home page.
---
Italian-issimo!
---
Ads by Google.
Some links on this page are affiliate links, which means that if you purchase a product through them, we receive a small commission. There is no extra cost to you.  Because our integrity and your satisfaction are very important to us, we only recommend products we have purchased or would purchase ourselves, and which we believe would benefit you. To learn more please see our affiliates disclosure document.