Ancient Roman Culture: fun facts about where Italian culture and traditions began.

You've heard the expression: all roads lead to Rome? Well, all of Italy's roads lead back to Ancient Italian culture!
And learning about ancient culture is not nearly as boring as it sounds!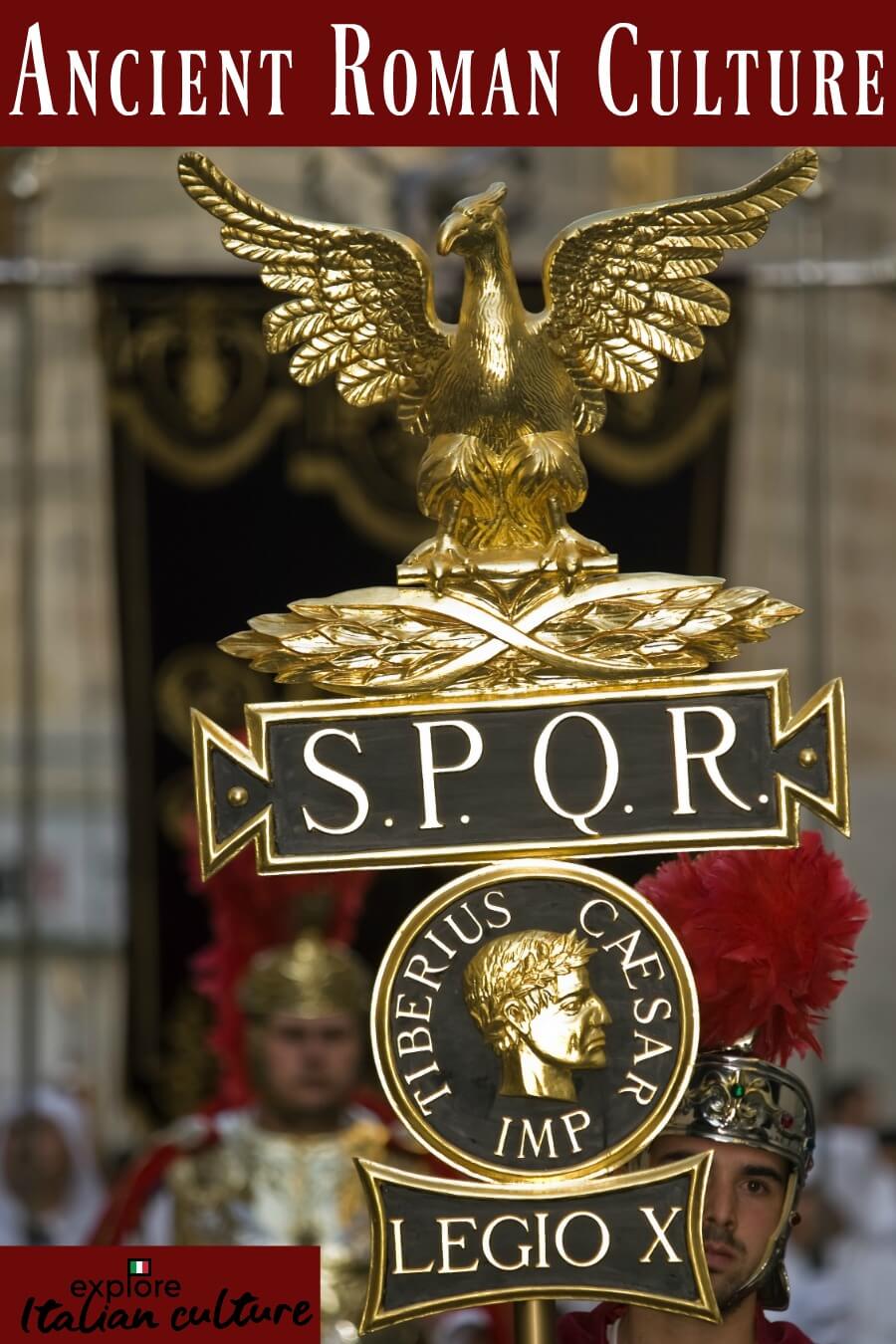 In fact, it's impossible to be in any part of Italy and not be struck by its links to ancient culture. Knowing something about it before you travel can make your trip extra special.
So whether you want more information about the Roman Empire for a school project, or you're trying to enthuse your kids - or yourself! - about the culture of Italy before you visit, or you want to know something more about where some of those strange Italian customs come from - you're in the right place!
Everything you'll find in Italy - jewellery, weddings, food, architecture, even customs surrounding animals - has its roots in the Roman Empire. You'll be surprised at just how much fun it can be learning about  how old and new connect - it's fascinating!
You don't even have to be in Rome - driving along any road in Italy you're likely to come across some Roman  ruins. We have a small version of the Colosseum about a five minute drive from our home in a tiny village in Le Marche!
Have fun as we tell you all the things about ancient culture that you won't find in the guide books, and link them to today's Italy!
Let's start with the basics: how far did the Roman Empire spread?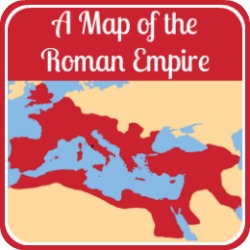 At its height, the western Roman Empire stretched across most of what we currently know as Europe, across north Africa, down through Egypt and upwards to Mesopotamia.
The eastern Empire, also known as "Byzantium", took in the lands we now know as Turkey, Greece and Syria.
It was a vast area. This map of the ancient Roman Empire shows the detail of every country under Roman rule as at 120 A.D., including a key to each country with its Roman name.
---
Daily life in ancient Rome.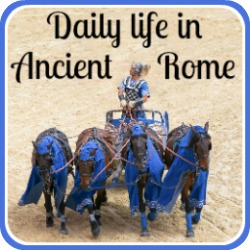 If you've ever wondered who first invented doggy bags, or why everywhere you go in Italy sometimes seems to be covered in graffiti, this article is for you.
Modern culture in Italy can almost always be traced back to daily life in ancient Rome. If you're visiting Italy, it can add to your understanding and enjoyment of the country and its people to know about these origins.
Dealing with the first five of our ten fun facts, it covers the origins of traditions about food, graffiti, fashion, sporting culture, and why ancient and modern leaders are not so very different after all!
---
More about life in ancient Rome.
Did you know that wind chimes could be heard across the Roman Empire, used to ward off evil spirits? Or that the first example of a child's potty was an invention of the ancient Romans?
Or that neighbourhoods in ancient Rome were divided up by postcode into desirable and not-so-desirable places to live, exactly as our own cities are now subdivided?
In the second of our ten fun facts about life in ancient Rome we look at how their gadgets, architecture and  theatre mirror life in present-day Italy, and why Roman standards were used in much the same way as sporting flags today.
---
Animals in ancient Rome.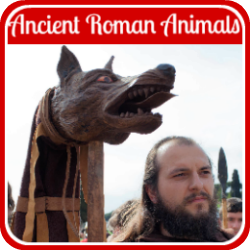 If you've ever wondered where modern day circuses originated, or why so many Roman statues have a dog resting at their feet, this article about ancient Roman animals is one you need to read. 
It covers in detail virtually every animal group, from how the spread of the Roman Empire meant the introduction of elephants and giraffes into the streets of Rome, to why the Emperor Caligula's horse needed 18 servants, to whether dogs were kept for working or petting.
Some aspects of modern day Italy remain as leftovers from the days of the Empire. Others, luckily, have fallen into disuse. Find out which, here.
---
Ancient Roman Baths.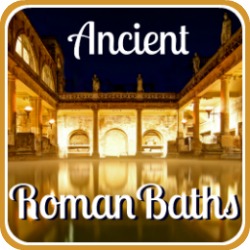 The baths of ancient Rome were a gathering place for those concerned about health, fitness - and a good gossip. And visiting the enormous remains of those sites today gives a clue as to exactly how important they were to the Romans.
But what do they tell us about today's Italy? Do the present-day thermal spas have anything in common with the baths of the Empire? And can the low mortality rate in Italy  be attributed to the health benefits of its spas?
For all this, and examples of where you can see Roman baths not just in Italy but all over the world, take a look at this article.
---
Ancient Roman Jewelry.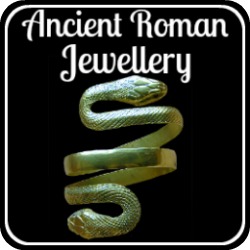 What does the jewelry of ancient Rome have in common with one of Italy's foremost jewellery designers today? Which symbols used in the days of the Roman Empire still commonly feature in modern Italian culture? 
This article looks at jewelry in ancient Rome: who wore it, what was it made of, what the most popular designs were, which elements were added to ward off evil spirits. And was jewelry only for the women of the Roman Empire, or did men indulge, too?
It's a fascinating subject - you'll never be able to pass a jewler's window again without noticing the links!
---
Wedding culture in ancient Rome.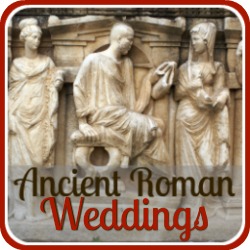 What were ancient Roman weddings like, and what modern traditions are a reflection of the culture of the Roman empire?
This section takes us through the whole process, from engagement to wedding preparations, to clothes and accessories, the process of the day itself including the reception, the cake and post wedding traditions.
If you're planning a wedding in Italy, or based on an Italian theme, you'll learn about the traditions and customs you can add into your own ceremony that reflect Italian culture.
---

Click to go back to the home page.