Ancient Roman wedding food and its influence on modern celebrations.
Wedding customs in present-day Italy can be traced back to ancient Roman food rituals.
In this article, we look at those traditions, and how your own wedding reception could benefit.
Ancient Roman food and the wedding feast: what happened?
Once the formalities of the ancient Roman marriage ceremony were over, the wedding party would begin the meal and the evening celebration, exactly as weddings do today.
The meal took place in the bride's home, where the ceremony had also been held, but there's evidence that it was paid for by the bridegroom and his family.

Italian wedding customs and ancient Roman food.
"It is around the table that friends understand best the warmth of being together."

This old Italian proverb was as true in Roman times as it is now and gives a clue about how important the wedding feast was, and still is.
The meal would be an elaborate one, and is likely to have taken several hours to eat. The food was accompanied by entertainment: singing, dancing, juggling, music, poetry, magicians. They were all as important a part of Italian wedding customs in the Roman Empire as they are now.

Ancient Roman food: the wedding menu.
Although there are no remaining wedding menus from ancient Italy, Italian food customs in general are rooted in ancient culture so we can make some assumptions about how wedding meals would be conducted.
And we do have a very clear idea of exactly what ancient Roman food was available.
Dinner ('cena') was divided into three:  'gustus' or appetisers, 'cena', the main course, and 'secunda' or dessert.

Ancient Roman wedding food: appetisers.
The early Roman diet consisted of meat, wild fruits, nuts and some fish. Appetisers would be made up mainly of fruit and nuts and would include, for example, melon drizzled with honey, pear soufflé (made with eggs), seafood cooked with leeks in white wine, and white fish cooked with raisins. 
Those dishes might sound a little strange to modern day tastes. But appetisers would also include other foods with which modern Italy is more familiar: olives, grapes, dates and bread.

Italian wedding food: the main course.
The most common, everyday meats in ancient Rome were pork, goat, chicken, grouse and rabbit. As in modern rural Italy, all of these were bred for food and therefore relatively cheap. 
Because they were small animals they were also eaten quickly. Remember, the ancient Romans did not have refrigerators to preserve food!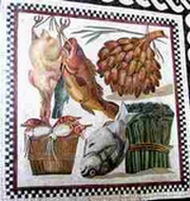 But at a wedding feast they were more likely to eat the more expensive meats the family could afford. Beef was the most luxurious. At the other end of the scale, dormouse was considered a delicacy.
Fowl was also extremely popular, the most expensive being peacock. Peacock is still eaten as a delicacy in Italy today.
To accompany those main dishes would come garden produce including artichokes, beans, asparagus, beets, onions and fennel. And, of course, garlic.

Italian food customs: dessert.
If you're expecting cake and sticky toffee pudding - forget it!
Italian food customs today don't really do much in the way of desserts, and the ancient Romans were even less keen. Even the wedding cake was more like a bread mixture.
Desserts at ancient Roman weddings consisted of fruit and nuts. Grapes, apples, pears, plums, quince, all of which were abundant and cheap, and later, peaches, apricots, cherries and pomegranates. Oranges did not exist in ancient Rome, being introduced to Europe from Asia as late as the fifteenth century.
As for nuts, hazelnuts, almonds, walnuts and pistachios were eaten with dried fruit and given to guests as a gift to take home.
Which is where the modern tradition of giving wedding favours comes from.

Italian wedding customs: drinks.
Because fruits were readily available to the Romans, drink from those fruits was always plentiful and cheap. Apple and pear cider, cordials from aromatic plants, fermented honey and water and of course, wine, were the most popular.
The wine was made not only from grapes but also from dates and mulberries. Despite the popular perception of rowdy, drunken Roman parties, wine was rarely drunk undiluted. It was considered uncivilised to do so.

How to introduce ancient Italian food into your own wedding reception.

Keep your appetisers simple and based on fish or vegetables. Melon with berries and honey is a very typical Italian dish based on the history of ancient Italian wedding customs.


Main courses are generally meat based. Either beef or fowl would be perfect for a wedding. Although peacock is still one of the popular foods in Italy these days, it may not be a popular option!


The wedding cake is often used as the dessert in modern Italian weddings, often topped with fruit. If you want to add an alternative, have a colourful mixture of fresh fruit available.


Although it wouldn't be good to dilute wine, it's always an important part of Italian food customs both ancient and modern to have water available on the table. Tap water is as acceptable as bottled.


Have musicians playing during the meal. Popular instruments in Roman times were the lute and panpipes, which could become guitar and flute, or any combination you like. When we were married in Rome, we had a string trio.

---
For more information about Italian culture and traditions, take a look at these articles.
---

Click to go back to the home page.