Wedding cakes: a vital ingredient of ancient and modern Italian ceremonies.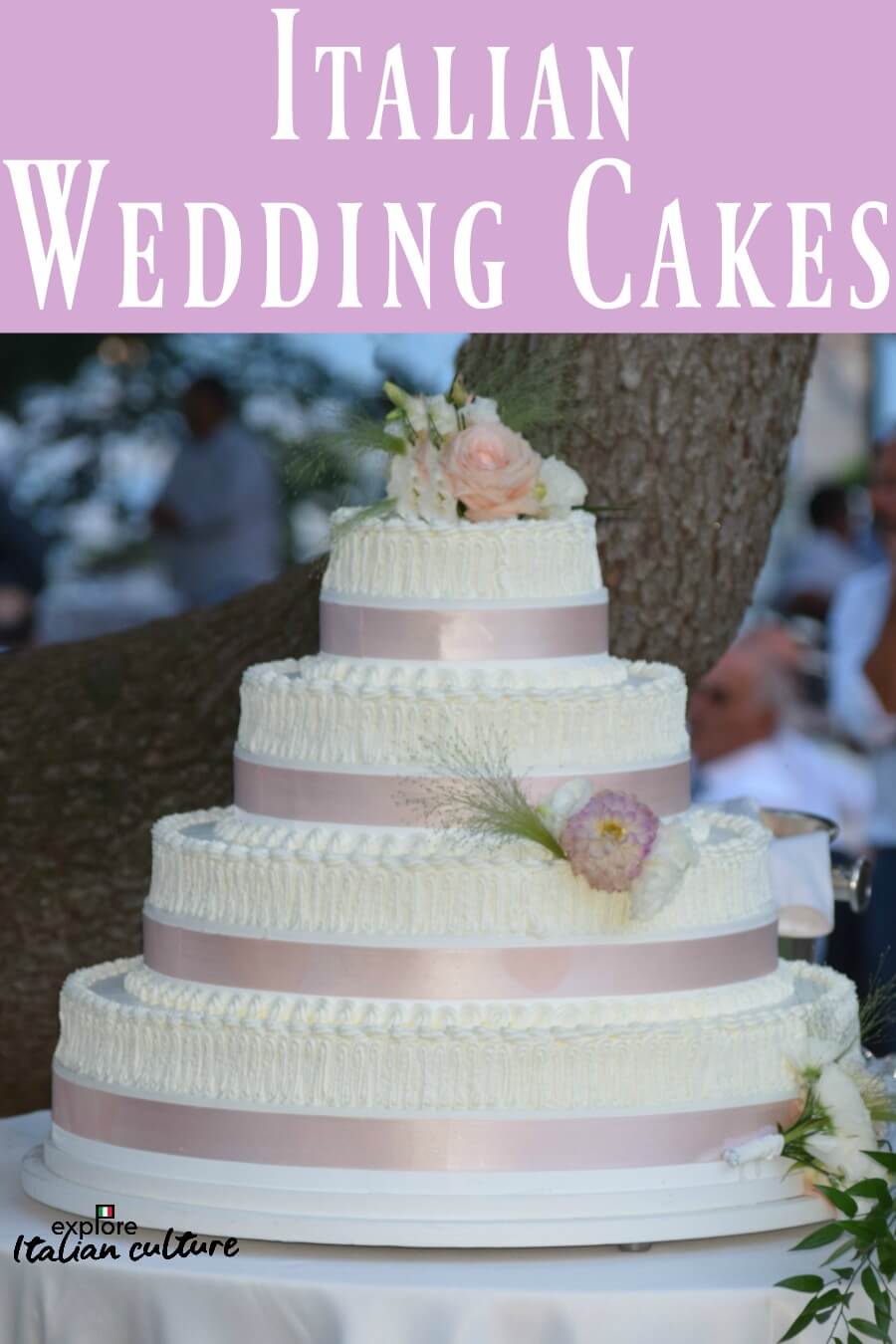 The cake has always been an important part of Italian weddings. Here's how ancient culture influences today's celebrations.
Wedding cake traditions in Italy today put the cake firmly in pride of place at any wedding. It's referred to as "la regina della festa" - "Queen of the celebrations". 
Statistically it's said to be the most photographed thing at any wedding - after the happy couple, naturally.
And that position in pride of place at the ceremony began in ancient Rome.

Ancient Italian food culture: where the wedding cake started.
We know from the writings of ancient poets like Lucretius that the cake linked the two parts of ancient Roman weddings: the ceremony itself and the feast which followed.
But those original wedding cakes couldn't have been more different to the designs we see today.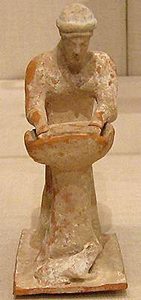 Woman kneads bread : Pompeii, 1C A.D.
The Roman words for 'cake' and 'bread' were the same, and the earliest 'cakes' eaten at ancient Roman weddings were more like what we would think of as bread.
And because ancient Roman culture was hot on symbolism, the cake was made of wheat, the food of fertility.
Originally, loaves would be brought by the guests and given to the bride and groom as a gift, wishing them life and many children.
One loaf was used at the marriage ceremony itself, when the bride and groom 'broke bread' as a couple for the first time. They would first offer some to the gods, feeding each other the rest when the gods had been satisfied.
The crumbs falling from their loaf represented good luck to anyone who ate them, so were always fought over by the guests. 
And that's the origin of the modern day Italian tradition which has couples cutting the cake together ('breaking the bread'), feeding a forkful to each other, and giving the remainder to their guests.
The difference? Guests no longer have to fight to get the remains!

Ancient Italian wedding cakes: how they developed.
As time went on, people got a bit tired of plain bread and began to sweeten it with raisins and sweet red wine. Later still, they added pine nuts and pomegranate seeds which symbolised fertility.
So the texture was now much closer to the fruit cake we know today.

Ancient Roman weddings: the icing on the cake.
Although wedding cakes were introduced to Britain and the rest of Roman Empire by Julius Caesar, it wasn't until the 18th Century that icing was added to that basic fruit mixture. It was added in by a Frenchman visiting England.
That addition gave us the iced wedding cake traditions which are now the classic finish of the standard wedding cake common in America and the UK.
More recently, Italian culture has begun to follow suit. Cakes in Italy are large enough to feed all the guests (and Italian weddings tend to be very large affairs!), and are these days often iced - although the icing will generally be plain, rather than the ornate covering often seen in America.
The dressing should be kept simple, too. Fresh fruit or fresh flowers are the norm, sometimes combined with the bride and groom's initials.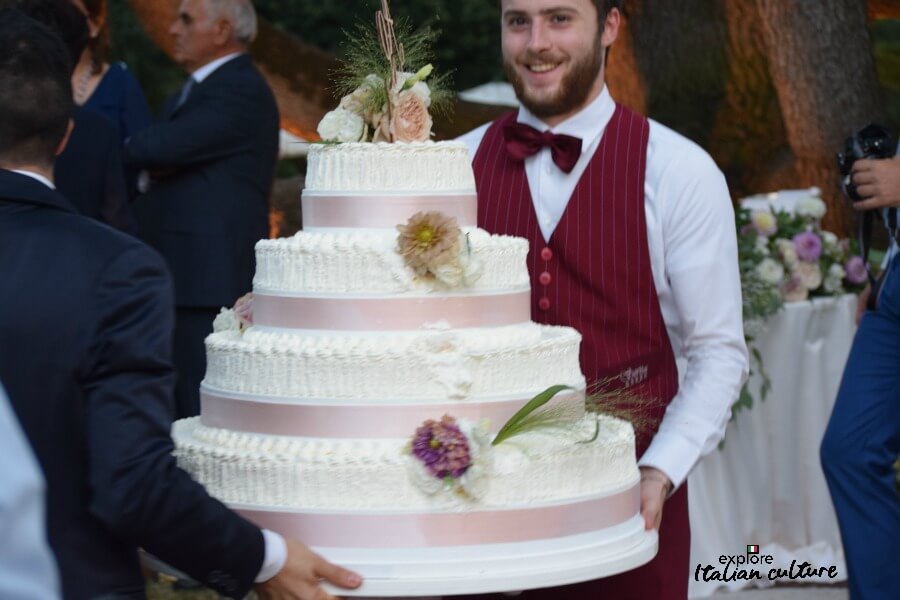 Our friends Laura and Alession had a big wedding, so also had a big cake!
Wedding cake tradition in modern Italy.
Wedding cakes are now a major industry throughout the developed world. But even now, there is a big difference between Italian wedding cake and cakes in other countries.
Whereas the latter have grown ever more elaborate and showy, Italian food culture has meant that the wedding cakes of Italy remain true to their ancient Roman origins: simple, unfussy and keeping the original loaf-like shape.
So they're usually round and almost flat. The number of tiers will directly relate to the number of guests to be fed. Where possible the cake will be kept to one tier only, but where necessary they'll be multi-tiered.
Its one adaptation has been the addition of the finest sweet ingredients, 'millefoglie' (puff pastry) topped with 'crème pâtissière' and fruit being an ever popular option.

Our Italian wedding cake : a delicious 'millefoglie'
Our UK cake : a fantasy in chocolate designed and made by Jane Edward at
'Cakes by Jane'.
How to make ancient wedding cake culture fit with your own wedding cake.

Keep your cake simple and unfussy. Many Italian wedding cakes are still a single tier of 'millefoglie' (puff pastry) filled with cream and topped with fresh fruit. Have only as many tiers as are strictly needed to feed your guests.


Serve wedding cake as a sweet at your reception. Although other cultures generally serve a sweet as well, Italian wedding cake is the star attraction and almost always used as a course on its own.


Make sure the bride and groom share the first slice, and feed it to each other. This creates a great photo opportunity.


If you want to go with the symbolism of ancient Rome, include nuts in your wedding cake recipe to symbolise health and fertility.

---
Learn more about the traditions of ancient Rome.
---
If you enjoyed this article, we'd love you to let us know - just click the button below. Thank you!
---

Click to go back to the home page.
---
Ads by Google.