Mardi Gras celebrations in Italy
Italian Mardi Gras celebrations :  we look at the traditions of Mardi Gras in Italy - what they are and where to find them.
Mardi Gras, known as 'Carnevale' (pronounced car-nay-vahl-ay) in Italy, is one of the most important events in Italian culture and customs - and contrary to popular belief it doesn't only happen in Venice. 
In these pages we explore Carnevale in detail : its history, the places it happens, what happens, and how you can join in if you're lucky enough to be in the country at the time - or even if you're not. 
Don't expect it to be like Mardi Gras celebrations in any other part of the world - Italian festivities have a character all of their own - but do expect it to be fun, noisy, and an experience you'll never, ever forget!
Click on the thumbnail pictures or the text links below to explore it all.
Enjoy!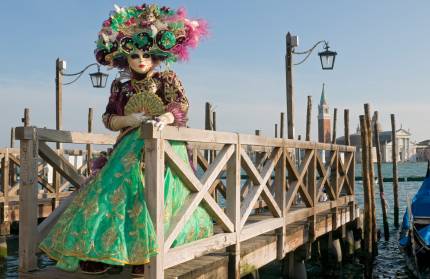 ---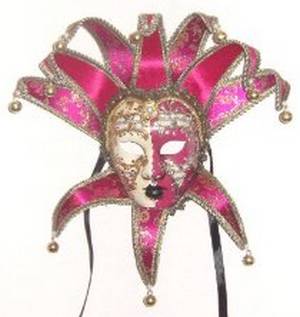 Let's start at the beginning. If you want to join in the celebrations, you need to know when they are. The dates change each year.
Here you'll find the exact dates of Mardi Gras in Italy until the year 2022.

---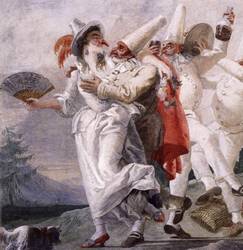 How does the history of Italian 'Carnevale' differ from the traditions of Mardi Gras in Rio and New Orleans?  What should you expect if you're lucky enough to be going to Italy during Carnevale?
We tell all.

---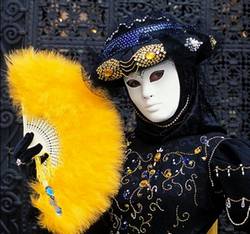 Everyone knows that the biggest party takes place in Venice. But what exactly happens?  Is it worth seeing? And where does it happen?
We bring the noise and excitement of Venice's carnival to you, direct.

---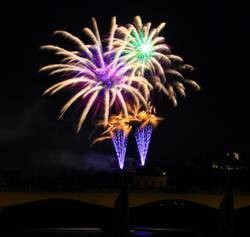 Venice is not the only place in Italy to host a 'Carnevale'. 
If you're looking for floats, processions, costumes, animals and a lot of noise, Rome is a great place to experience some of the more recent traditions of Mardi Gras.

---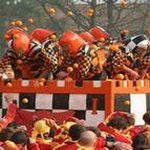 Traditions of Mardi Gras - Ivrea

If you're looking for something very different in terms of Italian celebrations, Ivrea may be the place for you. Orange squash, mediaeval carts, knights, ladies and battles - it's all there.
Not a traditional Mardi Gras, but possibly the greatest fun of them all.

---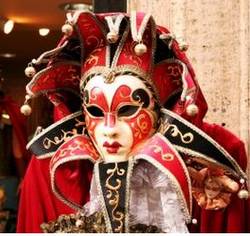 Masks and costumes are an important part of Italian Carnivals. 
This page looks at where the tradition of wearing masks came from, which are the most popular, and how to tell when a masquerade mask is the real thing and not a cheap imitation.

---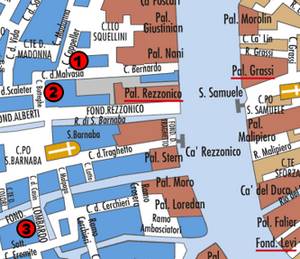 The profession of mask-maker is one of the most highly-regarded in Italy.
We look at how Italian Carnival masks are made and where to go to buy the best if you're staying in Venice, whether it's to wear at Carnevale time or to take home as a souvenir.

---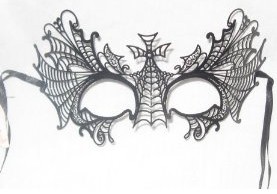 There are dozens of different types of masks made for Carnevale, each of them with a different meaning.
This page looks at the different masks and helps you find one to fit your character - or the character you'd like to be!

---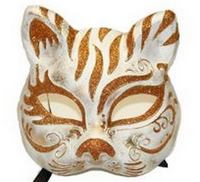 Masked parties are great fun and make amazing themes for a student prom, an engagement, or even a wedding.
If you're planning on Mardi Gras celebrations of your own or you're thinking of holding a masked party, on this page you'll find authentic masks of all shapes, colours and sizes.

---
If you're going to be in Rome at Carnevale time you'll need to know what the weather's like. Here you'll find information about Rome's climate in late winter and a six day forecast so you can plan your holiday well.<br>

Accommodation in Venice during Mardi Gras celebrations is expensive.  If you want an alternative, try one of the best cheap hotels in Venice (Italy) - it's clean, convenient and won't break the bank!
---

Click to go back to the home page.