Venetian masquerade masks :
what they are and where to find them.
If you're looking for things to do in Venice, hunting for souvenir Venetian masquerade masks can be fun.

We tell you where to find them and how to know which are authentic.

Venetian masquerade masks : what they are.
The history of Italian masquerade masks has always been bound up with the story of Venice (Italy). Originally serving a social purpose they developed through the centuries until they became the elaborate fashion statements they are today. 
But Venetian masquerade masks are not just party accessories. If authentic, they are often beautiful works of art.
Every February, Venice's 'Carnevale' sees thousands of increasingly elaborate 'maschere' made locally and worn by local Italian people and tourists alike - although Italians generally stick with the simple Carnival masks and leave the more ornate to the tourists.

Who makes Venetian masquerade masks?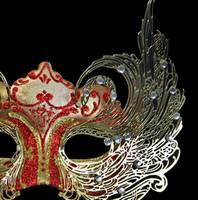 Italian mask-making waned and finally died at the same time as the decline of Venice as a world power.
It wasn't until as recently as the early 1980s that Venetian students decided to start creating them for fun - and no doubt also to make money selling to tourists in order to supplement student grants.
From those beginnings, and fuelled by the growing popularity of 'Carnevale',  the art of the artisan mask-maker - 'mascherari' - was re-born.
Today, along with the profession of gondola driver, it's one of the most sought-after and prestigious of Italian trades.

The ancient craft of mask-making.
Italian masquerade masks are crafted in the same way now they were centuries ago and those who make them go through years of apprenticeship before they are licensed as mask-makers or 'mascherari'.
The mask is sculpted in the form of a clay mold, into which papier mâché is pressed.

Travel writer Mara Vorhees interviews an artisan mask maker in Venice, Italy.
Once it's dried in the oven, the mask is removed, eye holes cut and the edges trimmed to shape. Each one is then individually hand-painted, some very simply and others with lavish decoration.
Historically, authentic Venetian masquerade masks were not decorated; the beading and feather decoration which have become very popular in Italian culture were actually imported from the very different Carnival cultures of New Orleans and, in particular, Rio.

Venetian masquerade masks : where to find them.
If you travel to Venice you will see hundreds of 'maschere' in virtually every shop you pass. Choosing the one you like best is one of the really fun things to do in Venice.
But be careful - many of them are not authentic Italian goods but mass-produced, poor quality items often made in China.
Likewise, many outlets in other parts of Italy, and some internet providers, are not genuine Venetian goods - to be authentic a mask must be hand-made in Venice.
If you want cheap souvenirs or party disguises that's fine, but if you're looking for an Italian souvenir for yourself or someone else which will be a true heritage item, try the outlets below for traditional, hand-made, exquisitely decorated masks.

Authentic Venetian masquerade mask outlet.
Most of the workshops and outlets are in the Campo San Barnaba area.  The nearest waterbus stop is 'Accademia'; then follow Calle Toletta to the Fondamento della Toletta.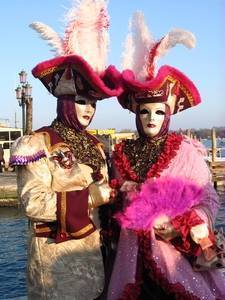 Authentic Venetian masks at Carnevale time in Venice.
Here you'll find Casin dei Nobili which has a delightful costume department as well as masks; and Ca'Macana, probably the most widely-known, which provided the disguises for the film 'Eyes Wide Shut'.
Ca'Macana also has a workshop where you can see each individual mask being made - see our 'Top Tips' below. 
Continuing further to the Campo San Barnaba itself is the tiny workshop 'l'Arte di Alesia' and 'Carta Alta', both of which have very individual designs.
All these Italian companies have kept their traditional methods while moving into modern times : Carta Alta even has its own Facebook page.

Is this one of the best things to do in Venice?
Absolutely. Venice is famous for canals, gondola rides, San Marco Basilica and 'Carnevale' - Carnival time - and masks are an integral part of Carnevale. You can't go to Venice and ignore them.
If you have the chance to see Italian mask-makers at work, take it.  If not, have fun looking for your favourite mask - and be sure to take one home as a wonderful souvenir.

---

Top Tip :

If you're in Venice with kids, book them in for a session of mask making at Ca'Macana. They'll love not just seeing each one come to life but creating their own in one of the workshops.
They're not held all the time; your hotel concierge will telephone for you, ask for times and book if you're lucky enough to be there when there's one on. 
We guarantee your family will have so many memories to take home, as well as their very own creations!

---
Italian masquerade masks are an important part of Carnevale in Venice.  Our page about the origins of Mardi Gras explains why.
If you're going to look for masks whilst in the city, you'll need a reliable guide. Here's our choice of the best map of Venice we know.
Going to Venice and want to plan to see Carnevale? Find out which dates are best by having a look at this helpful page which answers the question when is Mardi Gras between now and 2020?
---
Here's a link to all you need to know about
Italian Mardi Gras celebrations.
---

Click to go back to the home page.