Venice Italy map : The Rough Guide.
Venice, Italy :
a map with a difference.



We've been a couple of times to Venice (Italy). A map is essential for us for two reasons.

We tell you what they are here.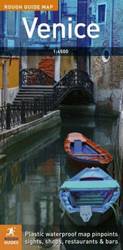 It's quite simple really. Firstly, because Mike is addicted to them. It's a man thing.



And secondly because it's much more fun seeing Venice along unknown streets rather than following hoardes of tourists on the main signed thoroughfares.



This is the best map of Venice, Italy, we've found. Why?



1. It's waterproof. Venice is full of water - not just the canals but, if you're visiting in the autumn or winter months you'll find it drizzles quite a lot.



2. It's rip-proof. We put maps through quite a rough time, and this is one of the few that hasn't fallen apart.



3. It has an amazing amount of information in it : not just the main sights but their opening times; shopping streets, which areas are pedestrianised, hotels, bars and cafés, waterbus routes - the list is endless.



4. It includes not only the main island but Torcello, Murano and Burano.



5. It's accurate. That can't be said of every Venice map - many of them miss out some bridges and walkways just when you need them the most!



6. It's quite large print for a map, which means you don't need to carry a magnifying-glass to see it.



7. Although this makes it a bit bigger than some other maps, the folded size (about 8" by 4.5") is perfectly acceptable to go into a pocket or handbag.



We can't recommend this Venice, Italy map highly enough. If you're planning to visit the city and you want to wander a little, don't go without it.



---


Use this link for more information about other Venice maps.





Venice, Italy map to our
home page about Italian culture.



Join in and write your own page! It's easy to do. How? Simply click here to return to Venice maps.
---

Click to go back to the home page.