Italian Carnevale masks :
buying on the internet
If you're looking for an Italian party theme, your first stop should be Carnevale masks.

We select the best available on the internet.
Italian people love a good party - any excuse is good enough!
Every year, the period before Lent fasting begins is celebrated by weeks of enjoyment in an attempt to use up all rich food and drink in anticipation of the forty days of sobriety before Easter.

Authentic Italian masks : history
Known as 'Mardi Gras' in other countries, the Italian version of these celebrations has a history dating back to ancient Roman times and is known as 'Carnevale'.  These celebrations happen all over Italy but most famously at the Venice Carnival.

The most well known tradition of Carnevale is wearing elaborate face coverings. The history of this custom is long and fascinating, and Venetian masquerade masks have their own special traditions. 
So if you want to create an Italian party theme - whether for Valentine's Day, an engagement or bachelorette party or even your Italian themed wedding, these are an absolute must!

Italian Carnevale masks : where to find them
If you're lucky enough to be visiting Venice, we tell you where to find the best on our page about the Venetian mask tradition.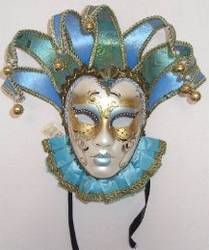 But if that's just too far for you to go there are other ways of buying these stunning pieces of craftsmanship.
Some of the authentic Italian mask-makers in Venice sell online - try the Ca'Macana store for some lovely, and reasonably priced, items.
If you don't want to pay those prices, or if you can't wait for the goods to be sent from Italy, we have found some of the 'best of the rest' for you.
Click on each link below to see an image of the mask and a chance to buy from Amazon.com who we have found to provide the most competetive prices on the internet. 
Please note that we only recommend masks which have been made in Italy and come with a genuine Italian certificate of authenticity.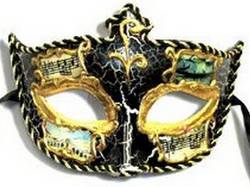 Do you look good in a masquerade mask?
If you've been to a masquerade party and you'd like to share your experience, do it here!

Here's our pick of Italian Carnevale masks for you to buy.
Click below to see your options for buying Carnevale masks on the internet.


More information about Italian Mardi Gras celebrations
---

Click to go back to the home page.