Shops in Rome for kids  : Italian shops and designer clothes.
Italy for kids is more than sea and sand.

Think of Italian shops and the chances are you'll think of clothes. Clothes shopping may not be what your kids have on their list of things to do in Rome but, if you keep away from the ultra-expensive areas like the Via Condotti, there are some real  bargains to be picked up.
Italy for kids can be as stylish as for adults. So here's a few of our favourite Italian shops in Rome for kids' clothes.

Shops in Rome have some gorgeous clothes for kids : 
head here if you're short of things to do in Rome with your family.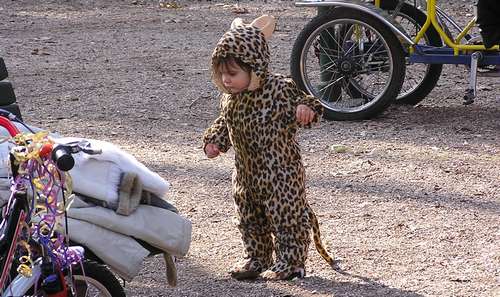 Rome's kids are always trendy!
Seen in the Borghese Park on a Sunday morning.
Shops in Rome for kids  -  infants and toddlers  :
'Lavori Artigianili Femminili' :  Via Capo le Case, near the Spanish Steps.  If you're looking for a special outfit for an infant or toddler and don't mind paying, this is the shop for you. It sells beautifully hand-embroidered and fine hand-knitted clothes for babies and small children as well as pram and cot linens and some women's clothes.
If you want a lacy christening outfit or a velvet party dress for a little princess to take home, these clothes will cause a stir anywhere. Very Italian, very expensive, but a delight to have a look at even if you don't buy. 
This store, like many in Rome, closes during August.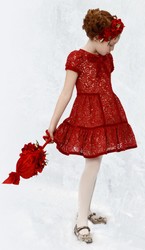 I Pinco Pallino
Summer collection, 2010 - very girly girls' clothes.

Shops in Rome for kids  -  babies to teens  :
'I Pinco Pallino' (Via del Babuino, parallel with Via del Corso, runs between the Spanish Steps and the Piazza del Popolo) : this Italian designer label is very big in Russia and Japan as well as in Italy, but not well known in many other parts of the world.
The clothes are all beautifully handmade of the very finest materials and are probably more about what parents and grandparents think children should be dressed in than what kids actually like. 
There are gorgeous party dresses for girls, most of them very frilly and girly, and some nice - and plainer - boy's clothes as well as shoes and bags.
Again, very Italian, very expensive, but worth it to have an original outfit to show off at parties back home.
And if you're wondering about nearby things to do in Rome for kids after you've had enough of shopping here, visit the Borghese Park, only a short walk away and full of attractions for children.
---

Shops in Rome for kids  -  early teens  :
Via dei Giubbonari (near Campo dei Fiori) : this pedestrianised street off the Campo dei Fiori is full of shops for teenagers.  Some are international, some Italian, all of them reasonably priced.
Try 'Piccole Gioie' at number 36 for inexpensive glitzy Italian jewellery for girls, some of it gold but starting at relatively inexpensive prices. Among the best Italian shops in Rome and a good place for young girls to shop for presents to take home for their best friends.
There are always good bargains to be had in costume jewelry and cheap clothes at Roman markets - visit at least one while you're in Rome.

summer collection.

Shops in Rome for kids  -  teens to young adults  :
'Miss Sixty' (for girls); 'Energie' (for boys - both on Via del Corso) :  Shopping in Rome, Italy, for teens and young adults is not too difficult if they want to go for more of the same. International clothing shops like Nike, Adidas and Diesel are all available on the Via del Corso.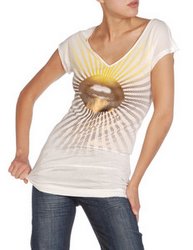 Miss Sixty's trendy ...

But kids can buy those clothes virtually anywhere in the world. If they can be persuaded to look at Italian shops, this is the place to go. 
'Miss Sixty' and 'Energie' are both a Roman designer company which produces bright, colourful 'street clothes' including not just the usual jeans and tops but shoes and bags. 
It's where young Italians shop and it's known to be one of the 'hippest' shops in Rome for kids who want to be noticed. Trendy, well-made, and not too expensive.

---
Have a look here at other shops to keep kids in Rome happy
Markets are a good source of cheap souvenirs.
Go to this page to see our favourites
Using shops to cool down?
Here's more information about  Rome's climate in the summer
Going to Rome in the summer?
Here are the first five of ten tips
on how to keep cool in the city's heat
This page is all about Rome's urban beach
and what you'll find there to cool you down.
---

Click to go back to the home page.