Italian beaches :
how to keep cool at one of the
strangest beaches in Italy!
Looking for things to do in Rome?

Italian beaches are famed throughout the world, but summer activities in Rome can also include
a day on the city's beach!
Rome's 'beach', on the banks of the River Tiber, with St Peter's
and the Castel Sant'Angelo in the background.
Coastal beaches in Italy are known for their gorgeous blue waters, fine sand and lively beach culture.  But if you're looking at things to do in Rome in the height of the summer, going to the beach wouldn't necessarily immediately spring to mind.
But Rome now proudly numbers itself amongst one of the urban beaches in Italy where tourists and locals alike can go to keep cool in the height of Rome's summer climate.
Here's what you'll see there, and where to find it.

Firstly - is it clean?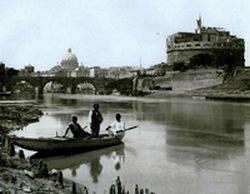 River Tiber at the beginning of the 20th Century. On the far bank is the site
of the present day Tiber Village.


In Ancient Rome the River Tiber was an important trading river but over time it became dirty and smelly, its banks full of dumped rubbish - not a river worthy of the Eternal City.
The river these days still doesn't look great : it's very silted up and, apart from pleasure boats, river buses and the occasional kayak, has no traffic. 
But it's cleaner than you may think : it's home to carp, eels and mullet.
It may never get the prestigious Blue Flag award of the coastal Italian beaches, but it's certainly clean enough to spend time there.

What exactly is Rome's beach?
The City of Rome has invested three million Euros in developing this area.  It's called 'Tiber Village' and it's a sixty foot stretch of artificial beach on the banks of the river at the Ponte Sant'Angelo.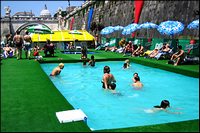 Plastic grass has replaced sand
for 2009.


It's somewhere cool to take the kids if they're bothered by Rome's climate in summertime which can be incredibly hot.  In the past it imported sand from the Italian beaches of the coast but its two swimming pools are now set on plastic grass.
It has poolside showers, recliners, parasols, bars, and a restaurant.

Does it compare well with other beaches in Italy?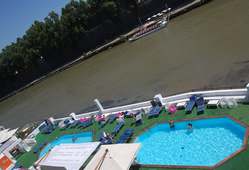 Rome's beach isn't a patch on the coast.


In a word - no! 
Tiber Village can't possibly compare with the stunning Italian beaches on the coast - nor does it try to. 
But if you're looking for activities in Rome which will keep kids - particularly toddlers - entertained; if you can't stand any more visits to museums or churches; if you want things to do in Rome that are a little quirky; or if you just want to find out how to keep cool in the heat of Rome's climate in the summer - then Tiber Village could be just what you're looking for!

How and when can I find it?

Tiber Village is open from mid-June to mid-September, every day between 10.30 a.m. and 8 p.m. Although the pools close at about 6.30 p.m., the bars and restaurant remain open later and there is normally a "Happy Hour" - or more accurately, "Happy Afternoon" - until 8 p.m.
You will find it at Lungotevere Castello.  At the Ponte Sant'Angelo - the unmissable bridge flanked by Bernini's angels - immediately before the castle, turn right and you will find the steps down to the 'beach'.


Top Tip:

There's a lovely little Roman street market just at the top of the steps.  Have a browse round there before braving Tiber Village!


Top Tip for kids :

Another way of keeping cool in Rome
Outdoor space in Rome is at a premium and the nearest of the coastal Italian beaches is a forty minute train ride away.
If you're lucky - and willing to pay a great deal of money - your hotel might have a swimming pool but most don't, particularly those in the budget and middle parts of the market.
Some hotels will open their pools for the use of non-guests, but they charge a huge amount for the privilege. The Cavalieri Hilton, for example, charges 45 Euros per person from Monday to Friday for the use of its pool and a massive 65 Euros at weekends.
So - if you want somewhere with more facilities, the 'Piscina delle Rose' is a health club with an Olympic sized swimming pool which opens its doors to non-members during the summer.
It holds its "Summer Centre" which features children's entertainment for six to thirteen year-olds between June and September each year. Courses, which include swimming and canoeing, are led by qualified instructors.
You will find the club in Rome's suburbs at Viale America 20, EUR - nearest Metro station is EUR.
Opening times : May, June and September : 9 a.m. to 7 p.m.; July and August 9 a.m. to 10 p.m. daily.
Cost : entry is 9 Euros per person, but under 4 year-olds go free.
---
More things in Rome for kids to do
Rome's climate in the summer months
Ten tips on how to keep cool in the city's heat
Taking your pet to Italy? 
Here are five of the best Italian beaches to try
Twenty tips to prevent your pet from getting sun stroke
Italian beaches in Rome
to our home page about Italian culture

---

Click to go back to the home page.