Best Italian beaches for your dog:  friendly beaches for animals in Italy - because your pet needs a holiday as much as you do!
Italian animals have vacations too!

This review of five of the best Italian beaches will help if you're thinking of taking your dog to Italy - and remember to pack some sunscreen for pets!


'Summer 2009' - courtesy of Dog Beach, San Vincenzo, Tuscany.
You would never catch an Italian person staying in the city during the 'dog days of summer' if they can possibly get away. There's a very good reason for that - it's boiling hot, there's very little breeze, it's smoky, sticky, and a lot of businesses close anyway.  
So, on the last weekend in July - traditionally the start of the "Ferragosto" holidays - as many as are able shut up shop, pack their bags and head for the best Italian beaches they know.
But what about Italian animals?  It's one of the sadder but true facts about animals in Italy that thousands of pets are abandoned during these weeks as owners can't make arrangements for them to be looked after while they take their vacation. 
But it's also one of the most interesting facts about animals in Italy that people, particularly city-dwellers, are becoming more and more pet-friendly and keen to find alternative ways of looking after their dogs and cats in the summer.

And so the idea of creating the
best Italian beaches for pets was born.


Our dog, Nero, loves the beach. Partly because he's a greyhound and adores using the wide open spaces as a racetrack (only early in the morning though - he would cause havoc later in the day!) and partly because he can dig to his heart's content in lovely soft sand. 
But we're always very aware that not everyone who visits the best Italian beaches is a dog lover, and not everyone wants a friendly greyhound appearing over the horizon and landing in the middle of their picnic!
Luckily, we've found a happy compromise - Italy's dog friendly beaches.  So if you're thinking you might travel with a dog or cat to Italy this summer, here's a review of five of the best Italian beaches you can enjoy together, plus some general tips which we have found useful to make sure you have a happy day at the seaside with your family's best friend.

But first - some information about pets in the sun...
Italy in the summer can be very, very hot. As well as looking after yourself and your family when spending time in the heat you need to give some consideration to your pets and how they will react.
When we were first told that we should consider getting some sunscreen for pets, we laughed. But having now spent summers in the heat of Italy caring for both Nero and our cats, it seems like a less bizarre idea.
The temperature in Italy can easily reach 40 degrees in July and August, even in central Italy where we live. Sun stroke and heat stroke are real problems for animals in Italy, particularly if they're not used to heat.
Click here for more detailed information about how to deal with pets in the sun, including information about how to recognise and treat heat stroke and sun stroke, and click here for information about how to prevent your pet getting sun stroke whilst basking safely on the best Italian beaches.
Remember - heat is a potential killer of animals in Italy. You need to ensure you plan ahead - including that all-important sunscreen for pets!

Some basic rules, regulations and etiquette for dogs and their owners using the best Italian beaches.
Take your pet's documents with you : You may never have to produce them, but it's wise to have documents with you because sometimes staff at these dog friendly beaches in Italy will ask to see them. So take your animal's pet passport  and all inoculation certificates.
Italy's 'dangerous dogs' law is due to be scrapped by the end of 2009 and will be replaced with legislation about responsible ownership of dogs. However, it will require all Italian dog breeds to have a muzzle, to be used if the need arises. Some beaches may insist on seeing you have one before they allow entry, although this is likely to apply only to large dogs or animals perceived to be 'fighting breeds'.
We do always carry a muzzle as a precaution, though we have only used it if we let Nero off his lead for an early morning beach run - just in case any cats suddenly appear.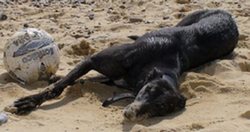 Tire out or tie up -
Nero has a dog's life at the beach!
To tie or not to tie? : According to an animal fact file by dogfriendly.com, the main reason the public don't like Italian animals on beaches is because they're tired of being approached by a bouncy dog who may or may not be friendly but either way still frightens children and thinks nothing of making off with their food.
You will find that many of Italy's most popular dog friendly beaches have a policy of allowing dogs to be unleashed if they are well-behaved and respond to verbal commands. If, like ours, your dog is likely to ignore your commands and make a nuisance of himself with other people and their pets, be considerate and make sure he's on a leash all the time. If he's obedient enough to be off-leash, make sure you keep an eye on your dog anyway and control him if it becomes necessary.
We take a ground spike with us which we put in the shade and tie Nero to on a long leash - we use it when camping too. It means he has the freedom to walk around, but not outside our space.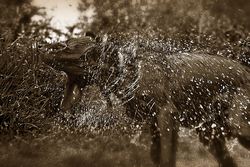 Don't let him shake! : This really goes with keeping your dog under proper control. You might love Fido coming out of the sea and shaking salt water over your lunch, but not everyone will!  If he's been for a swim keep him away from other people till he's dry. Even animal lovers using the best Italian beaches for pets will draw the line somewhere!


Bin it!
Scoop up! : The second reason people give for not wanting animals in Italy  on a beach is the poop they leave behind. None of us would want our children to step in it, swim in it or dig it up when playing in the sand. So always makes sure you clean up after your pooch and don't allow him to poop in the sea. Many of the best Italian beaches we've found provide bags but, to be on the safe side, take your own.

And finally, remember that not all Italy beaches are pet friendly.
The Italian coastline is beautiful and Italians understandably want to keep it that way, so dogs are not allowed on most public beaches between the beginning of June and the end of September. If you disregard this law you could find your vacation spoiled by having to pay a heavy fine. Look for road signs saying "Spiaggia dei Cani" - dogs' beach - or sometimes 'Spiaggia Riservata ai Cani' - beach reserved for dogs.

And now down to the basics - a review of
five of the best Italian beaches
to take your dog on holiday.
Best Italian beaches for pets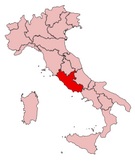 Location of Lazio
.
Number 1  :
Bau Beach, Rome (Lazio)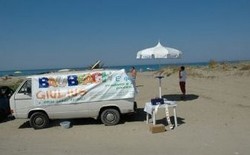 Courtesy of baubeach.it
Rome is our favourite city in the world (alongside our home city of Liverpool) and a wonderful place for humans to spend a holiday. But Rome in the summer is no place for a dog. So Roman animals these days do as Roman people do - they take off to one of the best Italian beaches. 
'Bau Beach' (as in "bow-wow"!) is at the top of our list of the best Italian beaches for pets.  Just a short drive from Rome it is a combination of doggy paradise, people place and dog adoption centre.  It was the first of Italy's dog friendly beaches, in fact it claims to have been the first dog beach in the world, describing itself as "the world's first beach for free, happy dogs". 
In 2008, to celebrate its tenth year, Bau Beach underwent a massive transformation and added a nature park for dogs to its famous beach, and in 2009 "Bau Boat" was born - the first charter boat company actively to encourage dogs on board.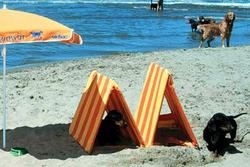 Sheltering from the sun at Bau Beach.
So if you're spending time in Rome this summer, take some time out of the hot, tiring sight-seeing for you and your pet and visit this first and most famous of the best Italian beaches for dogs - in fact it's a fun place to visit even if you haven't got a pet. There are plenty of facilities for people too, including an organic restaurant, bike hire and sun loungers with people-sized beach umbrellas.
Bau Beach makes a small charge to visitors which keeps the facilities up to date and helps with the care of dogs to be re-homed.  It's well worth it.  It includes the use of a dog bowl, doggy-sized umbrella and towel, and a complementary flea treatment. If you can, go reasonably early - it tends to get crowded, especially at weekends.
Click here for a page containing more detailed information about the best of Italian beaches for dogs at Bau Beach, including their website link, information about booking Bau Boat, and a map showing you how to get there.

Location of Tuscany
.
Best Italian beaches for pets
Number 2  : Dog Beach,
via della Principessa,
San Vincenzo (Tuscany)
Oooh, Tuscany! The most amazing place with the most amazing coastline. Visitors tend to stick to the famous inland sights - Florence, Pisa, San Gimignano - and often never get as far as exploring the coast.  Yet venture outside 'Chiantishire' and you'll find long stretches of tree-lined beaches, beautiful crystal clear blue seas, wonderful local seafood, and a welcome breeze in the summer.


The stunning coast of Tuscany.


This coastline has some of the most popular of all the best Italian beaches, each one designated 'Blue Flag' (high level of cleanliness), so it's always very busy, especially in high season. Get there early for the best spot!

How to find it :
'Dog Beach' is about one hundred kilometres south west of Florence and just thirty from the nearest town of any size : Piombino, from where you can even travel with a dog by ferry to the Isle of Elba. The nearest village to the beach is San Vincenzo which overlooks the beautiful crystal-clear waters of the Ligurian and Tyrrhenian Seas.
Getting there is simple : follow the E80 motorway to the exit signposted 'Rimigliano.' From here, take the SP23 - the 'Via della Principessa' and watch for the sign. You can park on the road, or there is covered parking if you want to keep the car cooler.

What's there for your dog :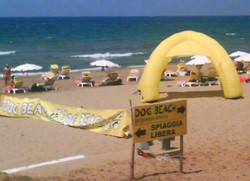 You can't miss the yellow inflatable
at Dog Beach!
Dog Beach is one of the smaller of the best Italian beaches for dogs. It's divided into two parts : a 'free' beach which you can use if you take your own equipment, and a separate part to be used if you rent a sunbed (on the right of the yellow banner). 
The rental prices are very reasonable for the area (about €7 for a bed for the day, for example) and again, the charge goes towards upkeep of the beach and its staff. 
It's not a huge area and it's much less developed than Bau Beach, but it remains one of our favourite of the best Italian beaches for pets.  The unpolluted beach is backed by pine, oak and elm forests and the sea is the clearest blue. Dog Beach's yellow inflatable is visible for miles and provides some much needed shade when the sun gets too hot. 
At the entrance to the beach are toilets and a small wooden information hut where you can also buy cold drinks and rent sun loungers and umbrellas - not much in the way of food though, so take your own picnic. The rental area is open from 9am to 7pm with an hour's break for lunch between 1 and 2pm.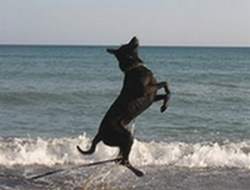 Dogs can play freely in the sea here.


Specifically for the dogs there's a 'dog toilet' area and agility course and dogs are free to swim in the sea to their heart's content. There are always organised events during the summer to keep pets occupied and, if you want to go for a wander or a swim and don't want to leave your pooch all alone there's a dog-sitting service available which costs around €12 per hour. A bargain!

What about the area in general?
The areas surrounding these best Italian beaches are all wonderful to explore, and this is no exception.  Both the Etruscan (north Tuscany) and the Maremma (further south, bordering on Lazio) coastlines are breathtaking, and inland are the rolling hills and vineyards of Tuscany (try following signs for one of the 'Strade del Vino' - wine routes) and the Rimigliano and Maremma National Parks. The Maremma sheepdog is still a regular sight here.
And don't forget to visit San Vincenzo itself, particularly if you're there around mid-May when the local food and wine festival takes place.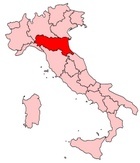 Location of
Emilia Romagna
.
Best Italian beaches for pets
Number 3  :Beach 33,
Lungomare Murri, Marina Centro,
Rimini (Emilia Romagna)
The Adriatic coast was one of the first areas to be developed for the overseas traveller visiting Italy and Rimini itself has been a buzzing tourist resort for a hundred and sixty years.  Beaches here tend to be built up and crowded at the height of the season but they are all Blue Flag quality and without any doubt some of the best Italian beaches for families - and more recently several have been developed for pets.

Rules and regulations  :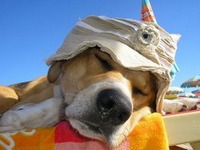 This dog doesn't seem too worried about the rules!
Taken on Beach 81, Rimini.
Let's get the rules and regulations out of the way first.  Some beaches in Rimini (see list at the end of this section) will only accept small or medium sized dogs. Some dogs are required to wear muzzles, usually large Italian dog breeds which have been - probably unfairly - classed as 'dangerous'.   All dogs must have up to date vaccinations (make sure you carry your certificate or pet passport with you) and must be kept on a lead, and no dogs are allowed in the sea, on penalty of a fine.
So there!
But if you can deal with those boundaries, this stretch of coast has some of the best Italian beaches for the whole family to spend time with your dog or cat.

How to find it :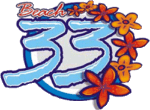 Look out for Beach 33's logo above the entrance.
Beach 33 is to be found near Piazzale Kennedy in central Rimini. From the motorway A14 follow signs for the SS16 and then for the beach (Spiaggia).  You'll see a line of numbered beaches - look out for 33's logo.  Parking on this road is inevitably hugely popular so either get there early, or park in one of the town's car parks and be prepared for a walk.

What's there for your dog :
Rimini is a thriving, bustling family resort with over a thousand hotels, many of which accept dogs, and some of the least pretentious but best Italian beaches for families - all two hundred and fifty of them.
Although originally a package holiday destination for overseas travellers - and it still is to some extent - it is also the place where many Italians spend their summer vacation. As a result it is a very family friendly resort with helpful staff, some excellent food and a beach life that seems to go on from dawn till well past dusk.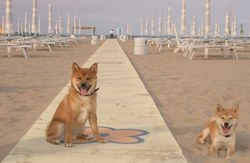 Beach 33 - get there before the crowds.


Although there are several dog-friendly beaches in Rimini (see below), 33 is the only beach in the area specifically equipped as one of Italy's pet friendly beaches (it accepts cats too). Again it's nothing like as pet-centered as Bau Beach (Rome) but it is one of the best Italian beaches for families.
It has the usual sunbeds and umbrellas for hire and provides water fountains, showers and a hose pipe which the dogs love to use to cool off, particularly as they can't go in the sea here. You will need to take your own dog bowl, poop bags and towel.

What's there for the rest of the family :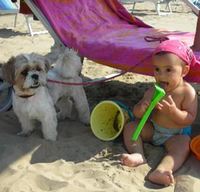 Family friendly beach 33.


Because the beaches in Rimini are some of the best Italian beaches for families they cater for children of all ages. There are organised activities with qualified staff throughout the day and access to table tennis, beach tennis and volley ball. 
For the little ones there's a play area with slides, seesaws and swings. The best thing about all these activities is that they're free with the cost of a sun-lounger and umbrella for the day. It's a secure, friendly, lively place to travel with a dog for a day - or for a whole holiday.
And for adults, like many of the best Italian beaches this one also satisfies the Italian culture and traditions of beach life which centre on food and drink. There is a bar at the entrance which is open all day and will serve anything from snacks to full four course meals complete with wine (and candle-light in the evenings!). On summer days many Italian people choose to eat their main meal of the day here overlooking the sea - and we can definitely recommend it.
As for something to do - you can find more or less anything you want to on the beaches of Rimini, from sandcastle competitions to yoga classes, tai chi to  belly-dancing, needlework courses to evening discos. These events change each season, so just stroll down the 'Lungomare' and look out for adverts.

What about the area in general?
Whilst you'll want to spend a lot of time enjoying some of the best Italian beaches there are, don't forget Rimini itself. The thermal baths there, based on the culture of ancient Roman baths were the first to be opened in 'modern' Italy (in 1876!). 
If you'd rather be away from the hustle of large family beaches, these are also some of the best Italian beaches open to animals just a little further away from central Rimini :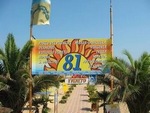 Beach 81 "No Problem"

Beach 81 "No Problem"

San Giuliano Mare, beach Libeccio (harbour)

Viserba: Playa Tamarindo Dog Beach (29-33) and

Miramare: beach area 149

Location of Savona.
Best Italian beaches for pets
Number 4 : Bau Bau Village,
Corso Biliati 11,
Albisola Mare, (Savona)
This is one of our very favourite of all the best Italian beaches for dogs. It's a lovely, slightly mad, very dog friendly beach on the 'Riviera delle Palme' in the north west of Italy.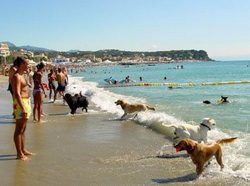 Bau Bau Village, Savona
- where pets allow owners on the beach!


Open since 1996 it was one of the earliest dog friendly beaches and has developed more and more facilities as the years have gone by. Unlike Rimini, it's not a family beach where dogs are allowed - it's a beach for animals in Italy, where humans are also allowed!
So - where to start.

Rules and regulations :
Let's look at rules and regulations first. There aren't many, apart from the obvious of keeping your dog under control and cleaning up after him. When on the beach he must be on a leash but when in the sea he is free to doggy-paddle unhindered - the area which is kept for dogs to swim is clearly marked. Bitches in season aren't permitted, and this is a beach where you will need to carry your dog's passport and vaccination certificates.
Apart from that, the world's your dog biscuit!

What's there for your dog :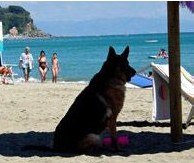 Dog relaxing in the shade at
Bau Bau Village.

For those dogs who aren't keen on waves (Nero's terrified of the sea!) there's a separate small plunge pool for dogs - but this isn't any old plunge pool. Although it can be used just as a cooling down area they also hold doggy keep fit here - yes really! 
And after all that exercise what better way to cool down than with a nice cold shower - there are warm showers too if your dog feels the cold - and a rest on one of the sun-loungers for hire, in the shade of a lovely umbrella. 
If the sea and sand have played havoc with your dog's coat there's a grooming salon available (sunscreen for pets is generally available here too) or if he feels the need to get active again, there's always the professional agility course (in the shade, of course). And if he's hungry after all that, there's a shop where you can buy him some gourmet food if you've forgotten his own!

What's there for the rest of the family :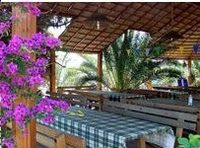 The shaded restaurant
at Bau Bau Village.


What about for people?  There are excellent facilities here.  There's a lovely shady bar and restaurant which serves food all day - and naturally your pet can accompany you and lie on the panoramic terrace while the family eats.  There are changing cubicles available, and the umbrellas are well set out with plenty of space between.
The best Italian beaches for dogs take pet care seriously and Bau Bau Village is streets ahead in this. As well as giving you a poop-scooper and water bowl for the day, there's a vet available should you need one.
You will also often find training programmes taking place there, from keep fit for dogs (yes really!) to working with national, fully qualified instructors teaching your dog such new skills as how to rescue a drowning person.  Nero would fail miserably - the art of retrieving is not one of a greyhound's strengths!
And later in the day there are often informal educational programmes in understanding dog behaviours, briefings on dealing with heat stroke in pets and screenings of international films with a doggy theme.

If your dogs get bored, teach them life-saving!

So if your dog dreams of becoming a lifeguard, and if you dream of finding one of the best Italian beaches to share with him, this could be the place for you. If you want to be on the safe side and make sure there is definitely an umbrella and a couple of sun-loungers with your pooch's name on it on this most dog friendly of beaches, whether for one day or for a whole week, ask your hotel or B&B owner to book you a place before the season begins.
Don't worry - they won't think you're strange! This is common practice in Italy.

Best Italian beaches for pets

Number 5 : La Spiaggia di Pluto
(Pluto Beach), Via Procione,
Bibione (Veneto)
Pluto Beach opened for the first time in 2008 so it's still very much in its infancy and has a long way to go to develop as much as some of the other best Italian beaches for animals.
But the Veneto region itself is lovely, Bibione is a very family friendly resort where a lot of Italian people choose to spend their summer, and it's very close to Venice - one of our favourite Italian cities - so it's certainly well worth including here.

How to find it :
This final of our best Italian beaches for pets is situated at section 1 on the eastern side of Bibione - click on this map for a more detailed plan of how to get there - and is open every day between May 1st and September 30th from 8am to 7pm.  

Bibione beach is lovely - deep and sandy - and Pluto Beach's hundred and fifty places have been organised so that each dog and his family have about ten square metres of space.

Rules and regulations :
To have access to this beach your dog must be micro-chipped, have evidence of his anti-rabies jab and must be wearing an anti-flea collar - ticks and mosquitoes in this part of Italy can be particularly nasty. You must try to control any incessant barking by your dog but apart from those things, you and your dog are free to enjoy this last of our best Italian beaches for dogs.

What's there for your dog :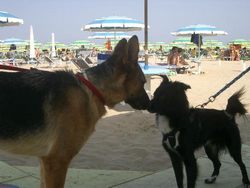 This isn't one of the cheaper beaches for animals in Italy; in high season 2009 (20 June to 28 August) Pluto beach will cost €17 per day for an umbrella, sunbed and chair with a separate bed for your pooch, a water bowl, stake to tie pooch to and poop bags. An extra sunbed is €6 per day.  You can if you wish book an entire week which will set you back around €96.
As well as some useful general information about dog care Pluto Beach provides hoses to rinse your dog off after a hard day playing in the sand and an agility course freely available every day. Every Thursday between 4.30 and 6.30pm there is specialist agility course training available from qualified instructors.  Book your place when you arrive - it's a popular event (and it's free!).
Dogs are allowed to swim here, although the staff will control the number of dogs in the sea at any one time.  Bibione is a Blue Flag beach - the only seaside resort of the Veneto region to receive this prestigious award - and, not surprisingly, they guard it well.

What's there for the rest of the family :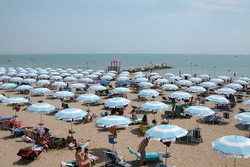 Bibione - a well laid out beach.


What about activities for the kids - and for you? Bibione is a very tourist-centered resort and the beach reflects that. It is one of the best Italian beaches anywhere for families, probably topping even Rimini in our opinion. 

On a total of thirteen kilometres of sandy beach there are a total of twenty-one thousand beach umbrellas, each of which will have at least one sunbed underneath it at the height of the season - so this isn't the place for you if you like a quiet, isolated holiday.  But for young families, it's ideal.
There are more than one hundred qualified facilitators organising events for children every day right along the beach. They are age-specific and range from a nursery for toddlers to activities for teenagers. There are swimming, tennis, windsurfing, sailing and canoeing lessons, beach volleyball and soccer contests free for anyone to enter, bike  hire with miles of cycle and rollerblading paths, and in the evenings free cinema for kids.  
For adults it can be a similarly active place. Services available include massages at your sunbed, water and land-based aerobics, line dancing, beach soccer - there's even a qualified dermatologist on hand who can analyse your skin type and advise the safest way to develop that suntan with the danger of sun stroke!   There are also good facilities for the disabled.
And, of course, there's the Italian ice cream available at every bar and beachside restaurant. Yum!

What about the area in general - by the beach :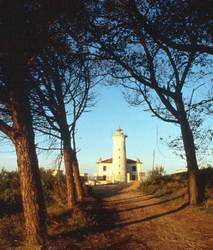 Walk through the pines to
the lighthouse.


There is no doubt that this is one of the best Italian beaches, but it's by no means the only attraction here. Taking the path to the left of Pluto beach you will discover wonderful walks away from the hustle of the crowds through an ancient pine forest to Bibione's famous lighthouse. 
It's a beautiful, tranquil place to walk with your dog, and the Austrian pine trees provide some welcome shade in the height of the summer. Here you'll also find some wonderful Mediterranean plant life including alpine flora and orchids and, if you carry on the path, you will come to the mouth of the Tagliamento river which runs along the side of the  beach to the sea.

Bibione and around :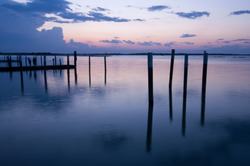 The lagoon at Bibione at dusk.


The name Bibione means a cordon of sand separating the lagoon from the sea.  So if you want to see a Veneto lagoon but don't want to drive to Venice, have a look at the lagoon at Bibione with its distinctive 'Casoni' - rectangular shaped houses built using only natural resources taken from the lagoon itself.
Bibione is a pleasant town where you will find local people and Italian tourists gathering in the evenings for the 'passegiata'. It's also famous for its spa and spending some time here is a relaxing alternative to a day on the beach.  As with the thermal baths of Roman times this is a place not only to take treatments but to relax, meet friends, and keep fit.  It's open all year round and is a good alternative on a rainy day - though not, sadly, for your dog.
Or, if you're feeling more adventurous, it's about one hundred and ten kilometres to drive to Venice, straight down the A4 motorway. Venice is a relatively dog-friendly city - you'll often see dogs riding on the boats down the Grand Canal - and such a beautiful place that it's a must-see destination. In the height of the summer though it can be hot, crowded and uncomfortable, so if you do decide to go there leave enough time before you travel home to go back and rest on one of Bibione's best Italian beaches.
Wherever you go in the area, make sure you take time to enjoy the local fish, beautiful fresh asparagus, polenta and Venetian 'grappa', a strong liqueur used to help digestion which is found all over Italy but is particularly good here.  And if you're lucky enough to be in Bibione in September you'll find all these foods and more celebrated at the annual 'Septemberfest'.  In 2009 it's on 10 and 11 September and finishes with a spectacular firework display over the sea.
A perfect end to your holiday on some of the best Italian beaches for pets.

So from both of us
and Nero the greyhound
- have a lovely holiday!

---
In order to try to reduce the numbers of abandoned animals in Italy, the government is encouraging local seaside towns to develop the best Italian beaches for pets and more and more are springing up with varying levels of quality and resources.
So if you're planning to travel with a dog this summer and have any experience of a 'Spiaggia dei Cani', good or bad, please do let us know via our contact page so we can keep updating our information.
And if you'd like your pooch to appear on our site we'll be pleased to use some of your holiday photos for your friends and family to admire!
---

Please bear in mind that the information on this page
is correct to the best of our knowledge.

However, things in Italy can change quickly and without warning -
so either ask locally whether facilities are still open,
or go and take a chance!


---
Taking your pets to Italy this summer?
Here are some facts about animals and sunstroke - causes, effects and what to do
Twenty tips about how to avoid pets getting sun stroke
This page is about animals in Italian culture - some strange facts
...and this page is about the history of animals in ancient culture
Have a look at our overview page about
animals and Italian culture
---

Click to go back to the home page.