Activities in Rome  :
internet café information
Want a break from other activities in Rome?
Internet access in Italy is much better than it's ever been. Here's a list of internet cafés to keep the family connected.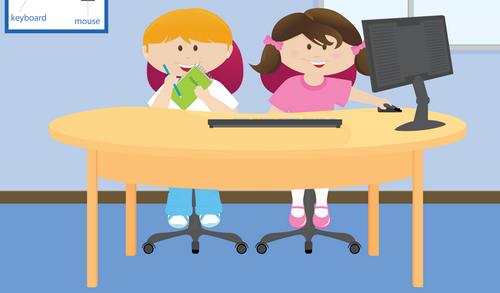 Many hotels in Rome now have their own internet access, although sometimes you will need to pay for its use. But surfing the web is as popular in Roman daily life as anywhere, and for that reason there are a large number of internet points around the city. 
This page will help you if your hotel doesn't have a list of internet cafés for you. There are many more points than these - we have just listed a few nearest to places you are likely to be visiting.
If you're American, the European keyboards may confuse you a little - some of the keys have different functions - but staff at any of these internet cafés in Rome will be able to help if necessary.

Activities in Rome : wireless internet access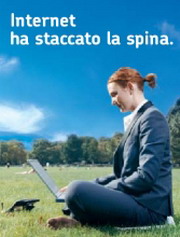 Internet access in Italy is growing : an advert for
Italian wireless.

The fact that internet access in Italy is a growing business is underlined by this fairly new service in Rome.
Run by an organisation called RomaWireless, it provides up to one hour's free wireless internet connection per day at seventy specific points around the city, saving the need to go hunting for internet cafés in Rome.
How to use it: Open your internet browser and you should automatically see the RomaWireless login page. You need to register (for free) by filling in the required information which includes a valid mobile telephone number. 
Once you complete registration you'll be asked to make a call from that mobile to a freephone number; the server at that number will then log you on.
You only need to go through this procedure once; next time you log on just enter your username and password. 
Where to find it: There are a growing number of places for internet access in Italy, and Rome is no exception - keep your eyes open for the signs.  These are nearest the main sites :


Look out for this RomaWireless sign.


Circus  Maximus 

Piazza della Bocca della Verità
Campidoglio
Villa Borghese - Via dell'Aranciera
Villa Borghese - Casina Valadier (restaurant)
Piazza Navona
Largo di Torre Argentina
Piazza Di Spagna - Keats and Shelley House
Trevi Fountain
Castel Sant'Angelo

Eur - Piazzale Metro Palasport (Help Point Palasport)
Eur - Piazzale Stazione Metro Fermi (Help Point Fermi)
---
List of internet cafés

Activities in Rome :

Internet café information - near Piazza Navona
Internet Point: on the corner of the Corso del Rinascimento and the Corso Vittorio Emanuele II. A large, brightly-lit store where you'll pay around €4 for thirty minutes' use.

---
Activities in Rome :

Internet café information - near the Spanish Steps
Rome Cyber Cafe: this one is located inside the 'Subway' sandwich shop on the Via Tritone. A large venue with sixty computer terminals costing around €3 per hour.

---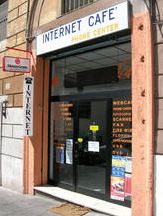 'Pole to Pole' internet cafe, Rome.

Activities in Rome :

Internet café information - near Termini station
Pole to Pole: Via Santa Maria Maggiore, about five minutes' walk from Termini station. One of the favourite internet places in Rome for kids visiting the city because of its location near many cheaper hotel.
A smaller internet point but friendly and cheaper - about €4 per hour.
Open from 9 a.m. till 11 p.m.

---
Activities in Rome :

Internet café information - near the Vatican
This is a small and friendly internet café in Via la Goletta, at the back of the Vatican Museums. It keeps its software updated well and has a copier, scanner and printer available. It also has facilities to use Skype at no extra cost.
Staff are knowledgeable and friendly and will give anyone not used to the internet advice and help.
Open daily from 11 a.m. till 9 p.m.
---
Looking for things to do in Rome for kids?
This page is full of ideas to keep the family occupied.
Return from our page about internet activities in Rome
to our home page about Italian culture
---

Click to go back to the home page.