Food in Rome for kids: where to eat in Rome to keep your family happy.
This page looks at the popular Italian food in Rome your kids are bound to love.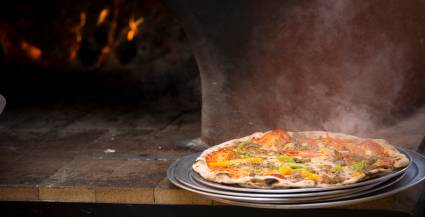 Food in Rome is a dream for kids.
A delicious pizza cooked in a wood fired oven
at the Pizzeria Leoncino - see below for details.

Italy for kids is paradise in many ways and unlimited amounts of pizza and ice cream makes food for kids here a dream.
Of all the things to do in Italy, eating out is one of the most enjoyable.  So if the main activities in Rome - sightseeing and shopping -  become too much for your family, here are our personal recommendations for popular Italian food in Rome kids will love - and the most child-friendly places to find the best of it.
Guaranteed to re-charge everyone's batteries!

Popular Italian food in Rome for kids :
Take-away pizza and fresh bread

Il Forno, the best bakery in Rome.


'Il Forno' : If you visit the Campo dei Fiori you should keep your eyes peeled for this wonderful bread and pizza bakery at the top left hand corner of the main square (next to 'La Carbonara').
Many Romans view it as the best bakery in Rome and the likelihood is you'll smell it long before you see it. Kids will love watching the dough being made - all the produce is fresh every day and made with the best local ingredients.
Our personal favourite? Their Danish pastries are to die for - get there early and eat 'on the hoof' while they're still warm, taking in the sights and sounds of the Campo's early morning market at the same time - wonderful!

Popular Italian food in Rome for kids :
Pizza restaurants
Il Leoncino : Via del Leoncino 28 - off the Via del Corso.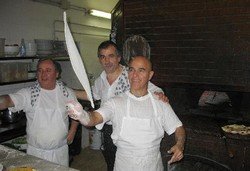 If you're really lucky the Leoncino's
owner brothers will toss pizza for you!
We found the Leoncino five years ago and we've been eating there ever since. We always recommend it when we're asked where to eat in Rome that's good food and reasonably priced - it's our very favourite pizza restaurant. 
Over eighty years old, it's now run by the grandchildren of the original owner who still use the old wood fired pizza oven.
Kids can watch traditional Roman pizzas being made while you wait, although service is very quick even when it's crowded, so there won't be much waiting time.
Our Roman friends describe it as "una pizzeria classica e adorabile" - self-explanatory really - and you'll find mostly local people eating here.  Don't expect posh - it's a very Italian pizzeria : informal, noisy and boisterous.
The staff speak just about enough English to make ordering easy enough, the wine and beer (Italian, needless to say) are on draft, the food is excellent and cheap - and they absolutely love kids.
Closed on Wednesdays and for two weeks in August, it's always packed so get there early or be prepared to wait in a queue.

Popular Italian food in Rome for kids :
Ice cream
'Buccianti's' : Kids' activities in Rome  would just not be complete without a visit to at least one of the famous ice cream shops the city has to offer. This one, located in the Via Giustiniani near the Pantheon, is widely regarded as the best in Rome - for kids of all ages. 
Like many of the Italian toyshops in Rome this is another family run business. Signora Maria makes all the ice cream by hand, it has no additives or preservatives, and there is a large selection of flavours - try the grapefruit!
It's not the largest nor the most upmarket place but eating this 'gelato' is one of the things your kids will remember long after your trip is over.

Popular Italian food in Rome for kids :
Chocolate
Chocolate shops : Moriondo e Gariglio : Via Pie di Marmo (near Pantheon).
A traditional chocolate shop and we think the most delicious chocolates in Rome. All the sweets are presented in individualised packaging. Not cheap, but mmmm - delicious!
Be aware that, however lovely local chocolates are, they don't travel well as they tend to avoid the preservatives used in mass-made sweets. So eat them while you're there!

Death by chocolate at the
Tre Scalini, Rome.

Where to eat in Rome - chocolate in restaurants : 'Tre Scalini'  :
And last but definitely not least, don't leave Rome without letting your kids try the 'Tartufo' ice cream at the Tre Scalini, a large cafe-bar to be found in the Piazza Navona. 
Known locally as 'death by chocolate' it's not cheap but we promise it will be the best chocolate gelato you'll ever eat. And if your kids smear their clothes with chocolate - well, you're not far from some of the best Italian clothes shops for kids in Rome!
So - sit out in the shade on the square with a bowlful of this for the kids and a glass of cold white Italian wine for the adults, watching the street performers and artists and listening to the sound of Bernini's famous 'Four Rivers' fountain, and you'll know what food in Rome for kids is all about.
---
Want to send a free card of Rome?
Have a look at our complimentary e-card service
Here are some suggestions for more activities in Rome for kids
Worried about the heat?
Here's all the information you'll need about Rome's climate in the summer
This page is all about Rome's urban beach
and what you'll find there to entertain the family
---

Click to go back to the home page.