Shopping in Rome, Italy
for souvenirs : what to buy now
Looking for things to do in Rome
for kids and adults alike?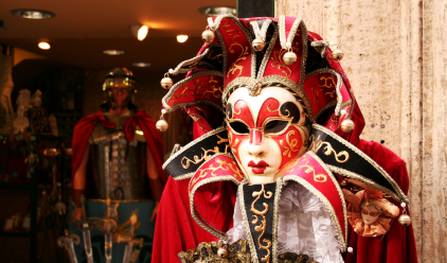 From Venetian masks to gladiator costumes :
Rome provides endless souvenirs of Italy.
A Venetian mask for sale in a Roman costume shop.
Here's some advice about where's good for
souvenir shopping in Rome, Italy.
Shopping in Rome, Italy, for souvenirs :
what to buy now for adults
So you've had a great holiday in Rome and you want something to remember it by. The best souvenirs will be just that - the memories you make and perhaps the photos you take, but if you want to take some more tangible reminders of Rome, here are our suggestions.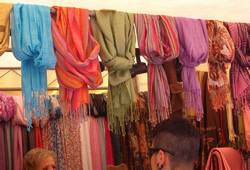 Italian scarves are always a good buy.
Clothes :  Italy is a very fashion conscious country. For some real style, have a look at the shops on the exclusive Via Condotti near the Spanish Steps.
But clothing in Italy is expensive, so what to buy now there's a credit crunch on if your budget won't stretch to a full outfit? 
Italian silk scarves. You'll find them at any of the larger Rome shops and on Roman market stalls.
Choose from beautiful, patterned, light silk scarves or the larger, delicate pashmina wool wraps.
Bags and shoes :  Italian shops selling shoes are a delight. They're extremely good value and you'll find assistants in shoe shops very helpful.
Leather bags are also a good buy; beware the street traders selling 'Gucci' bags for €15 though. If haggling is one of your favourite things to do in Rome you can get them at a reasonable price and they're actually good reproductions - but designer they are not!
Jewelry :  Italy has a long history of jewelry design dating back to the beautiful filigree gold work of Ancient Roman jewelry and, if you can afford it, gold jewelry is well worth buying; the designs are always elegant and individual.  
Or, if you're shopping on a budget, look out for hand-made costume jewelry.  The best source is often the stands in local street markets - this page about Roman markets has more information.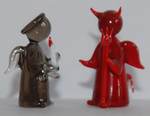 Even our tiny angel figures have the
Murano glass
certificate of authenticity.
Glass : Murano glass, although made in Venice, is available to buy not just in Rome shops but all over Italy. But do make sure it's the real thing - there are a lot of cheap imitations out there. All genuine Murano ware, no matter how small, comes with a certificate of authenticity.
Food : Balsamic vinegar, olive oil, sundried tomatoes, Parmesan cheese, chocolates - if you love Italian food you'll find these readily available all over Rome. Try the shops in the small side streets near the Trevi Fountain and use this link to have a look at our recommendation about one of the best Italian shops to buy chocolate in Rome.
There are no big supermarkets in the city centre but next to the Hotel dei Borgognoni in the Via del Bufalo (close to the Spanish Steps) you'll find a small Spa which sells nice fresh Parmegiano and olive oil. 
But be careful about importing : customs regulations about food vary from country to country and you may find your prized Parmesan being taken away from you by customs officials. Check on your government's website. 
Remember too that airlines still have security in force about how much liquid you can take in hand luggage. Unless you store bottles in your checked case you are limited to carrying no more than 100ml and all airports are very rigid about not allowing a drop more.
And be aware that because many Italian foodstuffs - including chocolate - don't contain preservatives, they don't travel well.

Shopping in Rome, Italy, for souvenirs :
what to buy now for children
Italy for kids just wouldn't be the same without them spending some hard-earned pocket money. If yours are anything like ours an essential element of their wish list of things to do in Rome will be looking for souvenirs.
Have a look at this page about Italian designer clothes for children which are gorgeous. Not cheap, but worth splashing out for the kudos of showing off to friends back home. 
And if you have soccer fans in the family, here's a page with suggestions about where to find football souvenir shops in Rome.
Toys :  One of the best buys in Italy for kids has to be Italian toys.  They're wonderful - often hand made and always original. This page tells where to find the best toy shops in Rome.

Shopping in Rome, Italy, for souvenirs :
what to buy now at street stalls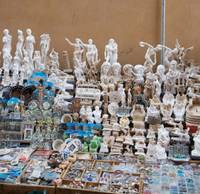 Typical souvenir stand
near Trevi Fountain - watch out for high prices.
Small, easily packed novelty souvenirs can be found on these stalls all over Rome, particularly at the major tourist attractions like the Trevi Fountain, Colosseum in Rome and St Peter's Basilica.
They sell everything from fridge magnets to plastic replica statues. Good fun to have a look at - some are so kitsch  that they're absolute must-haves! 
Beware, though. The stall holders can be very persuasive, but their souvenirs are often ridiculously expensive and you'll find the same things much more cheaply elsewhere. Try one of the shopping streets below, or visit one of the many Roman markets, all of which are an excellent source of souvenirs from the cheap to the expensive.
Via del Mascherino :  One of the best places to go shopping in Rome, Italy for kids to buy cheap-ish souvenirs.  It's close to the Vatican - facing St Peter's Basilica walk to the right of St Peter's Square, into the Borgo Pio. 
Here there are lots of small souvenir shops with plenty on offer for around two Euros a time. Models of the Roman Colosseum are a favourite and unlikely snow globes featuring gladiators - even in the depths of winter in Rome snow rarely falls!
(Incidentally, you will also find a reliable one hour photo processing shop called CocaColor on this street if you need to have your photos developed).

Shopping in Rome, Italy : religious souvenirs
The most obvious Rome shops for this type of souvenir are the many on Via della Conciliazione - the road leading to St Peter's. They're very well laid out (and usually  air-conditioned), selling everything from religious medals to statues, plaster busts of the Pope and even calendars of priests. 
For more information about religious souvenirs, have a look at this page of facts about the Pope.

Shopping in Rome, Italy  : pictures
The Piazza Navona : one of our favourite places to go souvenir shopping in Rome, Italy.
Summer, 2009.

The Piazza Navona is one of those brilliant things to do in Rome which can kill several birds with one stone.
As well as one of Bernini's most famous fountains, there's the best toyshop in Rome, some great places to eat and the famous Christmas market. 
In terms of souvenirs, you'll find the square full of painters who sell everything from small line drawings to large oil paintings of every possible Roman scene. You'll also find artists who are very skilled in portraits. 
Or, if you can stand the joke at your own expense, have a caricature drawing done. It's one of the best memories of Italy for kids - they will love these.
Similar artists can be found at the top of the Spanish Steps, but there is a larger choice in the Piazza Navona.

---
Visiting Rome? Want to go to gladiator school?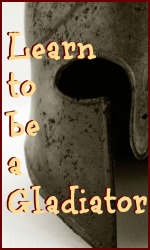 Well, now you can!
There's a great place in rome that not many people know about.  Run by local people who are fascinated with - and hugely knowledgeable about - Roman history and in particular the history of gladiators, it's a place where you too can learn to be a gladiator.
Click on this link, or on the pic, to go to our article explaining why it's so good - and what you can expect.
It's a wonderful experience for anyone, of any age, and lots of visitors tell us it was the highlight of their time in Rome.
Don't miss out!
---
And finally - here are some Italian Christmas gifts you may like.
---

Click to go back to the home page.
Some links on this page are affiliate links, which means that if you purchase a product through them, we receive a small commission. There is no extra cost to you. To learn more please see our affiliates disclosure document.