Worried about trying to interest kids in yet another ancient Roman monument?
Rome's Gladiator School is the answer to your prayers!

Rome is a great city.  It's full of life, history, culture, great food and drink ...

And it can also be hot, tiring and a place where kids can quickly become bored and fractious.  We know - we've been there.

So if you're looking for a great alternative to trying to interest your grumpy, disinterested family in yet another ancient Roman ruin, or you just think you'd love something out of the ordinary while you're in the Eternal City - you've come to the right place.

Because gladiator fights are alive and well in Rome's Gladiator School - and you will be the star of the show.

What exactly is it?
In our view - it's quite simply Rome's best tourist attraction!


In a city where kids can quickly become tired of trailing round ancient monuments, this is a great experience which brings history alive for the whole family.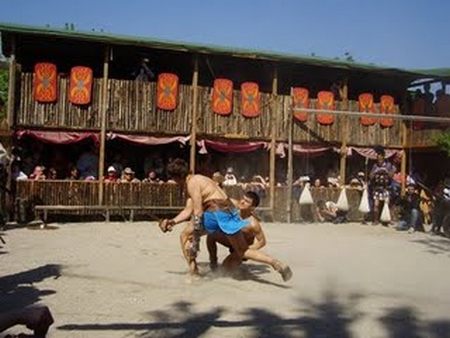 The main 'arena' of Rome's gladiator school.

It's a bit like going back to school - but much more enjoyable. Here's what happens in a nutshell :

You'll go to Gladiator School for half a day


You'll learn from the extremely knowledgeable instructors all about the history of ancient Roman gladiators


You'll see ancient weaponry and armour actually worn in gladiator fights


You'll get to touch them - and to wear them


You'll learn about a day in the life of ancient Roman gladiators


You'll be taught to fight like one using practice swords


You'll use authentic weapons in your very own gladiator fight, in a real Arena


You'll have tales to tell when you go home about how you experienced your very own gladiator fights within sight of the ancient Roman Colosseum.
Gladiator School : facts you need to know.
Who Runs the Gladiator School?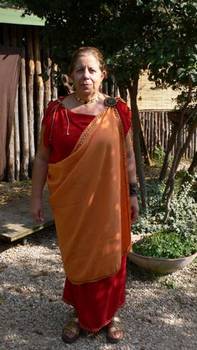 The 'Gruppo Storico Romano' began what is actually the only authentic Gladiator School in the whole of Italy as long ago as 1999.
The society is made up of Italian men and women who love the heritage of ancient Rome so much that they're committed to teaching others in as many interesting and varied ways as they can find.


They don't only run the school, though. Around mid-April each year look out for their parade of gladiators around the streets of the Colosseum, or one of their battle re-enactments.


What they don't know about ancient Roman history isn't worth knowing - but their greatest gift is that they are passionate about bringing it to life in an understandable, fun way.
What exactly happens?

On your marks ...
Each session begins in the Gladiator School museum which is full of authentic accessories used in ancient gladiator fights, including helmets, swords and clothing.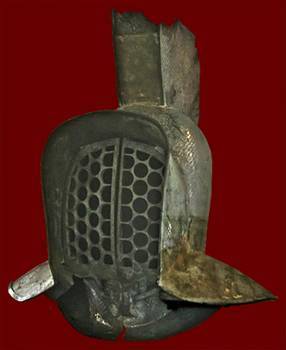 One of the actual helmets from the school's collection.

These 'props' are used to bring to life the day to day life of the gladiator in ancient Rome, and to explain the very different ways they fought. And if you think this would be dry, think again - everyone, from the very youngest to the very oldest, is spellbound.


You'll even get to try the helmets on but be aware - they are very heavy!


At the end of this session you'll be given an ancient name by which you'll be known for the remainder of the course. From now on, you're a real live ancient Roman gladiator!


Get set ... With the history lesson out of the way the real fun begins and you'll learn all about what it was like to fight in the ancient Roman Colosseum.


How?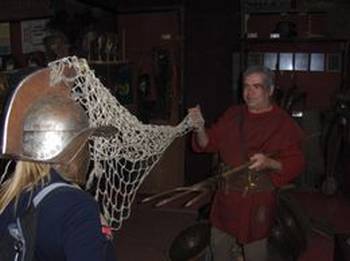 Where else could you get to be a Retiarius for a day?!

You'll actively take part in the kind of training ancient Roman gladiators would have undertaken - though luckily, nothing like as physical or stressful! You'll be dressed in a kind of toga (don't worry, it's worn over your everyday clothes!) complete with belt, sandals and a wooden training sword called a 'rudis'.


Go! The remainder of the time at gladiator school is spent learning basic techniques of attack and defence using your wooden sword. When you've proved yourself with that, you'll move on to use the 'gladius', the heavier sword which gave gladiators their name.


And if you're really lucky, you'll also get to practice the art of the 'Retiarius', one of the most exciting of all gladiators who fought with net and trident.


Finished? - Not likely!!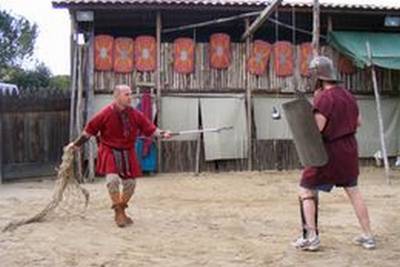 The school's 'Arena', with viewing gallery.

Now comes the real show - the culmination of everything you have learned and worked towards during your session - a tournament in the gladiator school's own arena. You'll show off the skills you've learned during the session using the actual metal weaponry and armour and, at the end of it, you'll get a certificate of accomplishment.


Take it home to show your friends!
Who will enjoy it?

Originally, we thought this would appeal mainly to kids when they'd had enough of sightseeing - but actually adults love it just as much - and often more!


For kids, there's no doubt that it brings those tedious history lessons about ancient Rome alive. It's educational but it's fun, and they'll remember what they've learned. The minimum age is six; younger children can watch their brothers and sisters free of charge, although we guarantee they'll want to join in!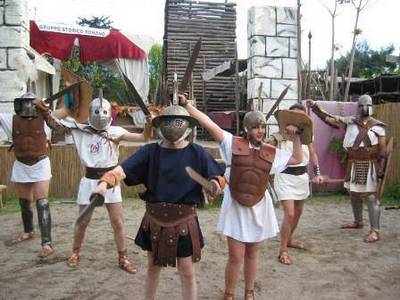 Learning is fun at the Gladiator School!

The Gladiator School can also lay on special sessions for groups of school children. What better way to encourage youngsters to experience ancient history as part of the world's cultural heritage?


For adults, it's a great workout - expect to be aching by the end of the session. An important part of the training is learning exactly what amazing and disciplined athletes ancient Roman gladiators were. You'll be glad it's only two hours!


Of course, there's the fun side for adults too. As one man said : "I get the opportunity to chop at my friends with swords - it's a dream come true!"


And it's not just men who love it.


It's a little known fact that there were also female gladiators, and women are encouraged to take an active part in gladiator school. Our experience is that women tend to take it less seriously than men but love it just as much.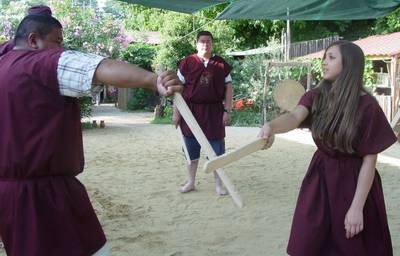 As one American lady of a certain age said : "Who'd have thought that two middle-aged American broads like us would enjoy it so much - we've had an absolute hoot!".


For groups of friends, it's an ideal way to have fun after footsore days of sightseeing.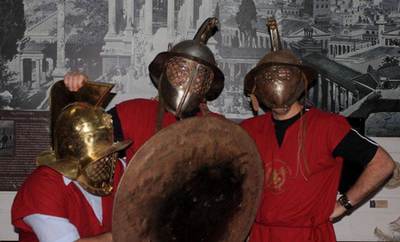 If you're thinking of having your stag or hen (bachelor or bachelorette) party in Rome but aren't sure what to do, the Gladiator School could be the perfect solution for you.
Can I go, but not take part in the fights?

Absolutely!

Just as with the Colosseum itself, the Arena at the Gladiator School has seating for spectators. Spectators are encouraged to sit and cheer (or jeer!) and to take as many photographs as you like. Remember to take a bottle of water with you if it's a hot day.
How safe is it?

Completely 100% safe for everyone - young, old and in-between.

You don't need to worry - the gladiator school is run by 'Nerone' - a Banca d'Italia employee who is exceptionally knowledgeable about Italy's history and heritage, and takes his responsibilities as leader very seriously - as you would expect from an employee of Italy's largest bank!


Without spoiling the fun, rules of safety are very strictly adhered to and all staff make sure that there is not the slightest possibility of anyone being hurt.
What not to expect.

Remember that the gladiator school is run by enthusiastic volunteers. They're very friendly and very knowledgeable, but it's not a polished Hollywood production. Nor does it take place in the ancient Roman Colosseum itself - the gladiator fights are held in the school's small 'arena', about eight metres square.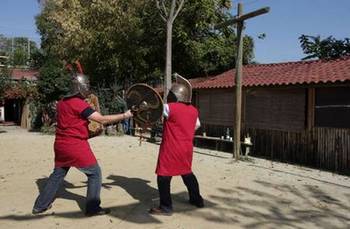 The jeans are a bit of a give-away!

But will you have fun? Will you come away feeling that this was one of the highlights of your trip to Rome? Will your kids think it was one of the best ever things to do in Rome and want to go back for more?


Absolutely guaranteed!
Where is it?

It's situated on the Appian Way or 'Via Appia Antica' which is very apt, as it was not only one of the most important roads of the Roman Empire but the road along which followers of one of the most famous of ancient Roman gladiators - Spartacus - were crucified.


One of the more frequent complaints from visitors is that it's hard to find. The Via Appia Antica is a very long road and runs outside the city; the best way of getting there is by taxi. Ask the driver to drop you at number 18.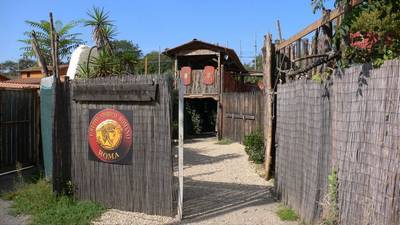 Look out for this entrance.

You'll find yourself having to walk down a dirt track; opposite a bus stop is the school. Look out for a home-made sign saying 'Scuola di Gladiatora' and the large red logo of the 'Gruppo Storico' underneath. You'll also see a paddock with a full sized catapult - there are not many of those in Rome, so you really can't miss it!


This area may not be on the usual tourist trail but it's perfectly safe and actually only about one and a half miles away from the Roman Colosseum. Allow some extra time to arrive - most people do get a bit lost on the way, but it's well worth persevering.
When is it open?

All year. Lessons begin at 9 a.m. and last for two hours. They take place right through the day, the last starting at 7 p.m. Be aware when booking that Rome's climate in summer can be incredibly hot.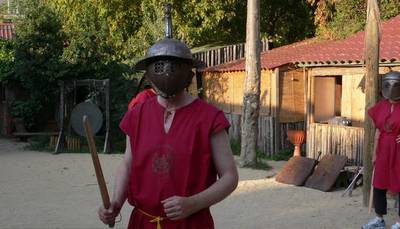 Refreshments are provided but our advice would be, particularly if your kids want to take part, to book for one of the earlier or later lessons when it's cooler.


The school also runs much longer courses for people wanting to become part of the 'Gruppo' and take part in battle re-enactments. Those courses take place twice weekly for two months and are strictly for 'professionals'.
Is it expensive?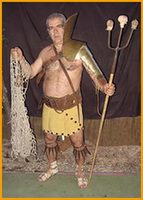 Not at all, especially considering that it's a completely unique experience - and that you get to handle items worn by real live gladiators, centuries ago!


Prices vary depending on the size of the group and whether you want a 'private' session (i.e. only your group, no outsiders). Clicking on the link in our how to book section will take you to the booking page of our partner, Viator Tours, where you will find up-to-the-minute prices.


If you happen to be staying at Rome's Cavalieri hotel, the concierge service can arrange for you to have private gladiator tuition from the Gruppo Storico in the grounds of the hotel. The price is roughly the same, but there needs to be a group of about eight people before it's possible. Ask at the hotel's reception for details.
How to book.

Our advice would be to book before you travel. Gladiator School has become more popular as more people have discovered it (although it's still relatively unknown), and there is a limit to the number of sessions available. Leaving it until you are in Rome may well mean you're disappointed to find no spaces available.
Click here to go to the Gladiator School booking page.


Please note : We use Viator Tours as our partner because they are an extremely reputable company who provide out of the ordinary experiences for travellers. They guarantee that if you can find the same deal elsewhere, they wil refund the difference.


We do earn a small commission if you book through this link, but the price to you is exactly the same as it would be if you booked direct. Our commission simply helps us to keep this website free to use and up to date.
---

Avoid the 'gladiators' outside the Colosseum who will ask often outrageous prices for you to have a photograph taken with them.


Much better to pay for a lesson at the gladiator school, where you are welcome to take as many photos as you like - all of them far more authentic.
---

Trying to educate your kids about ancient Rome?
Here are some links to our pages of very strange but true facts about the ancient Roman Colosseum which will get them hooked.

Click on the pics to have a look.
---

If you're planning to visit Rome, these pages may also be of interest to you.


---
On this page you'll find more information about ancient Roman daily life and here, some information about the weather in Rome during each of the different seasons, which will allow you better to plan your trip.

---

Click to go back to the home page.