Rome's Climate in the Autumn (Fall).

Wondering whether to visit Italy in the Fall?

If Rome in the heat of summer is too much for you and winter is too cold and wet, you may want to consider visiting in the autumn (Fall). Days are warm but not stifling and although evenings may have a chill towards the end of the season, it's still pleasant enough to eat outside.
Actually, having been to the city several times at every time of year, our view is that autumn is the most romantic season to visit. The colours and light take on a softer, dreamy hue, and you can capture the most amazing photos.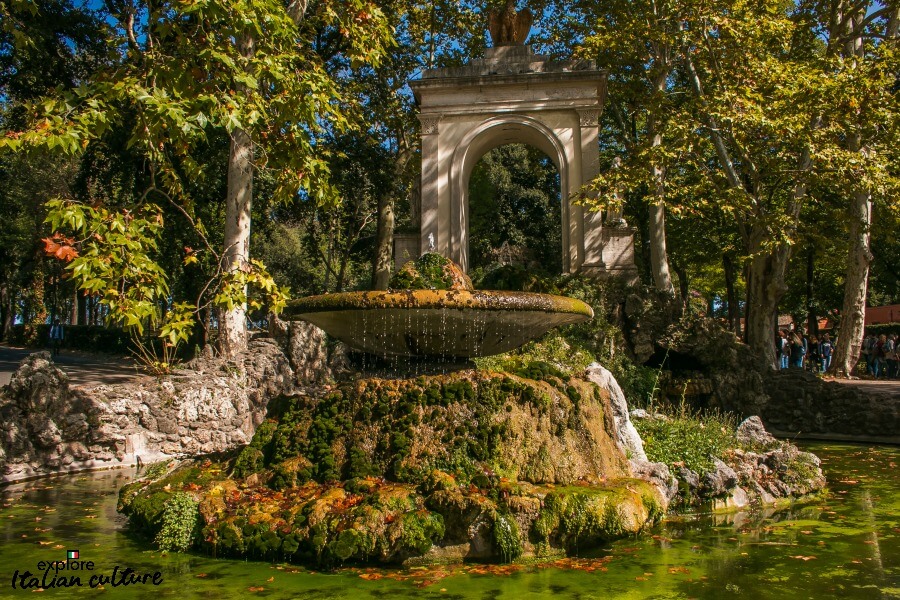 Autumn in Italy is a time of beautiful colours and light. Piazzale del Fiocco, Borghese Park, Rome, October.
"My heart remembers / Fountains where children played / Gardens where dreams were made - Autumn in Rome".
(From 'Autumn in Rome'  -  Sammy Cahn / Alessandro Cicognini / Paul Weston).

When is Autumn (Fall)?
The summer holidays officially end on 1st September. At that point the droves of city-dwellers who left Rome for the coast in August return, businesses re-open and everyone begins to feel a little less jaded than in the heat of summer.
Rome's climate at the start of autumn can still be hot though. We were married in Rome in early September and the temperature hit 38°C (100°F).
Temperatures begin to fall with the leaves around mid September, and Romans look on autumn as being from then until mid November.
Rome's climate: Autumn temperatures.
September sees a drop of about 10°C (50°F) from beginning to end. The month generally starts hot and ends with temperatures a much more pleasant 28°C to 30°C (82°F to 86°F).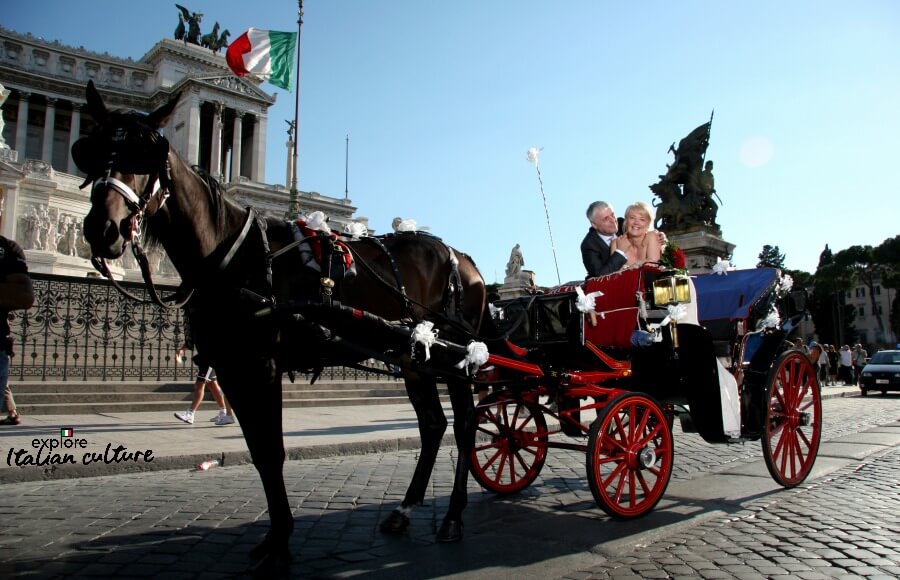 It looks like summer, but this was September. Our wedding in Rome.
By the end of October temperatures during the day will be falling to be a maximum of a balmy 23°C (73°F); night times are easier for sleep , dropping to a minimum of 6°C (23°F).
By November Rome's climate is becoming noticeably wintery as temperatures fall fairly dramatically. It's still possible to have blue-sky days but the air is chillier and temperatures not likely to rise above 17°C (62°F).
What about rain?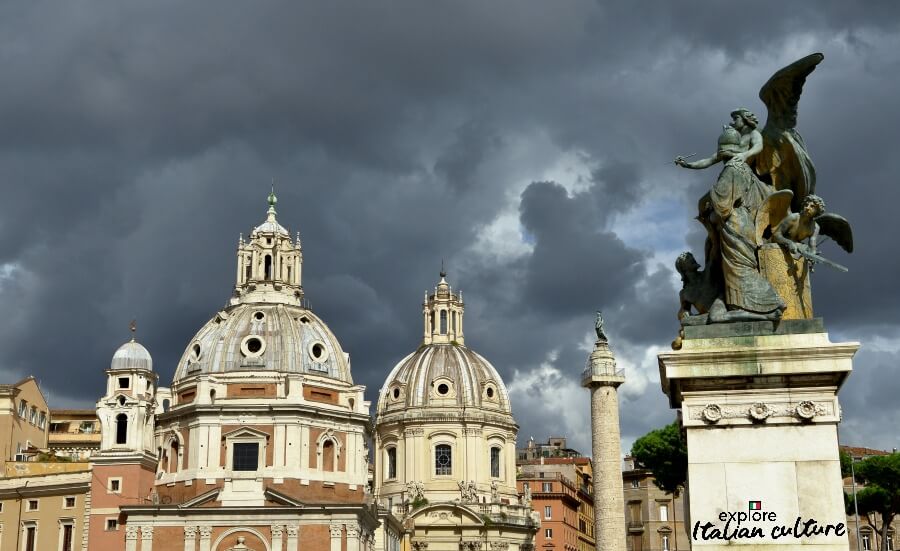 Even on a grey and stormy day Rome is stunning. Trajan's column and the two churches of Santa Maria.
Rome's climate in September is generally quite dry, but by late October expect there to be rain fairly frequently. The rainiest months in Rome are November and December.
If you're intending to travel during these months, pack an umbrella. If you forget you'll find many, many street vendors trying to sell you one, but the quality will be poor and the prices, exorbitant.
This one is Cath's umbrella of choice. (Note from Cath - I'm recommending this because I own and love it, but this is an affiliate link from which I earn a small commission at no cost to you, if you buy it. Find out more, here).

What's good about Rome's climate in Autumn?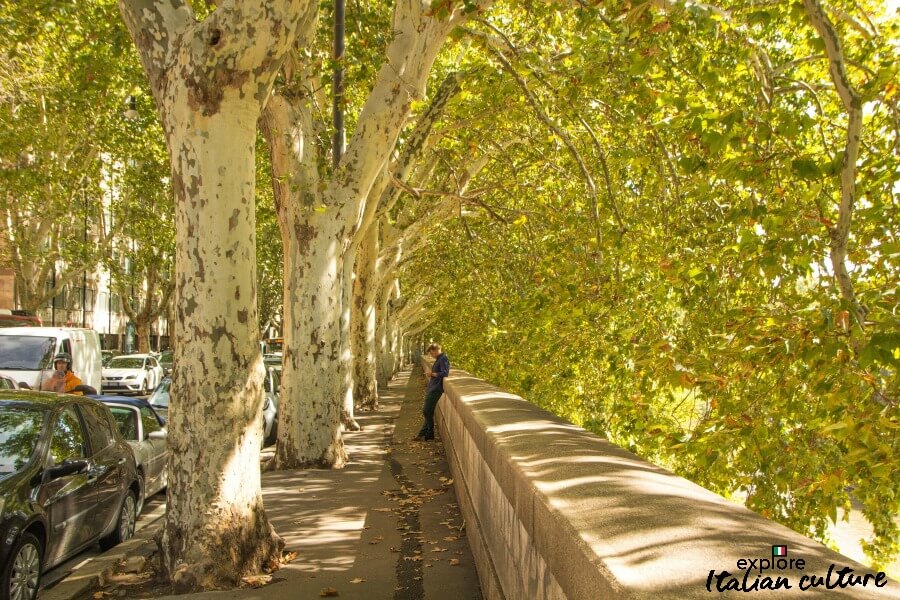 The footpath overlooking the River Tiber is particularly stunning as leaves begin to change colour.
In our opinion, it's probably the most romantic of all seasons in Italy. Rome in the autumn has a relaxed, laid-back quality all of its own not seen at other times of year.

The chaos of summer's tourist rush is over, the city quietens down, Romans are winding down for the winter - and the quality of light is often stunningly beautiful.

It's a wonderful season for lovers and photographers alike.

And what's not good?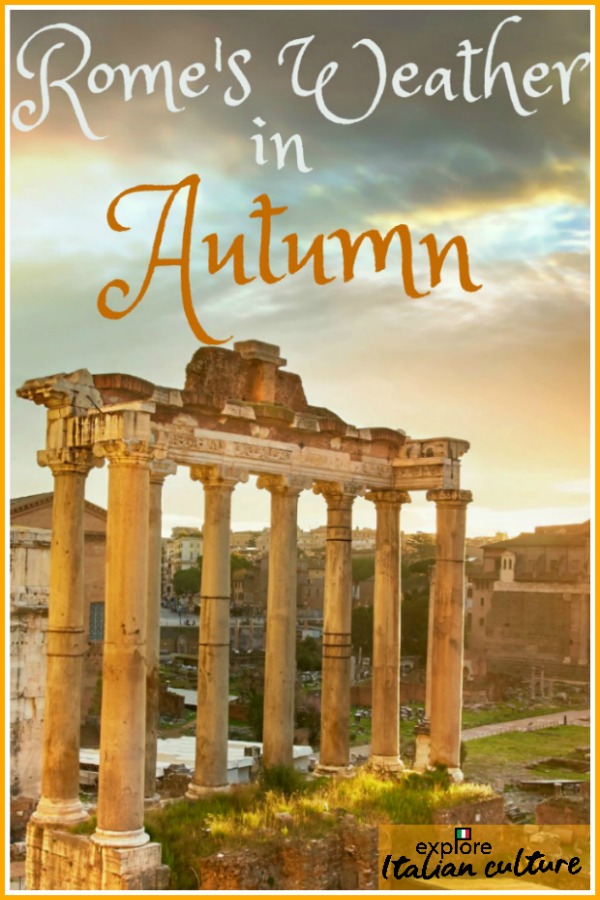 Rather like Springtime, Rome's climate in the autumn, particularly late in the season, can be unpredictable.
It's often warm and sunny one day and grey and drizzly the next. Be prepared for both.
And nights are now much colder, although it's still possible to enjoy evening meals sitting outside as most city centre restaurants have heaters.
How to know which it will be when you visit?
If you're planning to visit Rome in the autumn, use this Pin to bookmark the page.
Just before you go, come back here and follow this link to today's weather in Rome.
Included in the article is a weekly and fortnightly live weather forecast. We use this when we visit Rome each month, and we've found it pretty accurate.

Any special things to do in Rome in the Autumn?
Hallowe'en is not really a part of Italian culture, although the more commercial aspects of it are growing and you'll see a few children's costumes in the shops.
But markets are full of autumn fruits and veg. Figs are ripe during this season - try buying some fresh from a market stall, you'll be amazed at the difference in taste between these and the imported kind. And watch out for fig-based desserts in restaurants - delicious!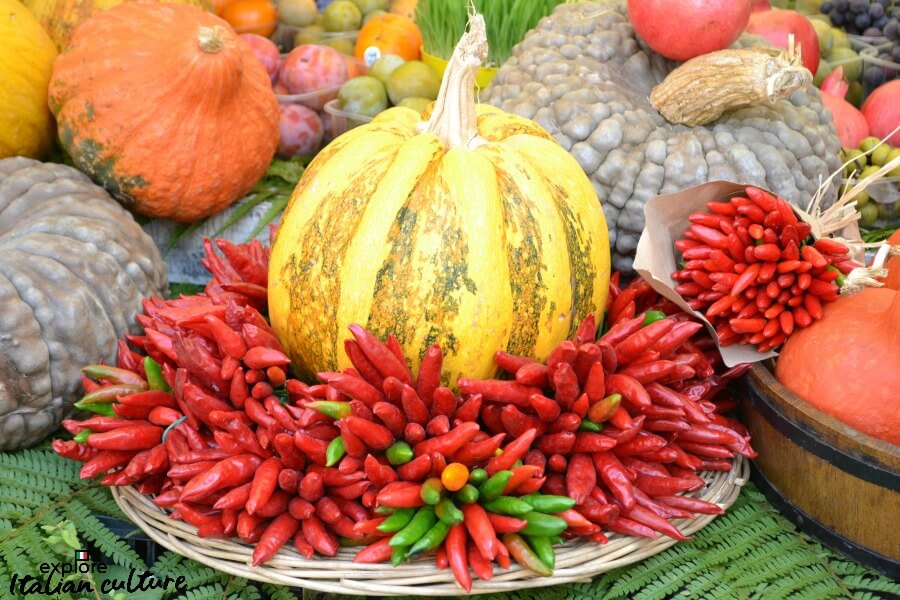 Autumn veg in a Rome street market, November.
The Pope is back in his apartments at St Peter's Basilica by October, so if you want to see him it's a good time. His autumn and winter schedule is published on the Vatican website, or take a look at this article for details about how to arrange an audience.
Rome's climate in autumn lends itself to our favourite activity at this time of year - walking in the Borghese Park. The trees are changing colour, the air is much fresher than Rome in summer and the sky, more often than not, is blue. Even when it rains the smells and sights of autumn are stunning.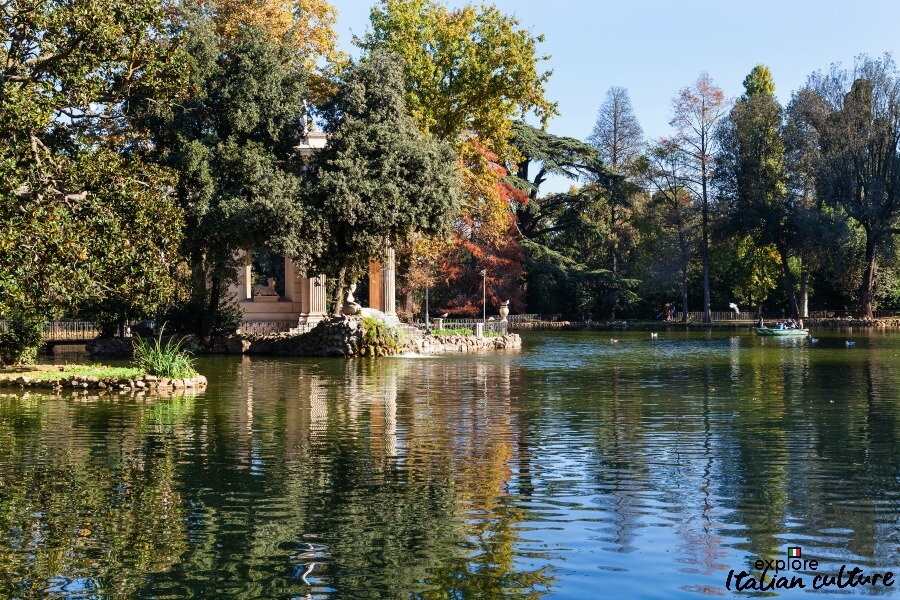 The lovely autumnal setting of the lake in the Borghese Park, Rome.
Try going there on a Sunday morning when Italian families gather to play with their children, walk in the leaves, and have coffee at the park's little cafe, the Casina dell'Orologio (Viale Bambini). We had our pre-wedding dinner drinks here, and it's a great place to stop for a hot chocolate and a pastry on cold autumn days.
If you like antiques and you're there in autumn, you're in for a treat. On the Via dei Coronari in the historic centre of the city is the venue for a fantastic antique fair which takes place every weekend in October. The atmosphere here is wonderful; shops stay open until late and there is a whole variety of things to buy.

Even if you don't want to buy anything, wander down there to browse and soak up the atmosphere.
And finally - eat chestnuts. 
Try some chestnuts from one of Rome's many street sellers - delicious on a chilly autumn day!
You'll find them on street corners and in squares. Our favourite is the seller at the Spanish Steps. His chestnuts always seem the juciest, and his cart is always decorated with autumn produce.
On a chilly autumn day in Rome, they do a great job as hand-warmers!
Enjoy!
---

If you're planning a visit to Rome, you may find these articles useful - click the button links.

---

Click to go back to the home page.
Return from this page about Rome's climate in the autumn