Pizza Margherita: a quick and easy recipe.

This is probably the most iconic of all Italian pizzas. A delicious tomato based recipe which is great for vegetarians, too.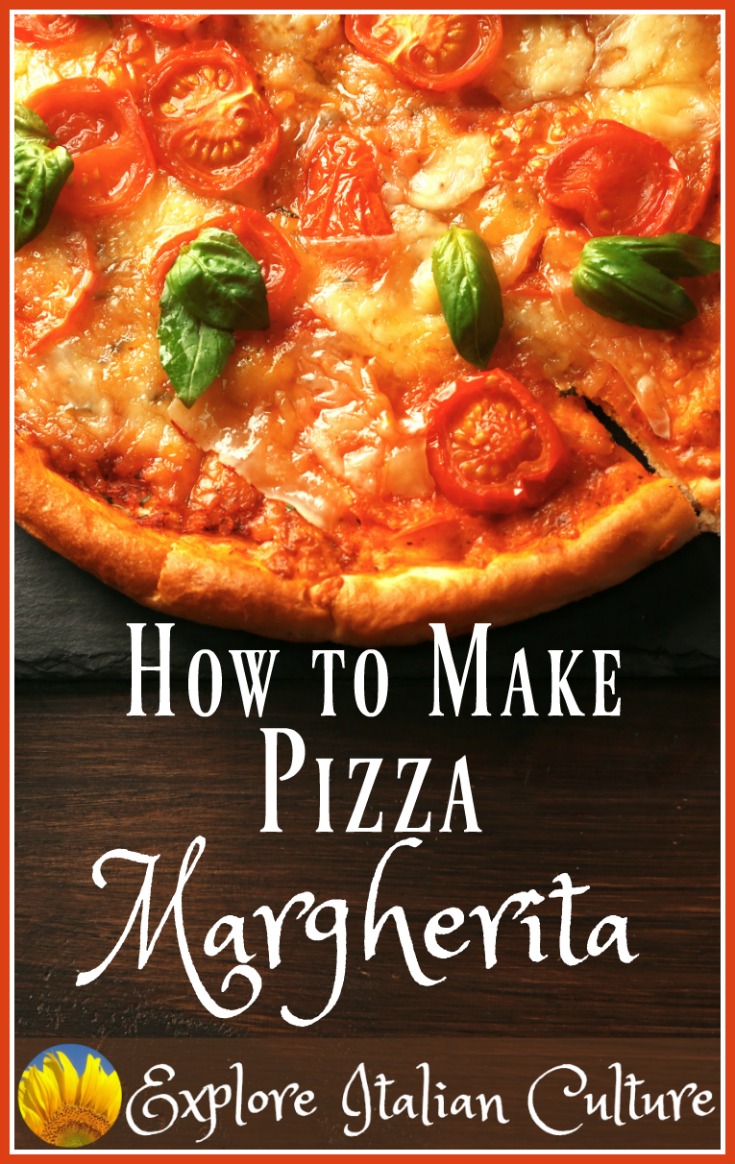 Italy's most popular pizza is also the one with most history attached.  It dates back as far as 1899, when Queen Margherita was visiting Naples to escape from a cholera epidemic which was hitting northern Italy at the time.
Naples has always prided itself on being the nation's "pizza capital", and its then chef of all chefs, Raffaele Esposito - the Gordon Ramsay of his day - decided to create one in her honour.
Thinking about ingredients he hit upon a brainwave.  What better combination for a Queen than to use ingredients of the colours of the Italian flag?
And so the Margherita was born: red tomatoes, white mozarella cheese and green basil leaves to finish.
The Queen loved the taste and the concept so much that "chef" decided to keep the recipe, and name it in her honour.  It hasn't changed to this day.  
It's so popular because its ingredients are inexpensive, it's quick to make and it appeals to the Italian taste for good quality, simple, meals. 
If you see a pizza named Margherita which contains any other ingredient (some add black olives) you'll know it is not a true Margherita.  And if you're making it yourself, remember to do as the Italians do, and use good quality ingredients - the freshest possible.
Margherita  : ingredients to make one large pizza.
I large ball mozzarella cheese (or 1 pack gem-sized)
Grated mozzarella to top (optional)
10 leaves fresh basil
Pizza Margherita : method.
Pre-heat your oven to 180ºC (350ºF, gas mark 4).
Make your dough and tomato sauce base.
Very lightly grease a pizza pan and warm it in the oven for a couple of minutes.  I use a heavy gauge two-handled pan, and I also have a granite pizza stone which gives a lovely, crisp base. 
Roll the dough out and line your greased pan with it.  Remember - it doesn't have to be perfect!  (Just as well, really - mine never is!).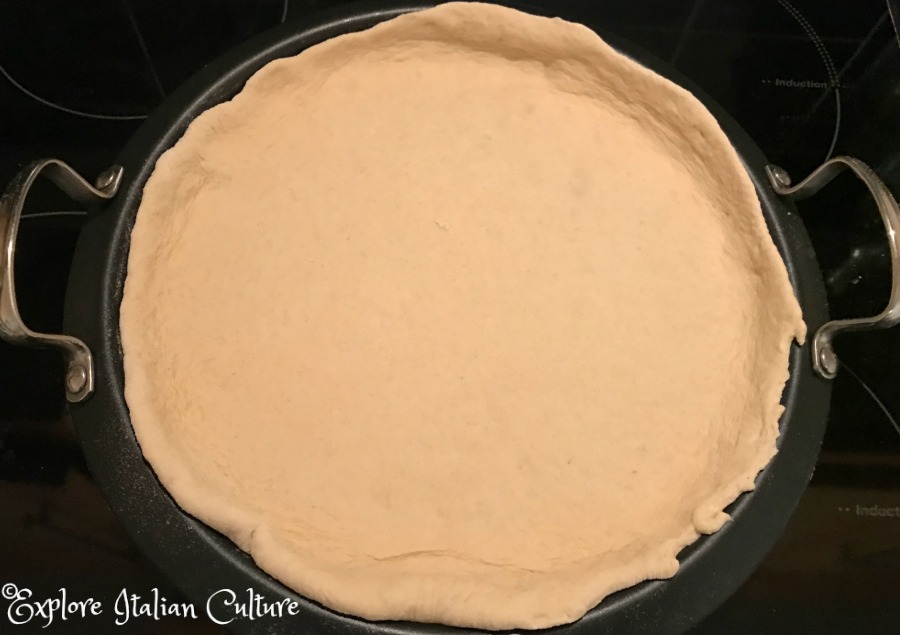 If you prefer a more crispy base, cook it in the oven for 5 minutes or so, until it starts to harden.
If you see it rising or bubbling, take it out, prick with a fork and replace it.  You can buy special gadgets to do this, but I find a fork works just as well!
Now spread the tomato recipe over the base.  This was too thick - the sauce should be spread more thinly, with a wooden spoon.  Otherwise the taste detracts from the more delicate flavours of the topping.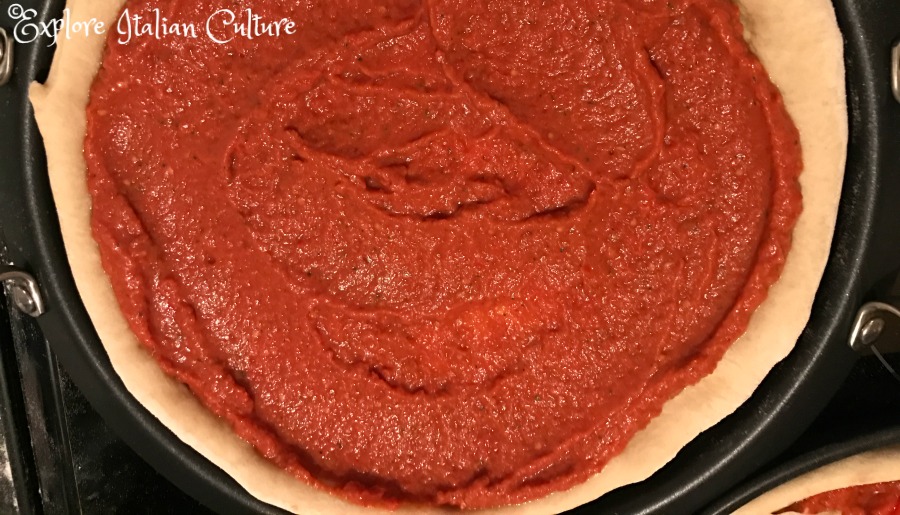 If you're using small "gem" sized mozzarella balls, just evenly space them on the tomato base.  Add slices of tomato in between the cheese.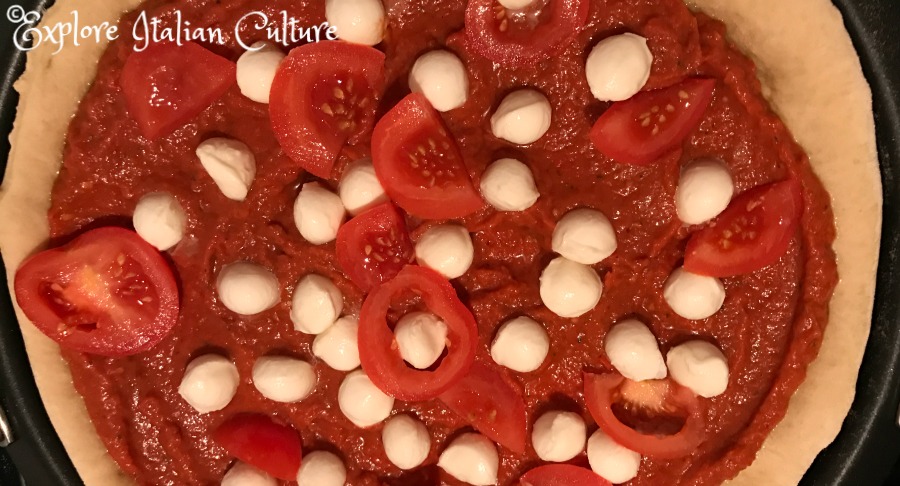 If you're using the larger pieces, slice it thinly and place the slices on the base, again with slices of tomato in between.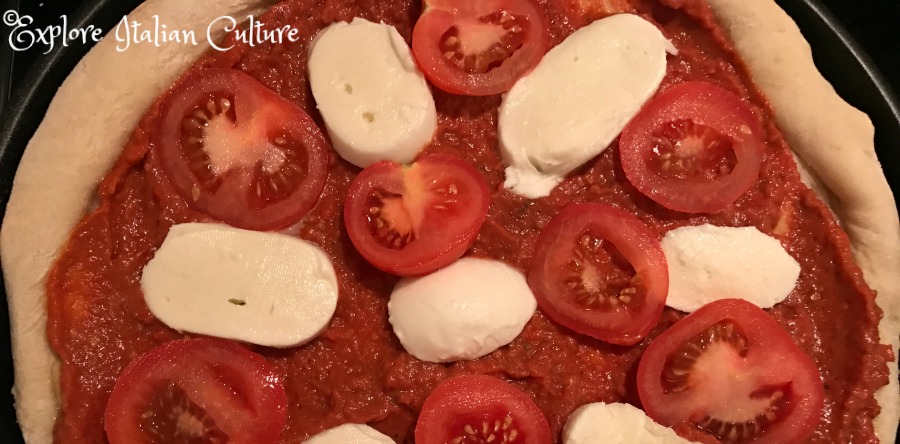 If you prefer a browner topping, sprinkle some grated mozzarella over the top. Sprinkle the grated cheese over if you like a brown topping.

Cook in an oven at 180º C (350º F, gas mark 4) for about 15 minutes.  Remove from the oven, and place the basil leaves around the pizza.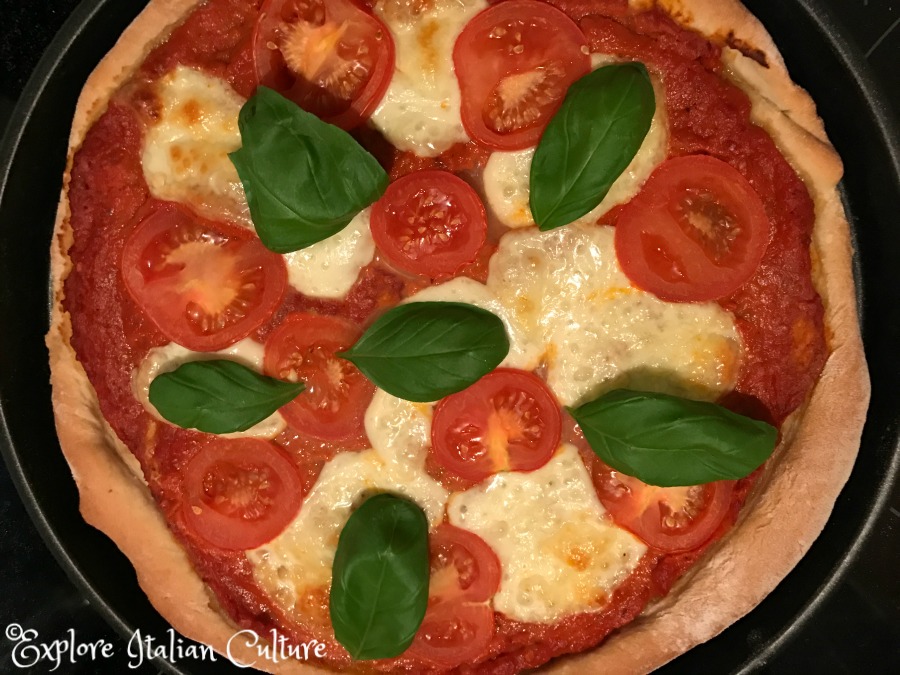 Now replace in the oven and cook for a further 5 - 10 minutes until the cheese is browned and bubbling.  Keep an eye on the base - make sure it doesn't burn.  If it looks as though it's cooked, it probably is!
And voilá - an authentic, green, white and red Margherita!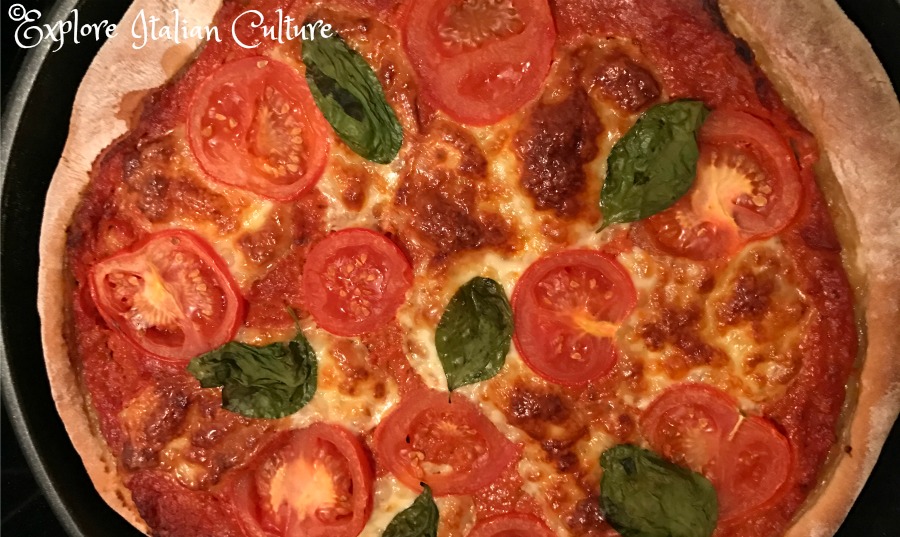 And then - Enjoy!
Here are the recipes for the dough and the tomato sauce base - and a salad to go with!

---

Click to go back to the home page.