An easy pizza dough recipe: delicious, healthy and inexpensive.
If you've always wanted to try homemade pizza dough but never been confident enough, here's your chance!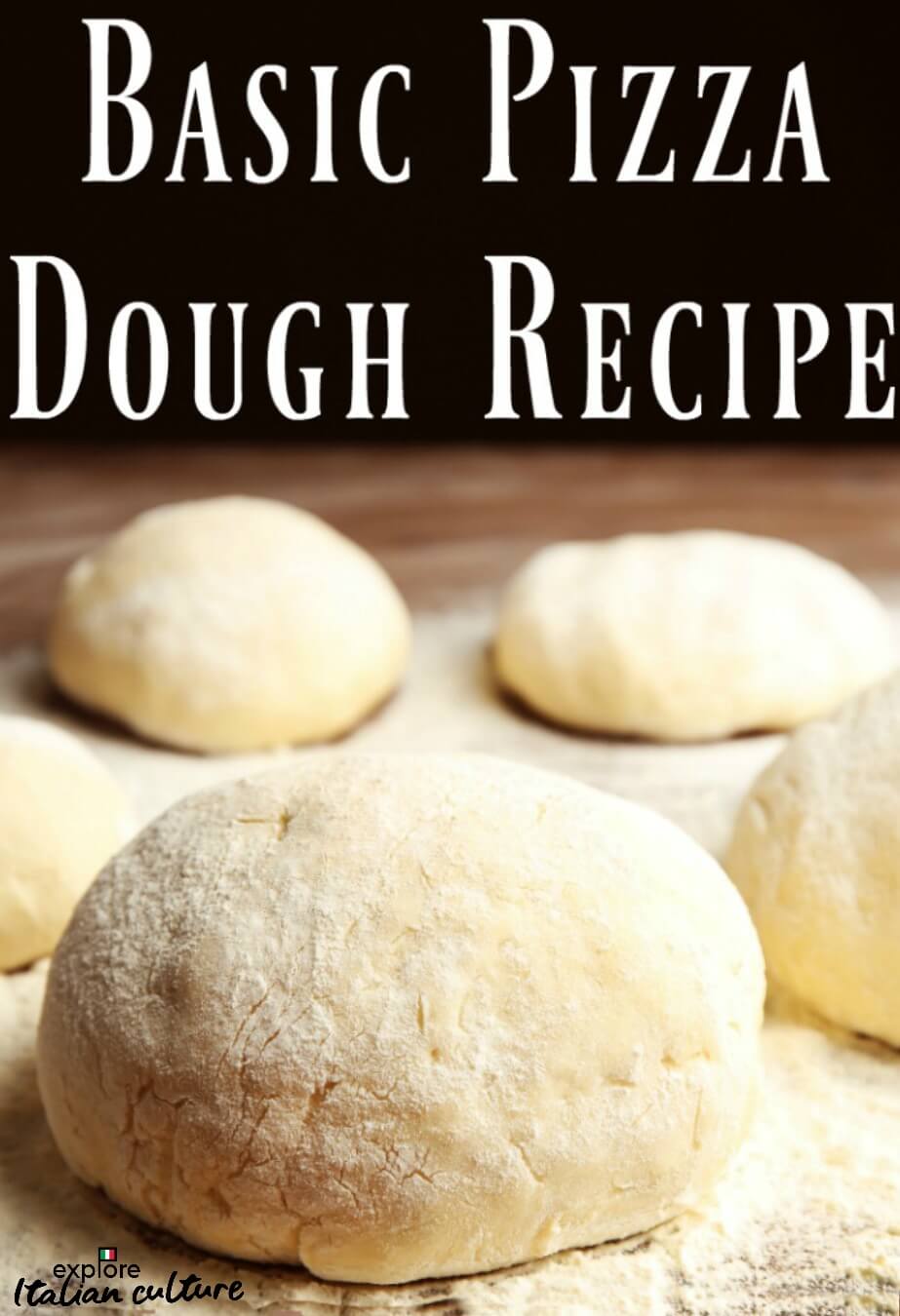 Some links on this page are affiliate links, which means that if you purchase a product through them, we receive a small commission. There is no extra cost to you. To learn more please see our affiliates disclosure document.
Pizza: the iconic Italian dish.  Its base is always thin and crisp, never thick and stodgy (Italians would pass out on the spot if they saw a Chicago pizza!).  
Why spend money buying a ready-made base when you can make one within minutes?  
Here's your opportunity to create a real, authentic Italian dough.  You won't believe how easy it is. Your family will love you for it - and it's sooooo inexpensive to make!
Why make pizza dough?
Who doesn't love pizza?  It's tasty, fun, simple, and it doesn't have to be the unhealthy food people tend to think it. All you need to do is load it with healthy toppings.
The joy of home made pizza is that it's quick to make and it's very adaptable. Once you've mastered the dough base, you can dress it up as much or as little as you want.
Use whatever's to hand in the fridge, or follow a specific recipe - it's up to you.
These quantities will make around four to six small bases, or two large ones.

You're on your way to making a great pizza - let's get started!



Easy pizza dough recipe : ingredients
These amounts are plenty for two large pizzas.
1 kg (2lbs) 'tipo 00' or strong white bread flour
1 level teaspoon fine sea salt
14 grammes (0.5 oz / 2 sachets) dried yeast
1 teaspoon sugar
2 tablespoons extra virgin olive oil
630ml (3 cups / 22 fluid oz) lukewarm water
Pizza dough recipe: method.
In a jug, mix the yeast, sugar, olive oil and water and stir well. 
In a couple of minutes the yeast will begin to be activated and you'll start to see bubbles appearing on the surface of the liquid. It looks pretty unappealing but it just means it's starting to ferment. It will be fine!
Set the liquid aside for a few minutes.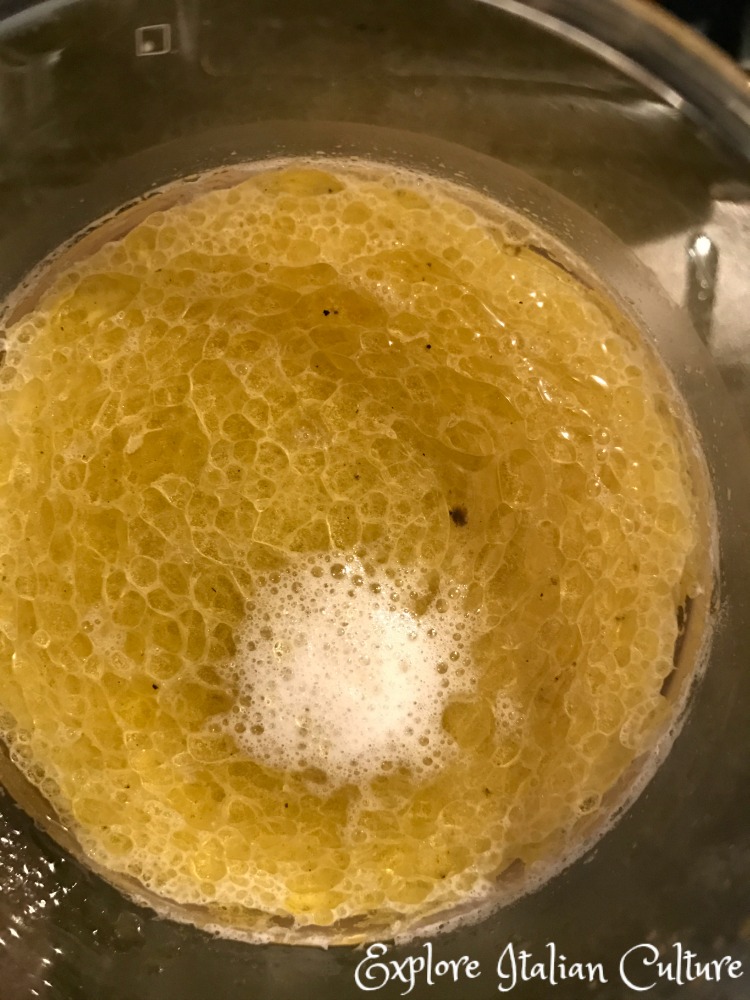 It looks pretty awful but this is exactly how it should be!
Use as deep a mixing bowl as you can for this part. Our friends in Italy who do this most days always mix on their work surface. I find I make too much mess!
Sieve the flour and salt into a large bowl and make a well in the middle.
Pour all the liquid into the centre of the flour. If you're using a shallow dish ( as I was here) the water will overflow a little - that really doesn't matter.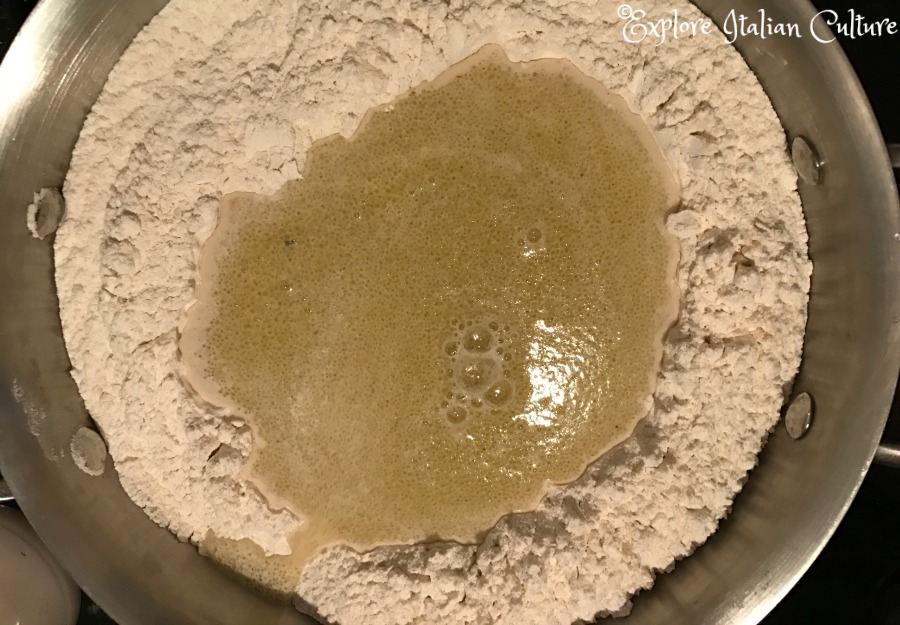 Using either a spoon or your hands, swish the liquid around the sides of the flour, slowly drawing the flour into the liquid. 
Don't worry if more flour goes into the water than you want. It may go a little lumpy but it will be fine.  
You can see that my dough here had lots of lumps. I'm not a perfect cook by any means - and one of the things I love most about Italian cooking is how relaxed it is!
It worked out just fine in the end.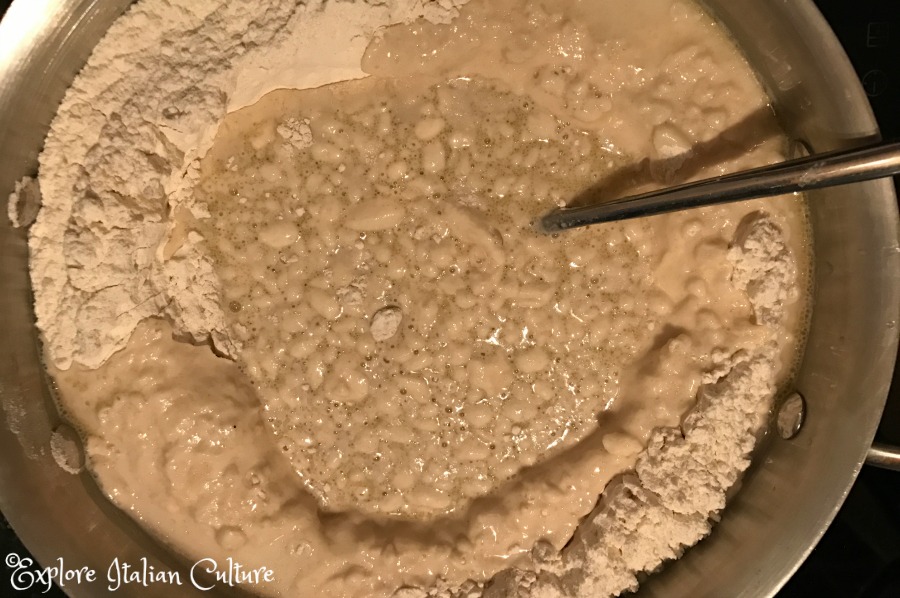 Keep stirring until all the water has been incorporated. It will go through various stages. First, it will be quite runny...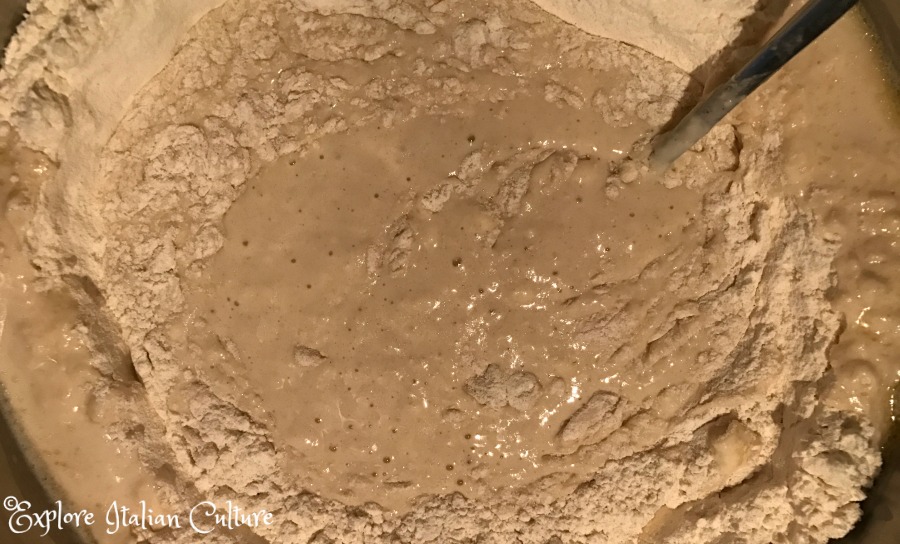 Then it will become a bit more like porridge...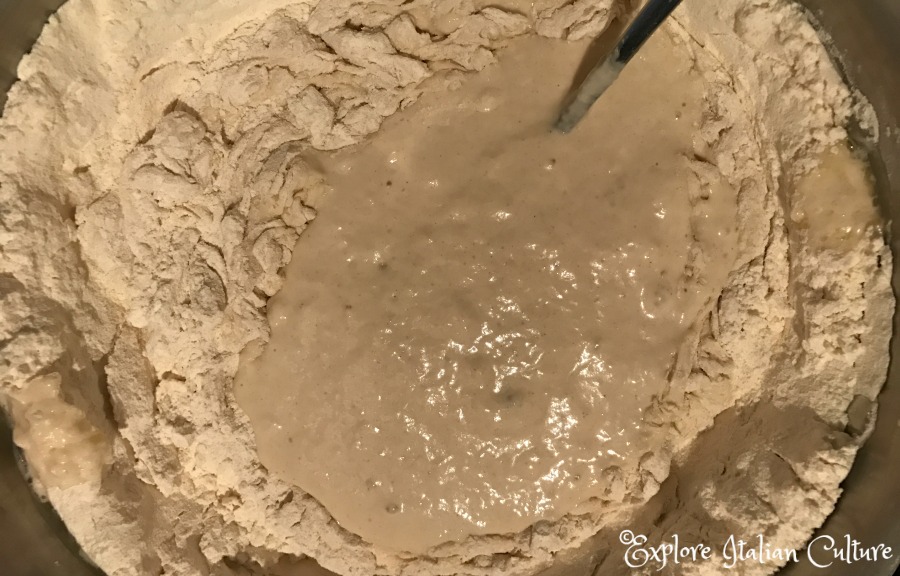 And eventually, it will become so thick that it's just easier to dive in and mix with your hands. Which is how, incidentally, our Italian friends do it right from the start.
Just squidge the flour until the liquid is all combined. It will take less than 5 minutes.
It will leave your hands a little on the messy side, but that's all part of the fun... Get the kids to join in!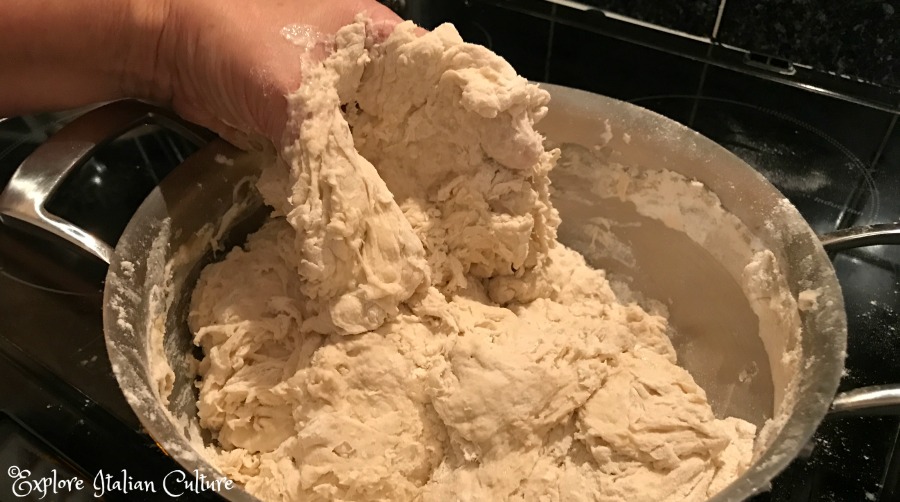 Once the dough has come together (which it will - promise!), turn it onto a lightly floured board or work surface. Cover your hands lightly with a little flour too. It will make the dough easier to work with.
At first, you'll find it's a bit sloppy. That's fine.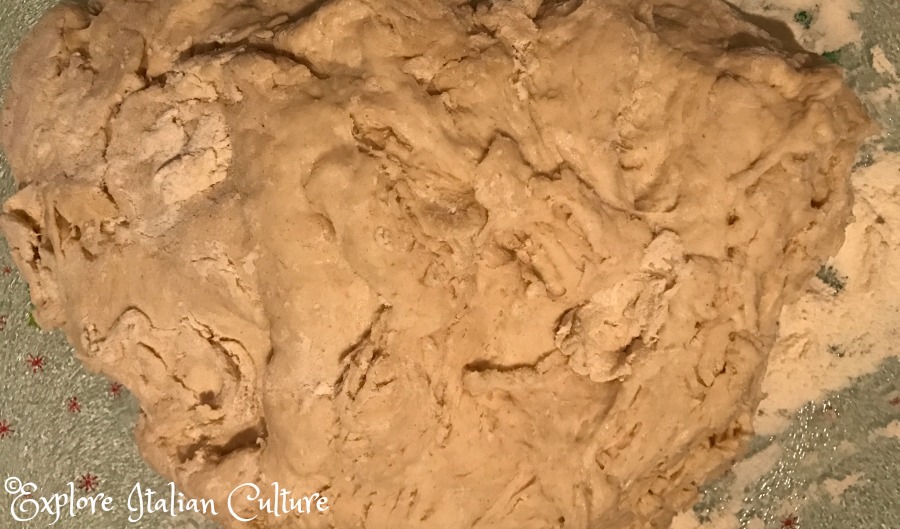 Kneading and rising.
Now knead the dough. After quite a short time you'll be surprised at how smooth and dry it becomes.
If you find it's still a bit wet, add a little flour - but don't overdo it.
Eventually it will look something like this.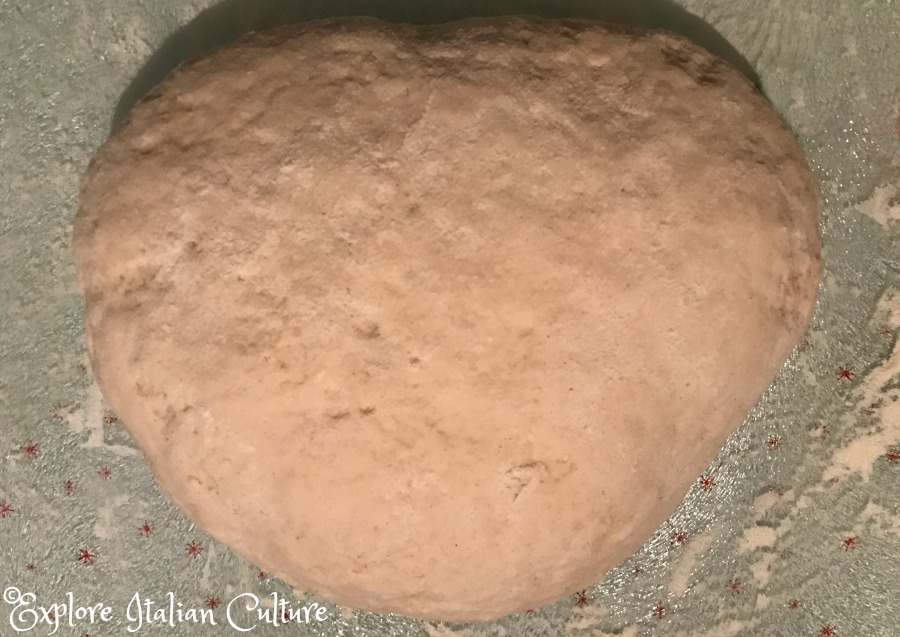 Clean the bowl you made the dough in to remove sticky bits of dough, and dust with a little flour to stop the dough sticking again.
Now place the dough back into the bowl, cover it with a damp cloth and leave it in a warm place. 
The dough needs to double in size - it will take about an hour.
From this...
... to this!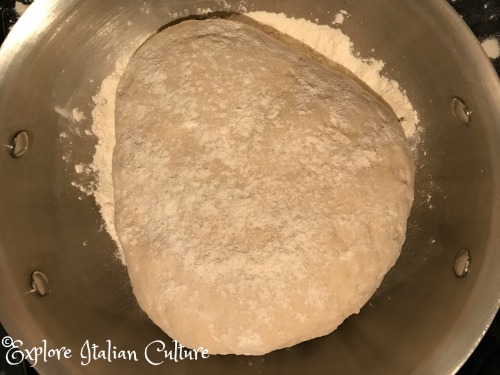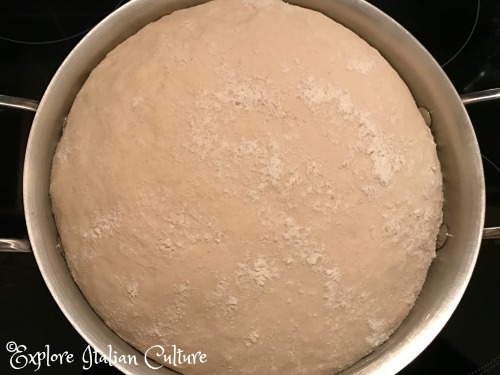 Turn the dough out onto the work surface again, and knead it for just a few minutes. You're knocking the air out of it, and it will collapse (which is what it should do). It's now ready for rolling out.
* At this point, you can freeze the dough if you don't want to use it immediately.
Rolling out your pizza dough.
Before you start rolling, put your pizza pan or stone into the oven to warm. This helps make the base crispy, rather than allowing it to go soggy! It's much better at holding toppings that way.
Now it's time to make the dough fit your pizza pan.
You can use your fists to push the dough into the shape and thickness you want. Italian experts whirl it round their heads but you may not want to try this at home!

I use a normal rolling pin. as in the pic below. It takes some time, because the dough is very elastic. Persevere - it will eventually roll out!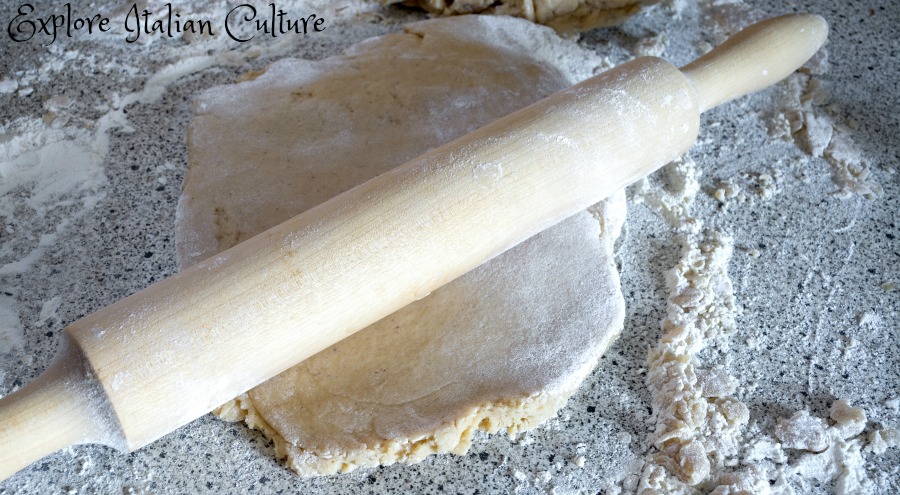 If your young children are helping, a small roller like this (affiliate link) is perfect for little hands. Actually, it's perfect for larger hands, too - you can concentrate on different areas of the pizza to make it the exact shape you want.

Once it's the right size and shape, flop it into a greased pizza tin or on a baking tray. To stop it rising into bubbles as it cooks, make tiny holes in its surface. Not too big - you don't want the topping to run out!
I use a fork which works perfectly well. There are handy little gadgets which makes sure it's completely uniform but they're expensive, and honestly, not necessary.
If you prefer a fairly crispy base, cook the dough in the oven at 180º C (350º F, gas mark 4) for about 5 minutes before adding your topping.
Once cooked, slide it onto a wooden plate or bread board, serve with a green salad, and...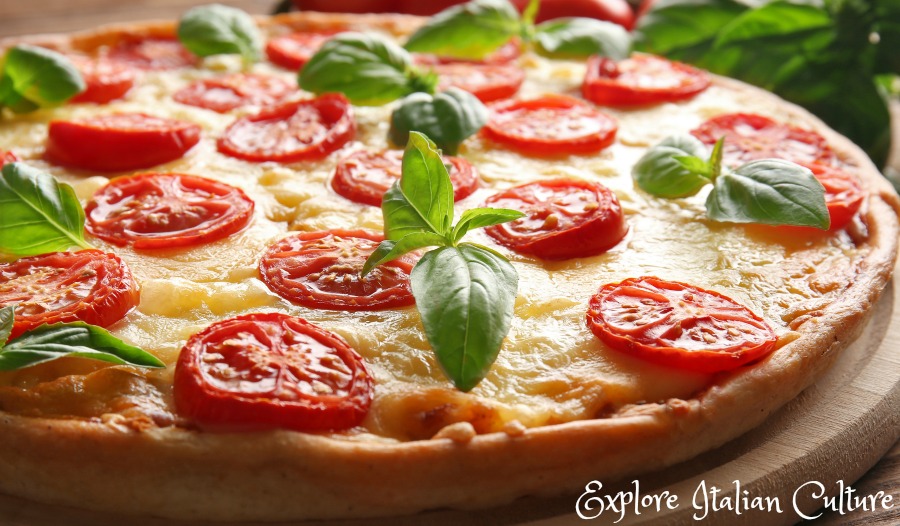 My version of pizza Margherita, made from the dough I show in the pictures on this page.
...Enjoy!
Buon Appetito!
Here are some other articles about Italian pizzas!
---

Click to go back to the home page.