Italian Easter pie : one of the tastiest dessert recipes from Italy.
Italian Easter pie is a traditional part of Italian Easter food customs - and so easy to make!
Find out how, here.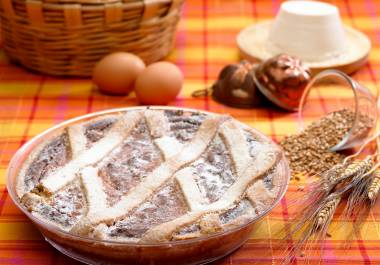 Italian food customs : where does this Italian Easter pie recipe come from?
Every Italian region, village and family has its own special Easter dessert recipes. This one originates in Naples which, once the gloom of Lent is over, bursts into life with colour and exuberance at Easter.  It's called the 'Pastiera di Grana', or 'Pastiera Naploetana'.
Its ingredients are easily available and, as with a lot of Italian Easter food, it uses items which symbolise Easter itself : eggs for new life; and wheat, the coming of spring. It's sold by the slice in Italy and is only available around Easter.
Recipes from Italy are often developed by families down the generations and each mamma will guard hers with her life. When Cath was once told she would have to be kidnapped and kept in a locked room if she disclosed a recipe, it was only partly a joke ...
So you will find lots of variations of this recipe all over Italy and you can be flexible with your own, altering it to suit the tastes of your family.

Easter dessert recipes from Italy : what does this one taste like?
This Italian Easter pie has a lovely creamy custard filling, flavoured with the delicate taste of fresh citrus fruits and ricotta cheese. It should be light but it's very rich.
Try eating it with an espresso and 'Limoncello' (lemon) or 'Aperol' (orange) liqueur.

Is this one of the easy Italian Easter food recipes?
Recipes from Italy tend to be quite simple.  This is not as easy a recipe as, for example, our Italian salad recipe and it does take much longer from beginning to end than our Italian Easter bread because of needing to leave the wheat to soak. 
But it's not too difficult - and it's definitely worth the wait!
It will keep in the fridge for several days, and can also be frozen.

Italian Easter pie : notes for preparation
This recipe is traditionally made two or three days before it's to be eaten so that the flavours can blend together and intensify. If you're intending to have it as one of your desserts on Easter Sunday, plan to make it on Holy Thursday or Good Friday at the latest.
Also bear in mind that if you're going to use fresh wheat, you need to soak it for three days - so preparations may need to start even as early as Palm Sunday.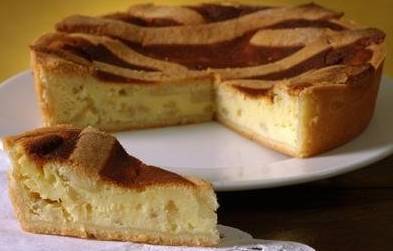 Italian Easter pie recipe : ingredients
Please note : if you can't find wheat berries (they should be available in health food stores if not your local supermarket) you can substitute barley which will only need one day of soaking, or pudding rice which will give a different taste.

Pastry :
Note : If you don't want to spend time making the case, use 450 grammes (1lb) of a ready-made shortcrust pastry - although followers of real Italian food customs would shudder at the thought!
Otherwise, these are the ingredients  :

 500 grammes (4 cups) plain (all-purpose) white flour
 200 grammes (1 cup) granulated sugar
 2 sticks (200 grammes) butter
 4 egg yolks
 Half teaspoon salt
 Grated zest of half lemon
 4 tablespoons cold water
Filling :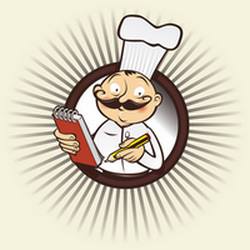 700 grammes (24 oz) Ricotta cheese
600 grammes (3 cups) granulated sugar
400 grammes cooked wheat
80 grammes (one half cup) candied lemon peel
80 grammes (one half cup) candied orange peel
700 mls (3 cups) milk
30 grammes (one quarter stick) butter
5 large eggs
2 egg yolks (additional to the whole eggs)
Grated peel (zest) of 1 lemon
1 teaspoon vanilla extract
1 tablespoon Limoncello liqueur (or for a non-alcoholic version, any citrus flavoured water)
Pinch cinammon powder

Italian Easter pie recipe : preparation
First, make sure you prepare the wheat properly. Soak for three days, changing the water regularly. Then strain and wash the grains before boiling in 5 litres water for ninety minutes. Drain well.
Prepare a 12" cake tin or, if you want a thicker filling, a 10" tin, by greasing with butter.
Pre-heat the oven to 190ºC (375ºF, gas mark 5).

Pastry :
✮ Mix together the flour, sugar, salt and grated lemon rind in a bowl.  
✮ Cut the butter into small pieces and rub it into the mixture or use a hand blender until it resembles fine breadcrumbs.
✮ With a knife, mix in enough of the cold water so that the dough holds together. Wrap in cling film and place in the fridge for half an hour while making the filling.
Filling :
✮ In a heavy pan place the cooked wheat,  milk, butter, and lemon zest.  Cook for about 10 minutes on a gentle heat, stirring all the time, until the mixture forms a smooth cream.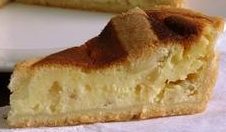 ✮ Using a mixer, blend the ricotta, eggs, egg yolks, sugar, vanilla, cinnamon and Limoncello or flavoured water until light and creamy.
✮ Stir in all the candied fruit.
✮ Combine these two mixtures, then set aside to cool.
Making up  :
✮ Roughly divide the dough into two unequal parts - two thirds / one third.
✮ On a floured board, roll the large part into a piece large enough to fit your tin, including the sides.
✮ Line the greased pie tin with pastry - bottom and sides.
✮ Cut the remaining dough into two and roll into strips about 1.5 cm (half an inch) wide. 
✮ Pour the filling into the pastry case and smooth with a spoon. 
✮ Moisten the ends of the strips and place diagonally across the pie, making a lattice shape. Make sure the edges of the strips are pressed into the edges of the pastry case so they stay joined.
✮ If you wish you can brush the pastry with a beaten egg and sprinkle a little granulated sugar on top to brown.
✮ Put the pie into the pre-heated oven and bake for approximately an hour. Check to see whether it's cooked - the pastry should be golden brown and the filling set.
✮ This Italian Easter pie is best served either at room temperature, or slightly warm.

Buon Appetito!
---
More delicious Italian dessert recipes
---

Click to go back to the home page.