Fontanini Christmas nativity sets : their history, why they're special, and how to tell the real thing.

Nativities, or "Presepi", are one of the great traditions of an Italian Christmas. Here, we look at Fontanini, one of the great nativity makers, and how their sets can bring Italy into your home - wherever you are.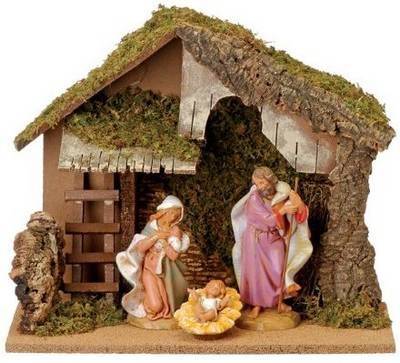 Fontanini figures as Italian Christmas decorations.
Italian Christmas decorations are far more low-key than in other parts of the world. Christmas in Italy is still very much a religious, not a secular, celebration, and seasonal decorations reflect that.
By far the most popular Christmas tradition in Italy is the nativity : an art form in itself. You'll find sometimes very elaborate nativities both inside and outside every home, and in the Christmas markets all over the country.

Italian nativity crafts : background to the Fontanini organisation.
Ask any Italian person to name a company renowned for their nativity crafts and Fontanini is likely to be the first they think of.
Like many Italian companies, Fontanini is a family concern which began with the patriarch, Emanuele. He was at first an apprentice figurine-painter to another company but in 1908 started Fontanini as a small local business in a single room in the tiny Tuscan town of Bagni di Lucca.
The company has always specialised in hand-crafted, hand-painted Italian nativity figures which have become Christmas symbols throughout Italy. 
Working with the most talented sculptors and painters of Tuscany, Fontanini figures today are still made by the fourth generation of the family who  take pride in monitoring the production of their nativities, from the smallest of their nativity snow globes to the most elaborate indoor Fontanini set and their outdoor nativity displays.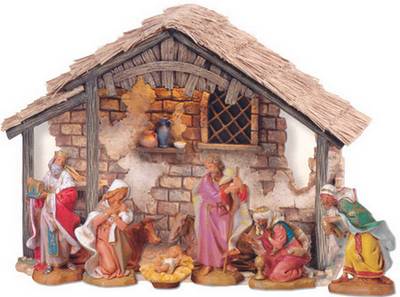 Fontanini as heirloom Christmas symbols for future generations.
Initially Fontanini figures were crafted in "papier mâché" but as more durable materials came onto the market they began making their nativity figures of a nearly indestructable and child-friendly polymer resin. 
The resin figurines are those usually seen in the American and European markets. The amazing attention to detail, lifelike sculpting and meticulous painting have made Fontanini figures an exceptional heirloom for families the world over.

Tips for buying Fontanini nativity crafts.
Verifying source : Fontanini figures have been available throughout the world via a single licensed distributor, 'Roman Inc'., since the 1970s. 
Be careful about buying through a non-licensed source - there are a lot of copies out there.
The best source we have found is Amazon.com who sell via the licensed distributor. All our Fontanini figures are sold through that source.
Unfortunately at the present time there is no licensed distributor outside the United States.

How to tell whether a nativity is a genuine Fontanini figurine.
*  Modern Fontaninis come complete with a story-card, although many of the older, collectable items don't.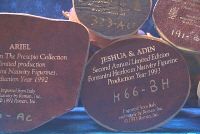 *  Older figures are marked on the undersides with a small spider and the words "Depose Italy".
*  During the 1980s, Fontanini replaced the spider with the Fontannini name, the date of manufacture, and a small fountain. 
*  If you want to buy items which will increase in value, look for figures bearing the signature in ink of a Fontanini family member. These are hard to find figures which were released when the Fontanini family travelled to America to promote new releases.

Give Fontanini as a gift at any time of year!
Giving one of these sets is a forever gift. It doesn't matter when you give it. It makes a great Christmas present, but equally why not give for a birthday or another special occasion? 
So if you're looking for a special gift for the person who has everything, remember Fontanini figures.
Whether you go for a complete nativity set or buy one of the basic nativities and build up a whole Italian village figure by figure, you'll be giving a gift not just for this Christmas but one which will be passed down, and added to, by generation after generation.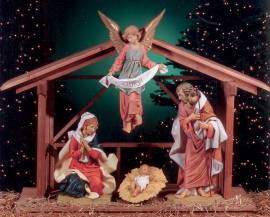 And that, surely, is the true spirit of giving at Christmas!

---
Nativity sets have become a massive part of Italian culture and one of the strongest of the country's Christmas symbols. 
Life-sized nativities can be seen all over Italy; this link will take you to a page about where to see outside nativity scenes in Rome.
---
Looking for some inexpensive Italian Christmas gifts?  You'll love these!
---

Click to go back to the home page.